Is virtual reality (VR) technology a sensible investment for a healthcare practice? That's a reasonable question for medical teams to ask. Healthcare professionals are approached regularly by companies selling the newest tech tools. Before investing in VR, it's smart to ask if there will be a measurable ROI from that program. How large is the investment? Will care and patient experience improve proportionately to the spending?
Virtual Reality As a Drug-Free Pain Treatment Option
The most promising medical research of VR technology has been its use in the management of pain and anxiety. As the CDC has asked health professionals to seek pain treatment options beyond opioids, several studies revealed VR to be a viable alternative. Benefits in treating acute and procedural pain, as well as anxiety, have been astonishing and side effects have been few.
A recent Cedars-Sinai study found that VR technology was effective at significantly reducing pain in hospitalized patients. The success of that study has led them to begin a larger trial to see what impact VR could have on the use of pain medicine, length of hospital stay and post-discharge satisfaction of patients.
The effects of VR on acute pain and anxiety are well documented, but can VR technology provide measurable relief to chronic pain sufferers? Pain Consultants of East Tennessee conducted a small-scale study into the use of VR with chronic pain patients. The study looked at 30 patients with chronic, non-malignant pain. Each received one 5-minute session with a VR program. By the end of the study, 10 patients reported complete pain relief. Among all participants, pain scores decreased an average of 33 percent from before the session to after the session and decreased 60 percent from before the session to during the session.
Can VR Reduce Hospital Readmission Rates?
Hospitals nationwide are searching for solutions to reduce hospitalizations and readmissions. Beginning in 2015, the Centers for Medicare and Medicaid Services (CMS) began linking reimbursement rates to the Hospital Consumer Assessment of Healthcare Providers and Systems (HCAHPS), which is a standard and comprehensive patient satisfaction survey administered in U.S. hospitals. Healthcare facilities can lose up to 2 percent of their CMS reimbursements based on patient satisfaction ratings for criteria including communication, cleanliness and pain management.
Revolutionize the Patient Experience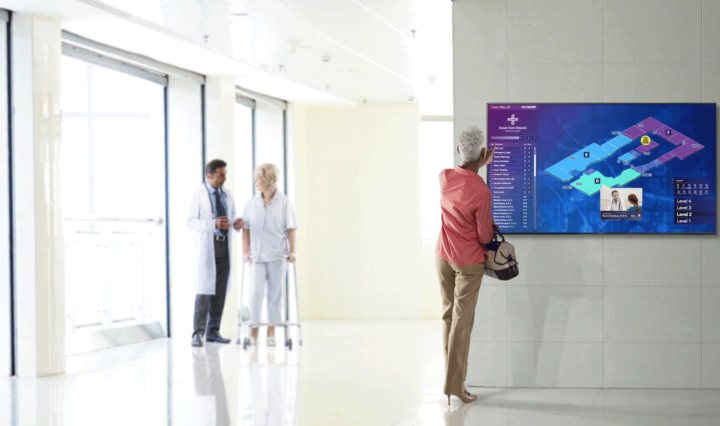 See how innovative hospitals are using digital technology to keep patients happy and healthy. Download Now
Inova Mount Vernon Hospital is currently using Samsung VR technology in their emergency department. The technology offers meditation games, tours of exotic locales or other immersive experiences to patients suffering anxiety or pain. So far, the hospital has seen improved pain management, even allowing the tool to replace medication for some patients. Inova Mount Vernon also received positive feedback from patients about their experience.
More research remains to be conducted on how VR may affect hospital stays. As the Cedars-Sinai study mentioned above progresses, administrators will be able to measure the effects of the technology on hospital stay and satisfaction. Along with the use of VR to treat chronic pain, this will be a very exciting field to watch.
What Makes a Viable VR Project?
Use of VR in the healthcare setting has taken off in recent years, as the technology gets cheaper, lighter and more reliable. Today, a standard VR setup may simply be a capable smartphone attached to a VR headset. This lowers the bar of entry for many health practices considering a VR program.
Health practices that want to start a VR technology program typically focus on patients with acute pain or anxiety. For example, pre-op patients nervous about their surgical procedure may benefit from distractions and games. Cancer patients undergoing anxiety-inducing chemotherapy treatments could access calming, meditative experiences.
When it comes to deploying VR, it's a good idea to keep the initial project focus narrow, choose a project that requires low barriers to entry, state-specific measurable goals for the program and create a reliable way to track and measure program use and results. In doing so, healthcare providers will be able to develop strong ROI on their VR technology implementations.
Learn more about how healthcare technology solutions can enhance efficiencies and improve the patient experience.