Modern work is mobile work, and enabling employees to get more done on the job with their mobile device is a must in today's competitive environment. Unfortunately, many businesses are still not fully leveraging the potential of smartphones and mobile applications, forcing users to be tethered to the desk in one way or another. The opportunity cost of not harnessing mobile can be dramatic, particularly for smaller, resource-constrained businesses.
However, by adopting a mobile-first strategy, small and midsize businesses (SMBs) can actually jump ahead of less nimble large enterprises, both reducing their IT costs and helping their teams to be more productive. Regardless of your industry, mobility opens up new avenues for increased responsiveness, collaboration and productivity — all of which act in concert to support the bottom line and grow the business.
Additionally, by taking the leap to a mobile-only approach with solutions like Samsung DeX, businesses can reduce hardware acquisition costs by cutting down the number of endpoints being managed across the business. This also helps to simplify IT management from device configuration, deployment, repairs and support, to software licenses and user training. These benefits all outweigh the hardware purchase price, especially for a PC, and it's even truer the longer you hold onto a computer because the costs of support, maintenance and lost productivity balloon over time.
Still not convinced to take a mobile-first approach? Let's take a look at some of the drawbacks of sticking with the status quo.
Legacy Technology Stifles Innovation
Adopting a mobile-first strategy enables businesses to focus more on innovation and less on managing technology. Maintaining legacy infrastructure like desktop-only applications is complicated and costly, and can hold a business back by keeping employees chained to their desks. By making the proactive decision to prioritize mobile, you free yourself to take a fresh look at business processes and find a smarter, mobile solution.
With solutions like Samsung DeX — which extends the Galaxy smartphone to create a desktop-like experience with a monitor, keyboard and mouse — businesses can now truly be run entirely on mobile.
Lost Productivity Can't Be Reclaimed
Imagine you're en route to your next client meeting and a brilliant business idea strikes. If you don't capture it then and there, it may be lost forever. The ability to multitask on the phone by taking notes, searching for information and sending files, all while still on the line, is critical especially for on-the-run workers. Mobile devices, like the Galaxy Note8 equipped with an S Pen, can make sure those sparks are instantly captured into the workflow. And those sparks do matter — according to a Frost & Sullivan survey of 500 managers and executives, smartphones increase worker productivity by an estimated 34 percent.
BYOD Isn't a Strategy
While BYOD may be an appropriate approach for some organizations or specific teams, it does not position you to take full advantage of mobile applications and work processes. The reality is that many businesses have applied a BYOD policy like a bandage, attempting to cover over the lack of a proactive mobile strategy.
By asking employees to bring their own smartphone, you inevitably still leave PCs as the computing centerpiece of your business and make it more difficult to secure mobile devices and introduce new mobile apps. In fact, a study from Oxford Economics shows that BYOD doesn't make the most financial sense when all the direct and indirect costs and benefits are weighed.
By shifting to a mobile-first strategy and investing in mobility, businesses can cost-effectively achieve greater control, security and management, while giving employees more flexibility and freedom to be productive. Not sure if you're overspending? Try our Mobile Cost Calculator, which provides business decision-makers with a top-line view of their mobile cost structures compared to companies in their industry of a similar size.
Go Mobile-Only With Samsung DeX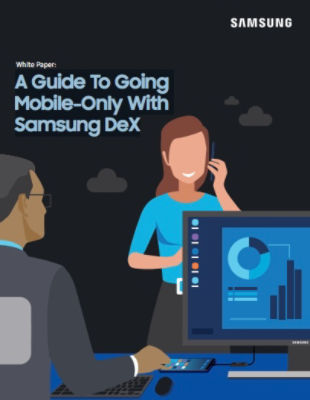 White Paper
Your comprehensive guide to rolling out a mobile-only solution for your workers. Download Now
Stolen Data Can Make or Break the Business
According to the Ponemon Institute's "2017 State of Cybersecurity in Small & Medium-Sized Businesses (SMB)" report, 61 percent of respondents said their companies have experienced a cyber attack in the past 12 months, costing an average of $1,027,053 in damage or theft of IT assets — on top of the cost of disruption to the business.
Mobile device were once viewed as a weak link, but mobile security platforms and device management capabilities have come a long way. Going mobile is a secure way to run a business in the face of persistent cybersecurity threats. Advanced biometrics and defense-grade mobile security solutions, like Samsung Knox, secure data down to the hardware level, protecting users from potentially devastating losses.
Discover how the Galaxy Note8 can bring a new level of productivity to your business.