Almost every time I speak with a manufacturer, process automation comes up. Industrial processes everywhere lose efficiency and productivity due to manual processing. Production line shutdowns and equipment failure deliver the biggest hits, but many also endure persistent, small-scale losses from manual processes. Either way, the margin erosion is intolerable.
Samsung has great stories to tell about how mobile devices support automation, and that is a story I'll revisit often in 2019. For today, though, let's take a look at some of the macro trends in process automation. The market for global process automation and instrumentation is forecast to grow 6.4 percent per year over the next six years to over $100 billion, and much of that growth will occur in these areas.
The Digital Twin
A digital twin is a virtual copy of a product or process that enables manufacturing companies to measure their cloth twice and cut once. As manufacturing becomes more specialized and customer-centric, tolerance for errors becomes ever lower. You can use a digital twin to evaluate alternative practices and accelerate optimization. This means running your actual operations according to current accepted practices while using your digital twin to model and evaluate alternative plans for asset performance management, edge computing, cybersecurity and more.
While it takes advanced technological maturity to realize the full potential of the digital twin concept, you can adopt the concept now and refine it as your digital transformation unfolds.
Edge Computing
Data-driven processes in manufacturing necessitate powerful computing resources close to the source. If Industrial Internet of Things (IIoT) data from a machine can't be analyzed at the point of generation, it won't be of much use if another link in the chain is about to fail. Edge computing, which decreases the latency in computing by processing analytical models at the origin, is gaining acceptance as a way of leveraging big data. The International Data Corporation (IDC) predicts that by 2020, 45 percent of all IIoT data will be stored and processed close to the network edge.
Modernize Your Factory With Mobile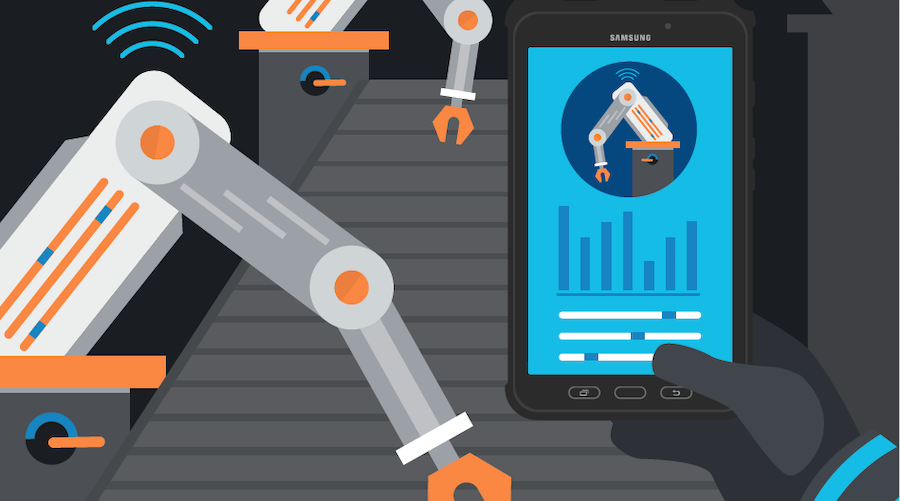 Get your free guide to the mobile technologies that will accelerate your smart factory journey. Download Now
One major advantage of edge computing is that it can be implemented alongside mainframe computing in a hybrid environment. You can now decide which data sets to send to the cloud and which ones to analyze at the edge. I would be remiss not to mention that a mobile device like Samsung's ruggedized Tab Active2 will help make your network edges smarter, while keeping your data protected through Samsung Knox.
Machine Learning
Manufacturing companies are harnessing the power of big data and machine learning algorithms to improve manufacturing uptime and other KPIs. Machine learning can build baseline models based on past history and analyze IIoT data to accurately predict when a machine might fail. At a more advanced level, such algorithms working in the cloud can even learn from machine performance at other plants. Manufacturing companies are moving from preventive maintenance to this more proactive approach using embedded machines and high-powered, cloud-based analysis.
Customer-Centric Manufacturing
A study from Forrester Research indicated that manufacturers are stuck in the age of the product and that they relegate customer service toward the bottom of their priority list. That approach will soon be a thing of the past, thanks to the possibilities of process automation. You can go micro in your production and create specialty, customer-demanded products. Specialty product demands greater transparency in the supply chain, something the rebooted digital supply network provides. Manufacturing companies of varying technological maturity can avail of these principles by digitizing at least part, if not all, of their production processes.
Collaborative Robots
Gone are the days of caged robots that need to be programmed by experts to perform one very specific pick-and-place function. The new generation of collaborative automation works alongside workers to focus on repetitive tasks and can be programmed by practically anyone. The market is expected to reach an astounding $95 billion by 2024, according to Transparency Market Research.
Options for Companies at Every Stage
While these process automation trends might seem out of reach if you are in the early stages of the digitization process, there are plenty of incremental wins to be had. A study from Deloitte found that a focus on continuous improvement is the biggest factor (35 percent) in driving manufacturing companies on the path toward complete process automation. Steady gains in digitization by going mobile and realizing small, early successes, such as going paperless, can enable manufacturing companies at various levels of technological maturity to move ahead on their journey to become a smart factory in 2019.
My colleagues and I would welcome an opportunity to help you score some of those incremental wins. Please reach out to me about incorporating mobility and cloud, wherever you are in your transformation process.
Learn more about using mobile technology to modernize your factory with our free white paper.