Smartphones are crucial to productivity, both personal and professional. So when you switch devices, the process should be quick and seamless. If you're hesitant to switch because you want to avoid the hassle of transferring your data, Samsung Smart Switch will put you at ease.
Smart Switch allows you to transfer your contacts, apps, photos, messages and other content to your new Galaxy smartphone or tablet quickly and easily — whether you're upgrading from an older Samsung smartphone, another Android device, an iPhone or even a BlackBerry.
The Smart Switch app gives you two options: wireless transfer or transfer via a USB cable. In each case, you have complete control over the data you move and what, if anything, gets left behind.
Simply follow the instructions for your preferred method, and you'll have your old smartphone's contents copied over and ready to go on your new Galaxy device in just a few minutes.
Before you begin
Before you begin, make sure you have the most up-to-date version of the Smart Switch app installed on your Galaxy device. It's preloaded and also available in the Google Play store.
Choose the right phone for your growing business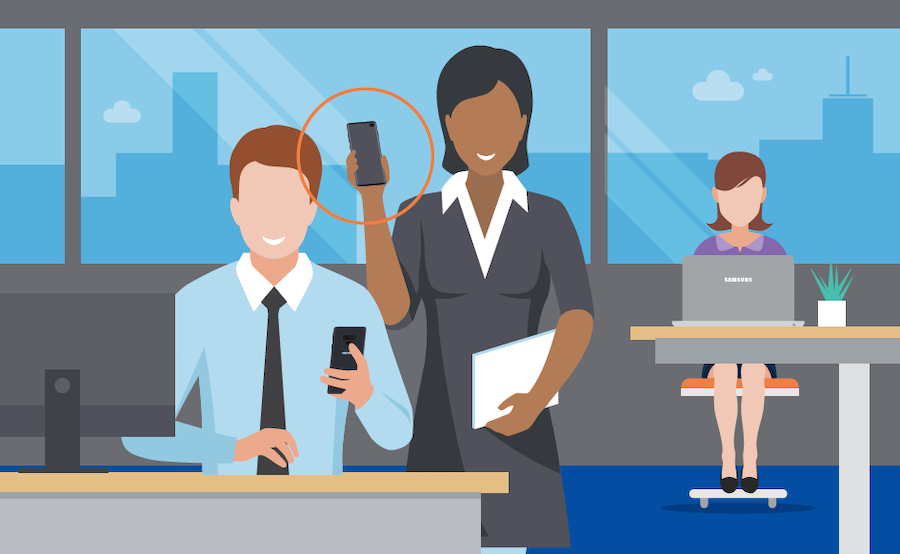 White Paper
Get your free guide to matching the right smartphone with your business and employee needs. Download Now
If you're switching from an iPhone, there's a few important steps to take care of before using Smart Switch:
Back up your data to iCloud.
Deregister your iMessage account.
Have your iCloud ID and password handy.
Regardless of what device you are switching from, don't switch your SIM card until the entire transfer is complete. You'll also want to make sure that both devices have at least 20 percent battery life remaining.
Wireless transfer
This is the quickest and easiest way to transfer content, especially since it requires no cables or adapters. It's the clear winner if you are switching from an older Samsung phone or another Android device. If you are upgrading from an iPhone, it's great for transferring the basics, including contacts, photos and videos, but use the wired transfer method for a more complete switch.
On your new Galaxy device, open the Smart Switch app and select "Receive Data."
For the data transfer option, select "Wireless."
Select the operating system (OS) of the device you're transferring from and then tap "Transfer."
If you are switching from an iPhone, you'll be asked to log into your iCloud account. For other Samsung devices, you'll now open the Smart Switch app on your old device, and select "Send data."
Smart Switch will connect to the backup, identify data that can be transferred and present a list. Choose the content you want to move to your new device. When you're ready to proceed, tap "Transfer."
Once the transfer is complete, you'll see a summary of all the transferred content and a prompt to download the Android version of your apps.
Wired transfer via USB cable
The wired method requires a USB cable and On-the-Go (OTG) adaptor to connect your new Galaxy smartphone or tablet with your old device. But it has its advantages if you are copying over a large amount of content from an iPhone, since it's faster and lets you transfer a wider range of content.
Open the Smart Switch application on your new Samsung smartphone and agree to the terms of service.
To answer, "What Should This Phone Do?," select "Receive Data."
Select "Cable" as the data transfer option.
Connect your old phone via your USB or Lightning-to-USB cable. Use a USB-C-to-USB adapter (included with most Galaxy smartphones) to connect the devices.
On your Galaxy smartphone, select "Next" when the prompt appears to transfer content from your old device. A pop-up will appear on your old smartphone asking if you want to trust the connected device.
Select "Trust" and enter your device passcode if prompted. Smart Switch will search your smartphone for content to transfer. If the encrypted backup option is turned on for iOS, you may need to enter your iOS encryption password to proceed. A list of content to transfer will be displayed.
Choose the content you want moved to your new device and select "Transfer."
If you've selected apps, you'll be prompted to pick the free Android versions of your existing apps if transferring from another OS. Paid apps can be installed separately later. Purchased apps and most in-app purchases from non-Android devices will not transfer.
Content will begin transferring from your old device to your new Galaxy smartphone. Once the copying phase is complete, you'll be notified that you can safely disconnect the USB cable.
You decide what stays and what goes
When you make the switch, you have full control over the content you want to transfer, so you can decide exactly what you want on your new phone. If you're transferring from a Galaxy device, you'll be able to copy over just about everything you have on your old phone, including all your texts, media content, Wi-Fi details and even your home screen settings.
For iOS users, you won't have quite the same ability to replicate your old device's setup, but you'll still be able to transfer all your contacts, messages and media files. Some iOS apps may not transfer, but Smart Switch makes this issue painless as well, suggesting apps that mirror those on your old device.
Once you've made the switch, here's eight essential tips for getting the most out of your Galaxy smartphone. And discover how the new Galaxy Note20 and Note20 Ultra can support your work from anywhere.