Since introducing its first Android-powered tablet back in 2010, Samsung has continued to diversify the Galaxy Tab portfolio, launching models suited to different business needs and environments. Whether you're looking for a powerful tablet to replace a business laptop, a rugged device to use in the field or an affordable solution to create a digital kiosk or collect data, there's a Samsung Galaxy tablet designed for the task.
Samsung tablets have become incredibly versatile mobile computing tools, thanks to added features such as the S Pen for note taking and Samsung DeX, which lets you use your tablet like a PC while maintaining the ultra-portable form factor.
To help you decide which tablet is right for your business, here's a breakdown of the entire Galaxy Tab lineup:
Galaxy Tab S7: The laptop replacement
Galaxy Tab S7 and S7+ are Samsung's best-in-class tablets for multitasking and mobile productivity. Perfect for replacing a traditional laptop, Galaxy Tab S7 features an 11-inch Low-Temperature PolySilicon (LTPS) LCD screen, while Galaxy Tab S7+ offers a larger 12.4-inch Super AMOLED screen with HDR10+ color technology. Both devices are DeX-compatible, so you can easily create a desktop computing setup just by connecting your tablet to a full-size monitor and keyboard.
A Samsung S Pen is included with both Tab S7 models, so you can mark up documents by hand and take notes directly on screen. An optional book cover keyboard provides an attachable physical keyboard and trackpad with laptop-like ergonomics.
More recently, Samsung introduced Galaxy Tab S7 FE, which also features an expansive 12.4-inch viewing surface, ideal for editing complex documents, videoconferencing and more. Landscape View automatically keeps you front and center, so you can make a great impression remotely, without worrying about staying in frame. And the wide angle view lets you include more information in every meeting.
Shop special offers
Find out about offers on the latest Samsung technology.
see deals
Speak to a solutions expert
Get expert advice from a solutions consultant.
Talk to an expert
Galaxy Tab S7 FE's multidevice connectivity, meanwhile, makes it easy to hand off content between devices. You can also keep multiple tablet windows open at once, offering a more PC-like experience. You'll be able to tackle complex business challenges with ease, thanks to Galaxy Tab S7 FE's Qualcomm SM7225 Octa-Core processor.
An upgrade from the previous Tab S6, the S7 lineup now features 5G connectivity. Galaxy Tab S7 FE 5G, for instance, provides faster upload and download speeds, streaming with virtually no lag and the option to connect to your private, highly secure 5G hotspot.
Another excellent option for a laptop replacement is Galaxy Tab S5e (released in 2019), as it's also DeX-compatible. With a 10.5-inch screen, up to 6GB of RAM and 128GB of storage, it enables powerful multitasking in a slim, lightweight form factor.
Galaxy Tab Active3: The rugged, field-ready solution
But sometimes, your team stretches beyond the comfort of an office, home or coffee shop. Some roles require people to work outdoors in thunderstorms, blizzards or other challenging conditions.
That's why Samsung built its lineup of Galaxy Tab Active rugged devices. This series includes Galaxy Tab Active3, which features a military-grade design — tested against the Defense Department's MIL-STD-810 rugged technology standards, plus an IP68 rating for dust and water resistance.
Galaxy Tab Active3's protective hardware can keep the device intact even after repeated drops from 5 feet up. And with enhanced touch mode, Galaxy Tab Active3 allows those in the field to keep their gloves on as they operate the tablet's buttons. This includes a programmable Active key (on the side of the device), which can launch frequently used apps in a single press.
Those in the field shouldn't have to worry about staying online, either. Galaxy Tab Active3 ensures reliable connectivity via Wi-Fi 6 and 2×2 multiple-input and multiple-output (MIMO), with LTE-connected models available from major carriers. And the long-lasting, field-replaceable battery — up to 5,050mAh — supports Fast Charging through USB and pogo pins.
Other rugged tablet options include Galaxy Tab Active Pro, which can also withstand volatile environmental conditions, including repeated drops, constant vibration, submersion in 5 feet of water, extreme temperatures, low air pressure and salt fog.
Galaxy Tab Active Pro features a large, 10.1-inch display, ideal for reviewing elaborate diagrams like construction plans on site.
Galaxy Tab Active3 and Tab Active Pro are both DeX-compatible, allowing field-based workers to dock their tablet to a monitor back at the office to complete their work at a full desktop. Galaxy Tab Active3 devices can also serve as durable point-of-sale (POS) systems, thanks to their rugged hardware and built-in near-field communication (NFC) capability.
For ease of management, Galaxy Tab Active3 Enterprise Edition comes with a one-year subscription to Knox Suite, Samsung's end-to-end toolset of cloud-based mobile management services that allow IT to secure, control and deploy mobile devices efficiently. Discount pricing is available when enterprises renew for subsequent years.
Galaxy Tab A7: The digital workflow enabler
With the right tablets, healthcare facilities can digitize their intake forms, restaurants can streamline their ordering system, manufacturing contractors can ensure they always have the latest plans, and retail shoppers can get immediate answers from self-help kiosks.
Galaxy Tab A7 and A7 Lite can help in all these areas, moving your business forward into a paperless digital workflow.
Based on a familiar Android OS — simpler to deploy, configure and manage than PC platforms — Galaxy Tab A7 lets you deploy new tablets without overwhelming your IT budget.
With a 10.4-inch screen and Dolby Atmos sound system, Galaxy Tab A7 is designed to for more engaging video calls, training sessions and sales presentations. The front-facing camera will make you feel like you're in the same room as your customers. Galaxy Tab A7 Lite is nearly as big, with an 8.7-inch widescreen display.
Opting for Galaxy Tab A7 and Tab A7 Lite, you gain access to the full Galaxy ecosystem. This makes it easier to share files securely, enjoy a consistent videoconferencing experience and set up hotspots wherever you need them. Expandable storage — such as a microSD storage slot, available for up to 1TB — gives you everything you need to manage all your important files and content.
Get your ultimate guide to Knox Configure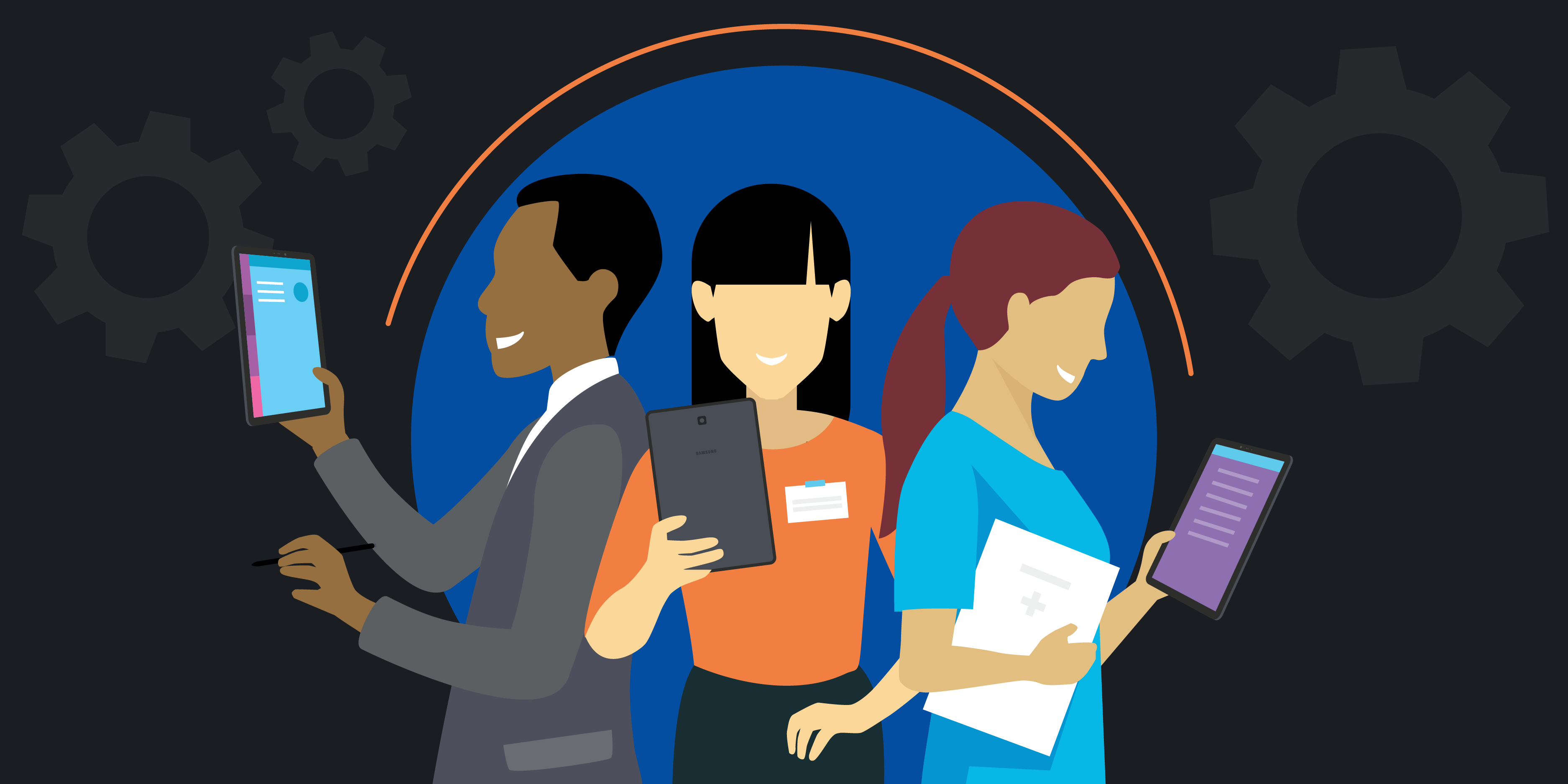 Learn how to optimize tablets for your unique business needs using Samsung Knox Configure. Download Now
The rest of the Galaxy Tab A lineup, meanwhile, offers dependable performance and long battery life — up to 13 hours on the largest model, Galaxy Tab A 10.1-inch. With 4G LTE connectivity on select models, you can trust your tablet will keep you connected.
From Galaxy Tab A 8-inch, Tab A 8.4-inch and Tab A 10.1-inch, you can choose the best blend of portability and screen size for your work environment. The ultraportable 8-inch model can fit into your back pocket, while the 10.1-inch model is preferable for viewing multiple documents at a time.
The model in the middle, Galaxy Tab A 8.4-inch, doesn't just add a bit more screen space; it also adds the option of LTE connectivity, so you can be productive from anywhere. And if you find yourself needing more storage after purchase, you can make use of the expandable memory slot.
Galaxy Tab S6 Lite is another excellent choice if you need to multitask, thanks to its Octa-Core processor and 4GB internal memory. Galaxy Tab S6 Lite even supports more advanced features such as S Pen compatibility — so you can jot down notes, mark up documents and sign contracts by hand.
The right Galaxy tablet for your needs
All Galaxy tablets come with built-in Knox security, as well as optional mobile management solutions that make it easy to manage a whole fleet of devices at scale.
Choosing the best Galaxy tablet for you comes down to which device can best tackle the work you need it for. If you need a powerful laptop replacement with a keyboard, trackpad and DeX compatibility, consider Galaxy Tab S7 or Tab S7+. If you're working in the field and need something that can handle the heat, Galaxy Tab Active Pro and Tab Active2 are ready to go. Or if you're just looking for an affordable, dependable device to move your business into a paperless future, Galaxy Tab A 8-inch, Tab A 10.1-inch, Tab A7 and Tab S6 Lite can deliver.
Managing mobile devices doesn't have to be complicated. With an effective MDM solution, your organization can spend less and do more — securely and efficiently — with help from this free beginner's guide. And explore exclusive business pricing, financing and trade-in options and other deals on everything from phones and tablets to monitors and memory.