With so many people working remotely nowadays, it's more important than ever to collaborate effectively from afar. But paper documents are still a prevalent part of business. Now, you can easily share physical documents with your colleagues right from your Galaxy S20 or Galaxy Note20 with its built-in scanning capabilities.
For example, if you're working from home without a laptop, you can attach some paper receipts to an expense report in a snap. Or, if you're studying from home without a laptop, you can quickly scan paper forms for a class in just a couple taps. You don't have to fumble around with a bulky scanner or multifunction printer. Everything you need is already on your phone.
Shop special offers
Find out about offers on the latest Samsung technology.
see deals
Speak to a solutions expert
Get expert advice from a solutions consultant.
Talk to an expert
To get you on your way, here's a step-by-step guide to scanning a document on your Galaxy S20 smartphone:
How to scan a document with your Galaxy smartphone
The latest Galaxy smartphones make it easy to scan and share documents. Here's how to do single-page scans:
1. Open the camera app and position the document in the center of your view. The camera app will automatically detect the document.
2. Tap the scan button.
3. Then tap the thumbnail image to review your scan.
4. Tap the edit icon if you'd like to edit your scan.
5. Editing tools will appear. You can edit, crop and rotate your scan as needed.
6. Then tap Save and zoom in to make sure you got a good scan.
7. Tap the share icon to send the document via email or messenger.
How to scan multiple documents using the Microsoft Office app
Here's how to scan multipage documents using the integrated Microsoft Office app:
1. Open the Microsoft Office app and tap Actions at the bottom right.
2. Then select Scan to PDF.
3. Scan the first page and then tap Add New.
4. Tap Confirm to accept the scan.
5. Continue scanning all the pages. When you're done, tap the red arrow.
6. You can open a recent scan by tapping its thumbnail image.
7. Tap the Edit button to begin editing your scan, then tap Done when you're finished.
8. You can now share the document via email or messenger.
Get more done with your Galaxy smartphone
Your Galaxy smartphone features plenty of other remote productivity tools that let you get work done wherever you happen to be.
When you turn your Galaxy smartphone into a hot spot, you get a private Wi-Fi access point for connecting all your devices. This makes it easy to share your scans with other people when you don't have a Wi-Fi connection nearby. On top of that, you can use the Microsoft Your Phone companion app to quickly drag and drop all your recently scanned documents right onto your PC desktop.
What's the best phone for your business?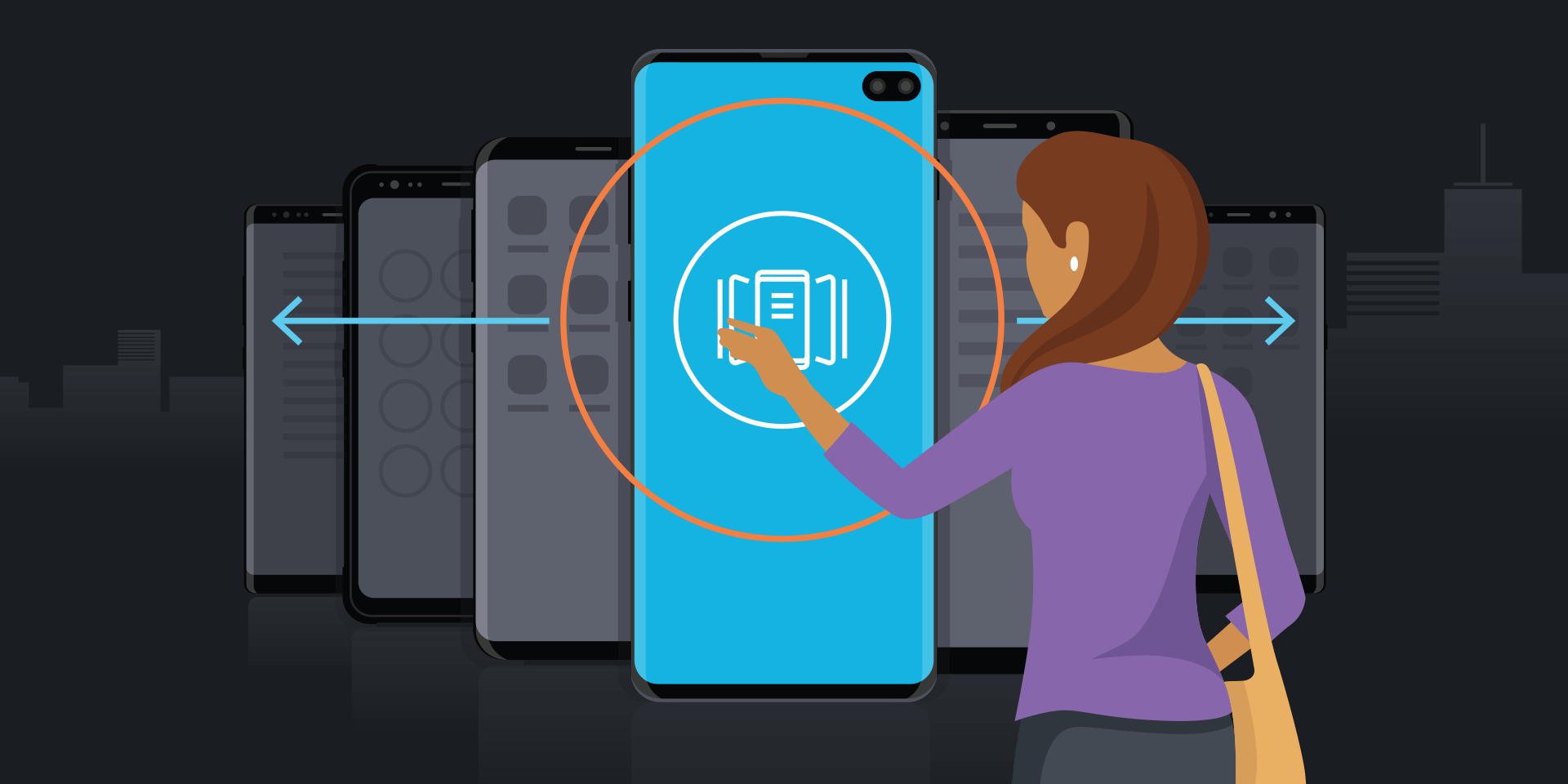 Take this quick assessment to discover the smartphone most tailored to your business needs. Explore the phones
Making the transition to remote work can be an adjustment, but it's easier when you have technology that helps you work well in an unfamiliar setting instead of getting in the way of your productivity. Learning how to make scans on your Galaxy smartphone helps you do just that by giving you instant access to your paper documents right on your mobile device.
Find out how to roll out a mobile-only solution for your workers with Samsung DeX in our comprehensive guide. And discover other ways to create a more connected remote workplace.