The pandemic has upended K-12 education, and many school IT departments have been scrambling to deploy Chromebooks to students who are now studying from home for some or all of the school week.
There's a hitch, though: Because of the surge in demand, Chromebooks are in short supply. Android tablets, on the other hand, are readily available. As this challenge became apparent over the summer, Samsung's customer success team hit on an elegant solution.
"We had school districts asking us, 'Is there any other way you could give us a Chromebook experience for our students?'" says Keith Fuentes, Samsung's vice president for customer success. "So the team went away and studied the problem, and we found that actually, we can deliver a solution with all the core benefits of Chromebooks on our Android tablets."
The solution, which involved customizing and managing devices with Samsung's Knox Manage or Knox Configure tools, has now been deployed in several large school districts. "These are incredibly difficult circumstances for school administrators and IT teams," says Fuentes. "We worked very collaboratively with our customers on these initial rollouts and now have the capabilities in place to deliver a turnkey Chromebook experience on a Galaxy tablet, including all the device management capabilities a school needs."
Why Chromebooks?
Before diving into the details, let's zoom out a bit. Why do school IT administrators and teachers like Chromebooks?
Over the past decade, Chromebooks have emerged as the student computing device of choice for U.S. schools, representing 60 percent of the K-12 market. In January 2020, Google said that there were 40 million Chromebooks in schools, up from 30 million the year before.
There are three main reasons Chromebooks are so popular with school districts:
Teachers like Google's web-based education ecosystem: Google Classroom and hundreds of compatible education apps, G Suite for Education with mail, chat, meetings, shared storage and more. With the added simplicity of the Chrome operating system (OS), Chromebooks are less likely than a standard laptop to get in the way of the educational experience.
School IT teams like Chromebooks' management tools. Google's Admin Console handles the Google Workspace side of things for each user, while the Chromebooks themselves are managed with the Chrome Education Upgrade.
School district administrators like Chromebooks' price point. They're less expensive — to buy and to manage — than comparable Windows and Mac laptops.
Delivering the Chromebook experience with Samsung tablets
With this in mind, schools that are used to Chromebooks may be wary of moving forward with Android tablets. They want to know that the Android devices will deliver the same experience for their teachers, their IT teams and their budgets. Let's walk through each of these and how they can be addressed:
User Experience
To make the user experience on Android-powered Galaxy tablets more consistent with the Chrome OS, the Samsung team used Knox Configure to customize the home screen, as well as limit access to unneeded settings and content.
17 innovative lesson ideas for remote learning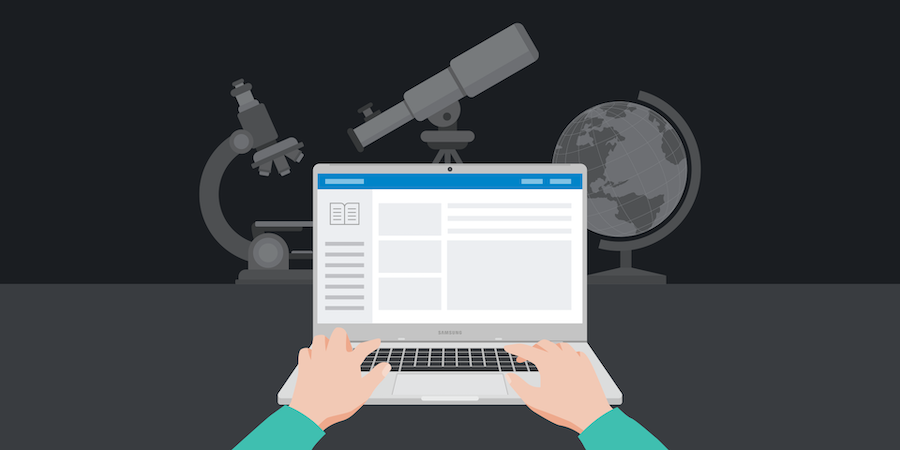 Get your free pack of multidisciplinary lesson plans to teach modern students with modern tools. Download Now
"We're able to create a Chromebook-like experience from the moment the student boots up, adding bookmarks to Google Classroom and Google apps on the home screen, removing apps students don't need, or even locking the device down to only access the Chrome browser," explains Fuentes.
Once a student opens the Chrome browser, a Galaxy tablet with a paired keyboard delivers the same core learning experience as a Chromebook. And teachers manage students in Google Classroom in the same way, no matter what hardware a student has.
"The beauty of the Chromebook learning experience is that it's all web-based Chrome applications, and they run seamlessly on Galaxy tablets, too," says Fuentes. "When using Android, you have the added benefit of accessing the wealth of education applications in the Google Play store."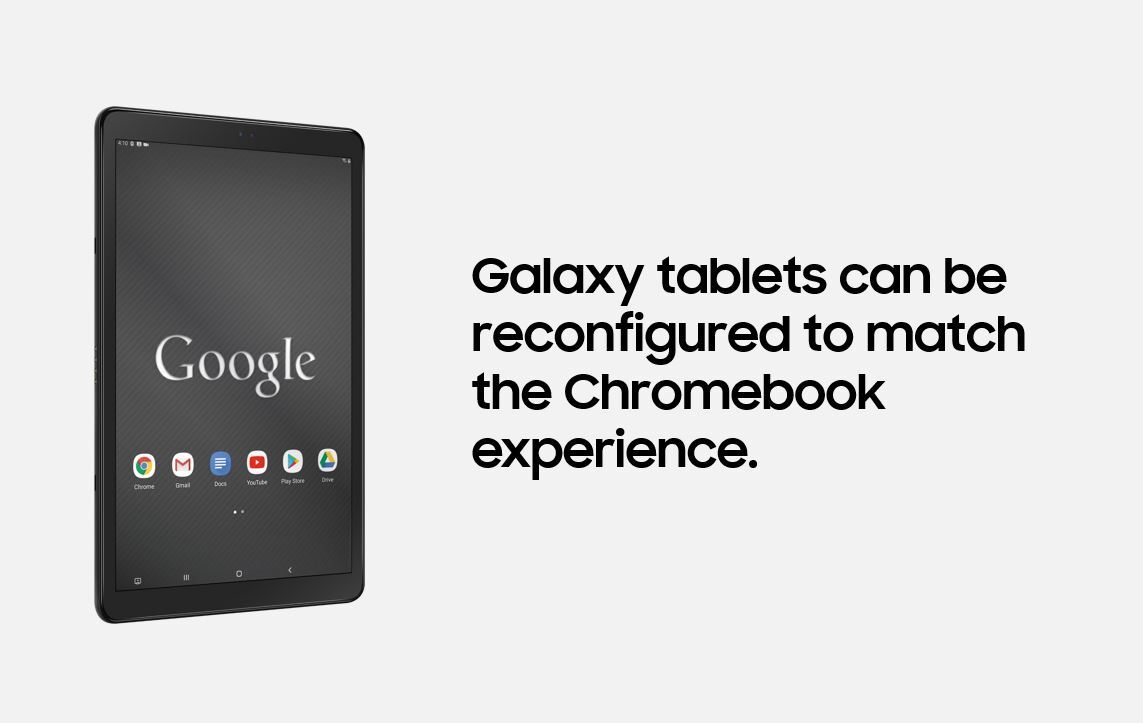 Device Management
For school district IT admins, adding Galaxy tablets to an existing deployment of Chromebooks is easy. Android tablets can be enrolled in the Google Admin console, and users, groups and apps managed cohesively.
For additional device management capabilities, Samsung's Knox Manage solution can also be leveraged. This gives school districts full mobile device management with advanced application support, whitelisting and blacklisting, and the ability to remotely access student devices to resolve issues.
"Remote management and troubleshooting is particularly important today, given social distancing," Fuentes says. "Knox Manage lets IT admins take control of the student's device and help them out if they run into issues."
Budget
Perhaps most importantly for school districts with tight budgets, Galaxy tablets are available at similar price point as Chromebooks. Depending on grade-level and other considerations, schools can opt for an 8-inch or 10.1-inch Galaxy Tab A. After adding a keyboard and Knox licenses, the package is priced competitively with entry-level Chromebook models.
Samsung also offers prepackaged Quick Start services that pair an experienced Samsung engineer with a school's IT team so they get exactly the configuration they need in just a few hours.
Greater flexibility
Augmenting Chromebooks with Android tablets doesn't just help with tight supply chains; it also gives schools greater flexibility.
In K-2, for example, the 8-inch Galaxy Tab A is perfect for smaller hands, plus they're highly portable and easy to ruggedize. Because younger students are primarily browser-based and don't need a keyboard, the tablet may be a better solution for them than a Chromebook.
With students studying at home, schools need to ensure students are equipped with not just a device, but also internet connectivity. Not every student has reliable high-speed internet at home. Tablets with cellular connectivity address that need and mean schools can avoid the complexity of managing standalone mobile hot spots.
K-12 schools have had great success pairing Chromebooks with Google's education tools — an inexpensive, internet-connected and fully managed solution. With a dash of quick thinking and creativity, Samsung Galaxy tablets and the Knox platform can now deliver the same Chromebook experience, so educators focus on what's most important — their students, and not the technology.
Find out how to secure funding for your remote learning initiative in our free guide. And get seven tips for teachers working in a remote learning environment.