Web conferencing technologies — from HD cameras to intuitive software — have enabled companies and organizations to stay connected and productive, even when getting together in person has been hard or impossible. Seeing familiar faces and sharing work remotely on computer screens has bridged divides, but the next big leap forward is display technology. Display technology enables rich, fluid collaboration between people, whether they're in the same room or all over the world.
Interactive whiteboards have grown increasingly common in environments as varied as corporate meeting rooms and kindergarten classrooms. A new class of interactive, hypercollaborative Samsung displays embraces the spirit and foundational aspects of those digital whiteboards and gives them superpowers that make learning, sharing and collaboration easy and impactful, whether everyone is gathered as a group, or working and learning separately from home offices and kitchen tables.
And that's where the latest in interactive technology will prove effective: Samsung's Interactive Display comes in as a wall-mounted or stand-based, 85-inch, OPS-backed, multi-touch all-in-one dynamo that can suit the needs of anyone from the boardroom to the classroom and their at-home counterparts.
Bigger and even better
The latest in collaboration tools — Samsung's Interactive Display — is changing team capabilities, packing a monster punch with its size: a wall-mounted 85-inch 4K resolution display that takes on the same kind of big visual canvas dimensions of classroom chalkboards and meeting space dry-erase boards. Here are the other highlights:
A wide selection of connectivity options are standard, including USB, HDMI, DisplayPort, near-field communication (NFC) and an Open Pluggable Slot (OPS) in the display that allows a compatible PC to be loaded.
Viewing and changes can be synchronized between the Samsung Interactive Display and a laptop. For example, a meeting leader can connect a personal device to the 85-inch display using the "touch out" function — controlling the content on the big display from a keyboard. In brainstorming sessions, edits made to the content on the large screen also change on the laptop display, and vice versa.
Forms and templates make the Interactive Display useful throughout a working day — running messaging, schedules and other need-to-know information, even when not in active use.
Easy sharing tools allow meeting leaders and educators to quickly capture and distribute the meeting output, whether brainstorming notes, marked-up drawings and other visuals, or new material shared by participants or found online, using the built-in browser.
Pen and brush modes allow as many as 20 simultaneous users for drawing, note taking or producing original, high-definition content.
Making wherever work
With an inexorable shift to remote working and learning accelerated by global health concerns in 2020, tools that go beyond voice and video calls, emails and attachments are more important than ever. It can be particularly important for executives who find themselves working from home, detached from their teams but still needing to visually communicate ideas and plans. For example, a chief technology officer (CTO) working virtually from the comfort of their home office can use a Samsung Interactive Display to mark up the plans for a major IT overhaul, while those same visuals show up on a sister device (the Flip 2 or another Samsung Interactive Display) running on the network at the main office, where a few colleagues have gathered at a limited capacity.
Modernize your workplace with digital signage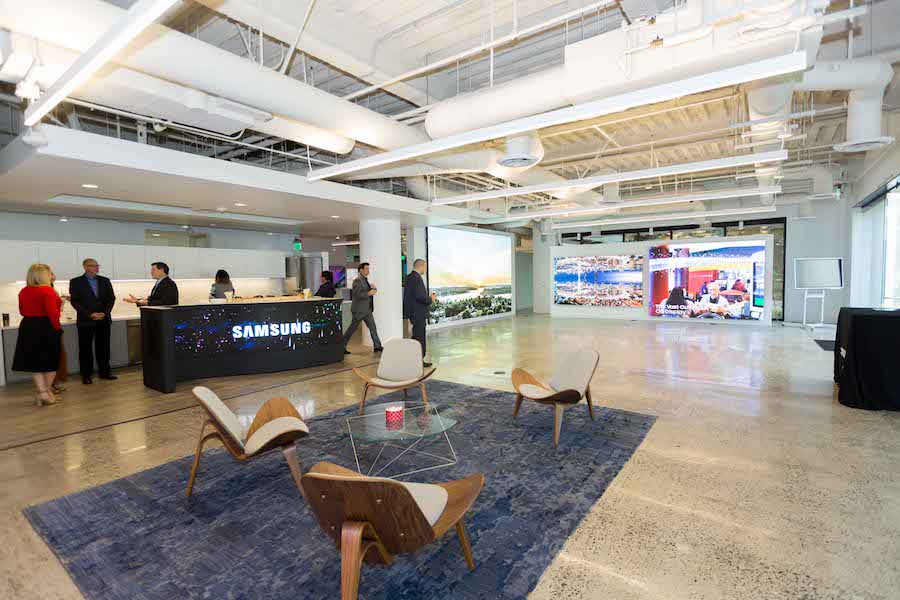 Explore how corporate offices are producing dynamic, engaging content for workers and clients alike. Download Now
Similar scenarios could play out across many industries and working and learning environments. Consider what might happen in education, healthcare and in the creative industry:
Teaching
Classrooms become more engaging and active when students can get up and use a large screen that everyone can see. As many as 20 people can use a Samsung Interactive Display simultaneously — whether they're working out math equations, drawing pictures, making lists or marking up and editing images pulled from the internet.
The 85-inch Samsung Interactive Display has a built-in document viewer, allowing participants to access, show, discuss and work with files commonly used on computers and other personal devices. Built-in image editing tools let users easily select, move, crop, capture and edit images. Activity is built and archived around the idea of rolls, with as many as 20 pages or screens worth of writing or activity saved to a roll. Students working remotely can get the full recaps, including the visuals and annotations, effortlessly sent their way by email.
Caregiving
A large display and Ultra HD resolution allow medical practitioners to review diagnostic imaging together and work out plans as a team. Annotated X-rays or other images can easily be seen, reviewed, revised and sent for opinion and advice to other practitioners in the building, or across the country. They can also share plans with patients and loved ones on a big screen, and then archive those plans on network storage.
Creating
Conventional paper flip charts and marker-based whiteboards limit the creative collaboration process to note taking and simple drawings. The Samsung Interactive Display's high-precision multimedia capabilities enable creative teams to do everything from mark up proofs from graphic designers to create original designs — using stylus pen and brush tools. Creatives can draw bold oil paint strokes with a pen or create delicate watercolor scenes with a highly sensitive brush.
Teams working with a remote client can operate in near real time on ideas and revisions, making changes on the display and sending them on the fly. Highly subjective, opinion-driven work that might normally take hours or days can be reduced to minutes when all the stakeholders can see, comment and sign off.
Chalkboards and whiteboards have been central to learning, sharing and innovating for decades. The new 85-inch Samsung Interactive Display takes that idea and optimizes it for today's working and learning climate.
Learn more about the enhanced educational experiences digital signage can provide with this white paper. Then learn how you can enhance security on your Flip 2 by password protecting its content.