It should come as no surprise that in today's market, sharing videos on your business's social media is an essential part of generating interest in your product and engaging with your customers — especially now that shoppers are engaging even less in brick-and-mortar retail in compliance with social distancing guidelines. In fact, Animoto reported that 58 percent of people will visit a brand's social media page before their website, and that video ads were the number one way consumers discovered a brand they later purchased from.
Each customer's path to finding you on social media is unique, and the types of videos that resonate with each person can vary quite a bit, too. Adding variety to your video marketing strategy can help your videos reach even more people, and making those videos interesting to watch will keep viewers tuned in for long enough to actually hear your message.
Choose the right phone for your growing business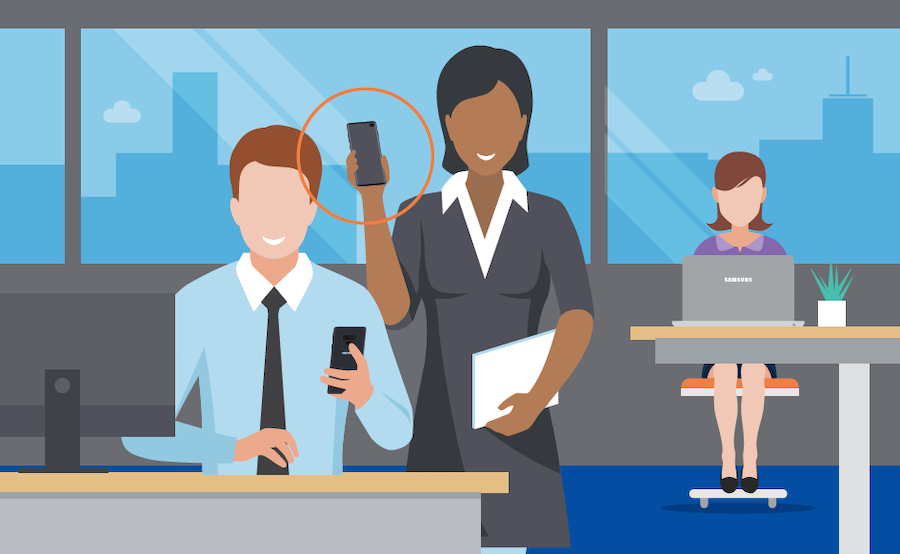 Get your free guide to matching the right smartphone with your business and employee needs. Download Now
Variation is engaging
So, what makes for a dynamic video? Mixing up the types of videos you share and the style in which they're filmed can help set you apart from the competition. Here are a few ideas to help you get started:
Demonstrate how your product works or give a tour of your space. A Social Media Week survey found that 72 percent of consumers prefer learning about a product or service through a video over text.
Behind the scenes videos let your customers peek behind the curtain to see where the product is being made and the people who are making it. Creating this kind of transparency between business and consumer can go a long way toward building brand loyalty — especially in small and medium-sized business (SMB) environments.
Tutorials and how-to videos are a great way to offer something of value to your customers in exchange for asking them to take the time to watch your video. In fact, Sprout Social found that 59 percent of consumers want to see posts they can learn from.
Testimonial videos are a powerful marketing tool and a fun way to get your community involved. By asking your existing customers and employees to talk about what makes your business special, you can offer a different and more authentic perspective than repeatedly touting your own brand's merits. It also signals that you value your customers' opinions and listen to their feedback.
Of course, it's not just the story you tell, but how you tell it that's important. Here's where having the right tools for the job really helps. Luckily, this doesn't have to mean hiring a video crew or investing in expensive camera equipment. Polished marketing videos and fancy camera tricks used to be reserved for professional filmmakers, but with a smartphone like the Galaxy Note20 or Note20 Ultra you can create professional-quality videos for your business without breaking your budget.
Here are some of the features on the Note20 that help you create professional-quality videos for your brand.
Hyperlapse
The Hyperlapse feature allows you to create your own time-lapse videos by capturing a bunch of individual frames at short intervals and then stitching them all together to make one video. This speeds up the action by condensing an activity that might usually take hours into just a few minutes. Hyperlapse offers a creative way for artists, chefs, builders and makers of all kinds to show how something is made.
You've probably seen these videos on social media before: a pastry chef decorating a cake at warp speed, a woodworker turning a pile of wood into a piece of furniture before your eyes, a hair stylist giving a client a cut and blow-dry in under a minute. As viewers, there is something deeply satisfying about observing a project from start to finish, and we're more inclined to keep watching to see how it ends.
Bonus feature: You can also use Hyperlapse to make six-second animated GIFs.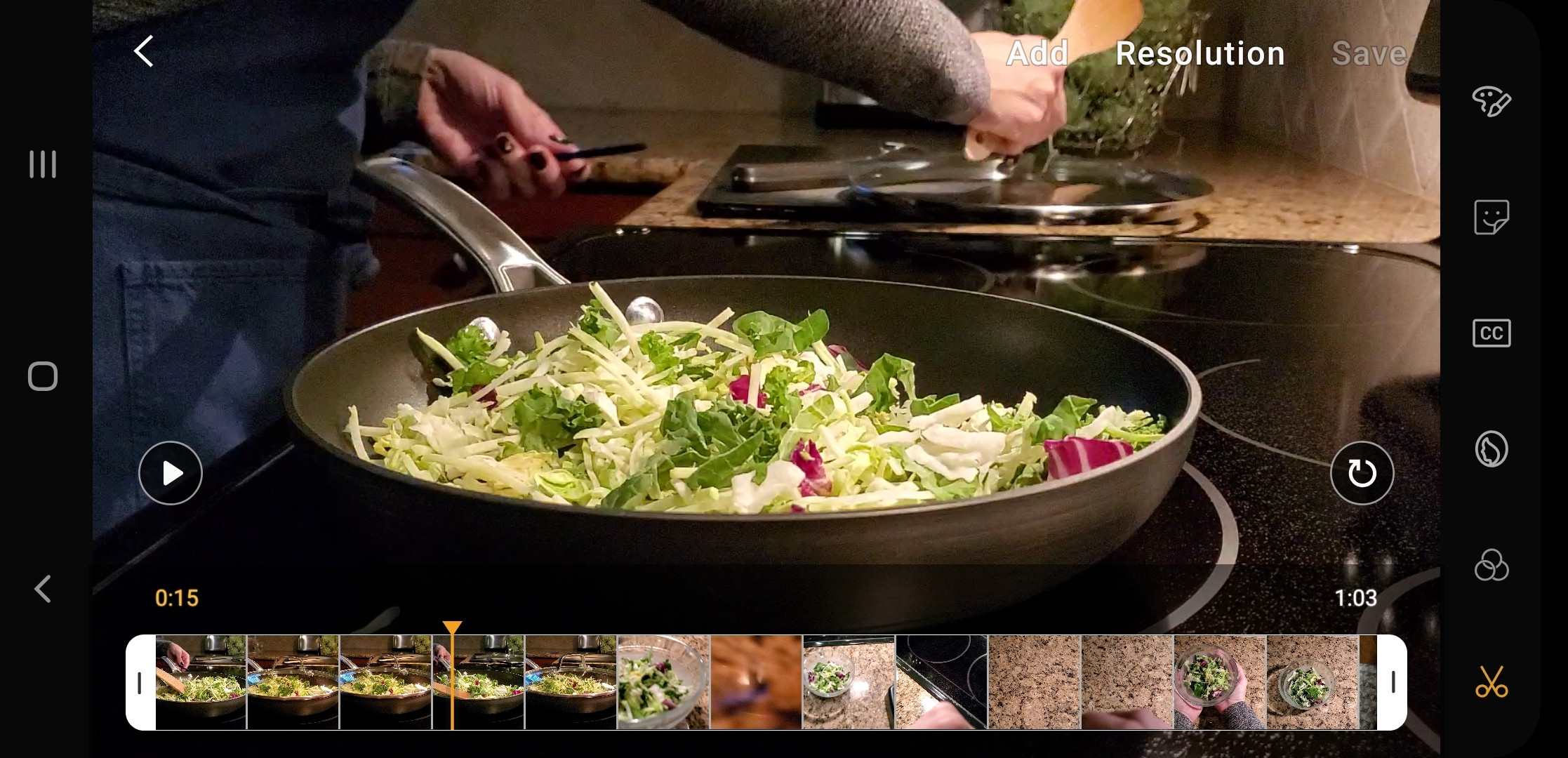 Slow motion and Super Slow-mo
Recording in slow motion is a fun way to add style and set the mood in a video. By slowing down the action, you can add intrigue to an otherwise ordinary activity. For example, say you film a customer walking through the doors of your establishment. If you slow that down for a few seconds you can really show off the interior of your space and highlight updated designs intended to direct traffic flow for optimal social distancing.
If you own a spa or luxury retreat, using slow-mo can convey a sense of calm and relaxation. You can also slow the action down in order to show how your product works; even the steam rising off a hot pan will look more dramatic.
If you want to take it even further, Galaxy Super Slow-mo video is roughly 32 times slower than regular video, which means you can use it to really dial up the drama. In Super Slow-mo, capturing 0.4 seconds of video will give you 12 seconds of playback time. Our eyes aren't used to seeing things happen at these extreme slow speeds, so if someone sees this kind of video show up in their feed while scrolling, it might grab their attention just because it's so different.
Live Focus Video
By controlling the focus of your camera lens, you can direct the viewer's eye to the part of the scene that's most important to your narrative. You can even shift the focus in the same shot from one point to another without ever moving the camera. In cinematography this technique is called "rack-focus" and it usually requires two people — a camera operator and a focus puller — not to mention specialized and expensive equipment.
The Live Focus Video feature on the Galaxy Note20 Ultra makes using this camera effect much easier. With a few taps on the screen you can set a focus point, change it while filming and decide how much blur or "bokeh" you want in the out of focus areas. Live Focus has other effects like Big Circle, Color Point and Glitch that you can use to give your videos your own unique style.
Once you've recorded all of your clips, you can edit them using the Video Editor on the Note20 and share them directly to your social media from your phone. When making a video for social media, don't forget the social part. Viewers will often ask questions after seeing a video and want to learn more about your business, so jump into the comments section and join the conversation.
Learn how to put together your first smartphone video production kit. Then explore more Samsung solutions designed to help SMBs grow.