Employees are most likely going to continue working from home after the pandemic. Even if companies aren't going to become fully remote, they may have a hybrid work arrangement where employees come in for part of the week. By adding and upgrading technology that enables employees to work in this kind of environment and collaborate smoothly and effectively, along with analyzing how office space is really used, companies are shrinking their leased floor space. That savings in commercial rent can actually far exceed whatever's spent to upgrade technology and goes to show the value in modernizing workspaces.
Here's a remarkable example: Global consulting giant Ernst & Young (EY) used the analytics generated from its meeting room digital signage technology, as well as data from room access controls, to conclude it didn't need three expensive floors of space in midtown Manhattan.
The company instead sublet that Times Square-area space and generated $85 million in savings. The IT team studied how often shared work desks were used, how often meeting rooms sat empty and arrived at a calculation of the kind of space EY really needed in Manhattan. Across the entire company, the organization stated global savings were roughly $500 million.
For profile and proximity, EY tends to take space in the high-rent districts of big cities, so the costs are higher and the savings greater. But cutting down on leased commercial space can have an impact on companies just about anywhere.
Modernize your workplace with digital signage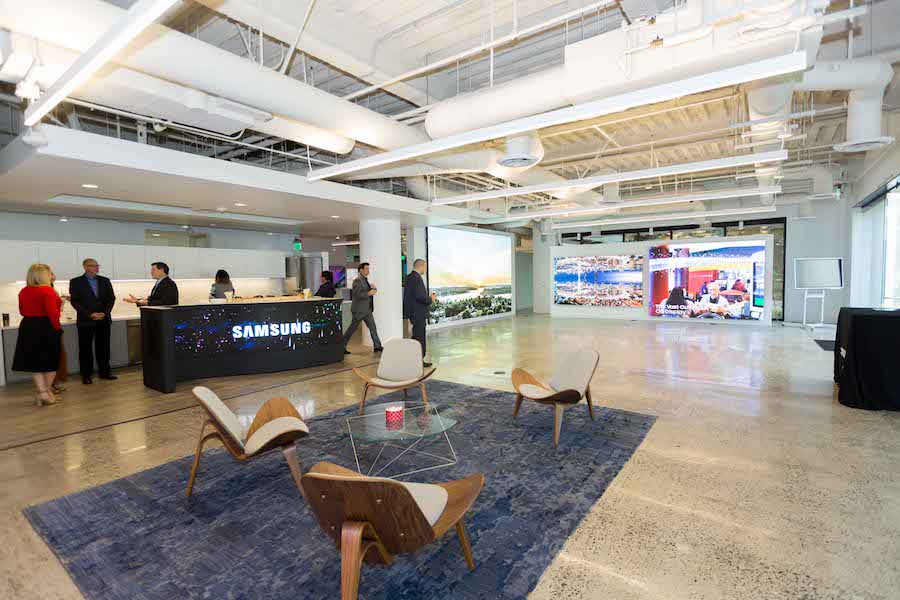 Explore how corporate offices are producing dynamic, engaging content for workers and clients alike. Download Now
So, anything that trims those numbers back — like enabling remote workers — can have massive bottom line savings for organizations. But simply making office footprints smaller, or eliminating private offices and squeezing more people into smaller cubicles, is not the answer, and not generally what's happening. Instead, the modern workspace is evolving into open floor plans with fewer walls and a lot of meeting spaces of varying sizes that heavily leverage technology to make communication and collaboration effective.
Tech goes to work
Meeting room technology is not a new thing. It's just gotten a lot better and easier to use. This matters more than ever because of the number of meetings involving remote participants, and increasingly impromptu meetings, or huddles, that can't happen if equipment needs to be booked or brought in, and someone needs training to even use it.
Consider these examples of modern conference room technology:
The whiteboard and erasable markers have been replaced by interactive digital whiteboards that allow people in a meeting — or remotely — to view, take over and annotate the notes, drawings, charts and files. They're called collaboration spaces for a reason, and the software behind these very modern whiteboards allows work to be saved and shared; the days of someone taking a photo before the whiteboard gets erased are ending.
Projectors that were once commonplace in meeting spaces are being supplanted by The Wall as well as large-format commercial LCD displays that are brighter, offer ultra-fine resolution and can be paired with other technologies like cameras to enable HD-grade videoconferencing.
Passing around cables and looking for adapters in hopes a laptop will display correctly is a thing of the past when a wireless presentation solution is in place. Wi-Fi takes the place of cables, and sharing is as simple as a button click. Wireless stations can also tidy up the look of meeting spaces as charging pads and wireless charging become the norm.
Remote workers also feel more engaged in a meeting when they can truly hear and be heard — with HD-quality audio replacing the disembodied, muffled voices coming through a speaker.
The signs are all there
Perhaps the least flashy, but biggest impact that digital signage and related technologies have on office ROI are the digital displays showing up at the entry to meeting rooms in new or reinvented workspaces.
These digital door signs are mapped to shared office calendars or room booking systems, indicating at the door if that room is free or booked and information like what meeting is taking place and for how long. Many systems allow on-the-spot searches for available times or rooms and room-by-room data rolls up into larger screens at reception or elsewhere, providing the big picture on meeting room status.
That technology helps end the chaos when no system is in place, or booking control is in the hands of a single person or department. But it also provides the sorts of insights that helped EY save millions. Analytics can reveal things like room by room usage percentages, peak usage times, meeting length and even meeting density. Rolled up over several months, it's the sort of information that allows executive teams to make informed decisions about how many meeting spaces and how much floor space is really needed.
Evolving workspaces
The future of work looks very different from even a decade ago. Remote working is growing increasingly common, and the style and dynamics of meetings are changing. What's constant, though, is the use of technology as an organization's connective network and using technology for optimized operations.
Deploying interactive digital signage technology in the office space can be a huge cost savings for businesses. Download this white paper to learn more about total cost of ownership for business displays.