Whether you're working from home, a traditional office or on the go, you need to connect and collaborate with your colleagues in real time. The new Samsung Galaxy S21 lineup is designed for the new workplace, where video calls are the new conference room and you exchange ideas with your colleagues over a virtual chat. The lineup has also now been bolstered, with the entirely new S21 FE 5G edition having joined the lineup in early 2022.
Four total Galaxy S21 smartphones are now available: the S21 5G, the S21+ 5G, the S21 Ultra 5G and the S21 FE 5G. All of these models feature a sleek new design, HyperFast processing, native Microsoft Office integration, defense-grade Knox security and 5G connectivity. They're available through leading carriers as well as unlocked directly from Samsung.
There are plenty of reasons to make the switch — but which of the four should you choose? To help you decide which Galaxy S21 device is right for your needs, this comparative guide covers the key differences between the S21 5G, S21+ 5G, S21 Ultra 5G, and S21 FE 5G.
Display technology
S21 FE 5G: 6.4 inches, Dynamic AMOLED 2X, 2340 x 1080 pixels
S21 5G: 6.2 inches, FHD+ 2400 x 1080 pixels
S21+ 5G: 6.7 inches, FHD+ 2400 x 1080 pixels
S21 Ultra 5G: 6.8 inches, WQHD+ 3200 x 1440 pixels
One of the most obvious differences between the three devices in the Galaxy S21 lineup is screen size, but there's more to it than just display real estate. The Galaxy S21 and S21+ feature brilliant 6.2-inch and 6.7-inch displays which give you an expansive view of all your work in full HD+ 2400 x 1080 resolution. The adaptive 120Hz refresh rate ensures smooth scrolling while helping conserve battery, and intelligent blue light filter reduces your eye strain throughout the day.
While on the newest addition to the line, the S21 FE 5G, a new, Dynamic AMOLED screen provides users with a dynamically bright, fast, and smooth scrolling experience. This, in addition to blue light management capability which automatically adjusts based on the time of day, preventing eye fatigue for even most powerful of power users. For an example, consider a frontline worker who needs access to their device while in the field – literally. It's bright, the light conditions are changing, but they still need to accurately communicate information via their device. In this situation, the screen dynamically responds to those changing light conditions – making it easier to use, and easier on the user's eyes.
What's the best phone for your business?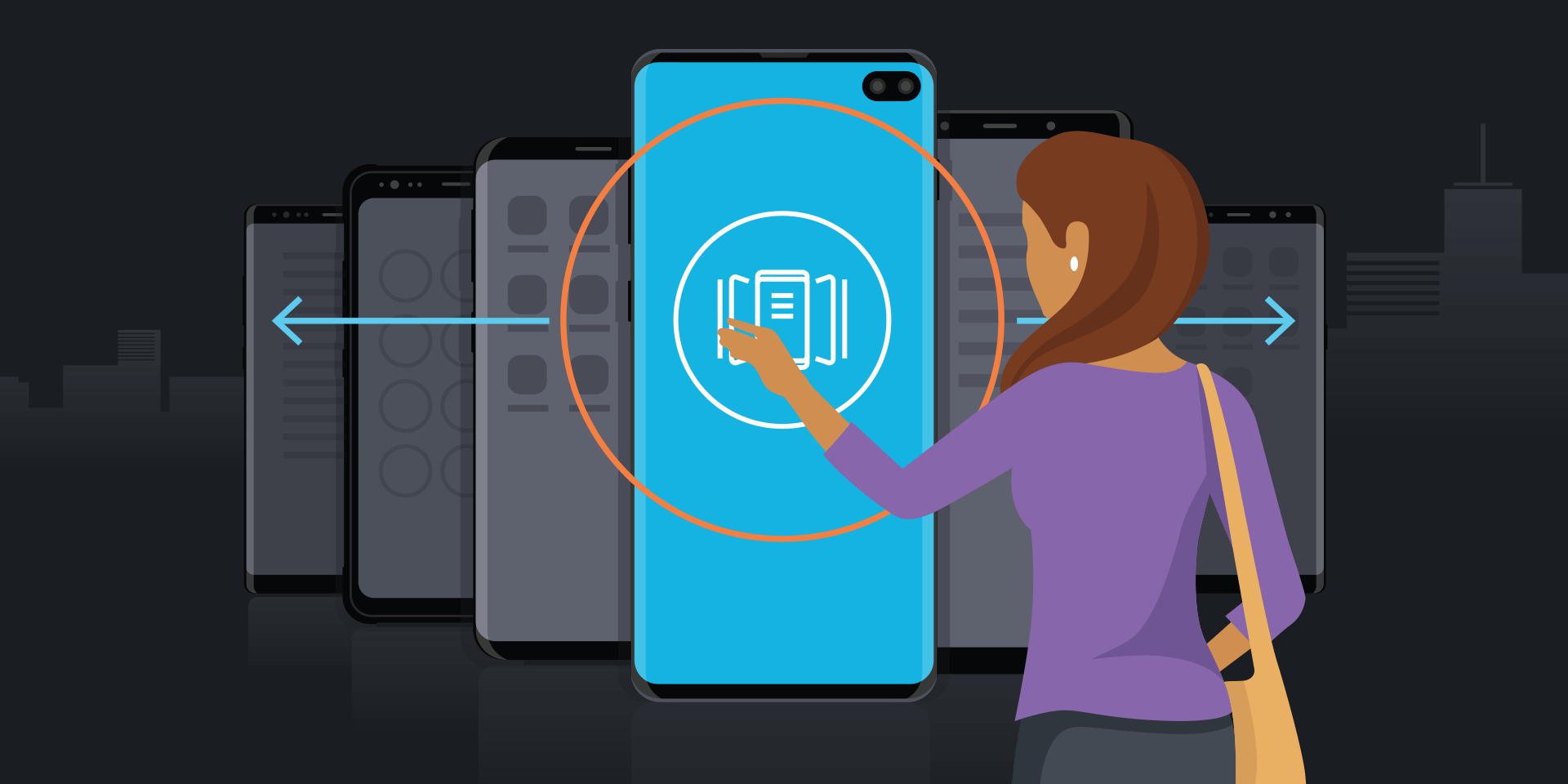 Take this quick assessment to discover the smartphone most tailored to your business needs. Take Assessment
The S21 Ultra 5G's display takes things up another notch. It's Samsung's brightest smartphone display yet, delivering the highest contrast ratio. The adaptive refresh rate means the display automatically adjusts from 120Hz right down to 10Hz, depending on what you're viewing, to conserve battery. The Ultra also brings your videos, photos and documents to life in Quad HD+ 3200 x 1440 resolution.
You can also use an S Pen on the Galaxy S21 Ultra 5G's display — a first for the S series — allowing you to be even more productive on your phone, from anywhere. The S Pen is available as an optional add-on with your Galaxy S21 Ultra 5G.
Battery life
S21 FE 5G : 4,500mAh, 25W Fast Charge, 15W Wireless Charging
S21: 4,000mAh, 25W Fast Charge, 15W Wireless Charging
S21+: 4,800mAh, 25W Fast Charge, 15W Wireless Charging
S21 Ultra 5G: 5,000mAh, 25W Fast Charge, 15W Wireless Charging
Chargers are sold separately with all models.
The Galaxy S21 series features an intelligent battery that intuitively manages power usage on its own, so you can go all day without having to charge it. When you eventually do need to top up your battery, you can recharge right away with 25W Super Fast Charging or 15W Fast Wireless Charging.
While the S21 features a 4,000mAh battery, the S21+ and S21 Ultra batteries have slightly higher capacity — 4,800mAh and 5,000mAh, respectively — to account for the larger 6.7-inch and 6.8-inch displays.
Camera systems
S21 FE 5G: Triple rear (12MP wide, 8MP tele, 32MP main), 32MP front camera
S21: Triple rear (12MP + 12MP + 64MP), 10MP front camera
S21+: Triple rear (12MP + 12MP + 64MP), 10MP front camera
S21 Ultra 5G: Quad rear (108MP + 12MP + 10MP + 10MP), 40MP front camera
The camera system is what really sets the S21 Ultra 5G apart from the S21 and S21+.
The S21 and S21+, and S21 FE 5G all feature pro-grade triple rear camera systems, and their 64MP main telephoto lens lets you shoot and share crisp photos. You get incredibly high resolution, one-tap effects and multiple ways to capture everything you need for a flawless presentation. You can also enjoy crystal clear videoconferences or showcase products and prototypes up close in 8K video.
You can capture every little detail with 30x Space Zoom on the S21 and S21+, taking high-quality pictures from afar or magnifying product details while Zoom Lock helps keep your subject centered. The innovative Dual Recording feature is available on all S21 devices, recording from the front and rear cameras simultaneously with picture-in-picture or side-by-side views. This allows for the ability to create more engaging virtual tours, training videos, explainer videos and more – perfect for business users across multiple verticals, like real estate or retail. With the S21's AI-enhanced Portrait Mode, you can take studio-quality portraits, and with Night Mode, you can capture beautiful images even in low light — in vivid color.
The S21 Ultra 5G's quad rear camera system is on a whole different level. With a 108MP wide lens at the helm, it's Samsung's best camera yet. When you crop and zoom in on your photos, you'll discover unexpected details, while lightning-fast Laser Focus keeps your focal point sharp. And the 100x Space Zoom lets you get an even closer view of your subject — even from hundreds of feet away.
Even in the era of remote work, presenting a professional image in videoconference calls and work photos is still important. The Galaxy S21 Ultra 5G's 40MP front-facing selfie camera is perfect for helping you look your best with colleagues and clients. By automatically detecting the brightness of your surroundings, the selfie camera takes flawless photos any time of day.
Memory and storage
S21 FE 5G: Choice of 128GB or 256GB storage, with 6GB RAM
S21: Choice of 128GB or 256GB storage, with 8GB RAM
S21+: Choice of 128GB or 256GB storage, with 8GB RAM
S21 Ultra 5G: Choice of 128GB, 256GB or 512GB storage, and 12GB or 16GB RAM
The entire Galaxy S21 lineup features the HyperFast Qualcomm Snapdragon SDM8350 5nm processor, with incredibly fast processing and graphic rendering so you can easily multitask, livestream and edit videos.
The full range also features at least 6GB RM, to keep all your apps running smoothly. In terms of storage, you can choose between 128GB and 256GB — so you don't have to worry about running out of room for your photos, videos and documents.
While the entire range features plenty of storage, beginning at a full 128GB, if you're looking for a smartphone that performs like a PC — on par with high-end laptops and desktops — then the S21 Ultra 5G is your best choice. It comes with a choice of 12GB or 16GB RAM, so you can enjoy unparalleled speed and productivity with next-gen features like Samsung DeX. Besides, with its top-of-the-line camera in your pocket, you'll likely want more storage space for all your photos and videos. The Ultra 5G provides laptop-level storage — up to 512GB — so you can save everything that matters, now and in the future.
Connectivity
S21 FE 5G: 5G mmWave and Sub-6 GHz, Standalone (SA) and Non-Standalone (NSA) modes, FDD, TDD
S21: 5G
S21+: 5G and ultra-wideband (UWB)
S21 Ultra 5G: 5G, UWB and Wi-Fi 6E
To collaborate with your team remotely — especially while everyone's in different places — staying connected is essential. The S21, S21+, S21 Ultra 5G and S21 FE 5G all have 5G on board, supporting fast, low-latency data over mmWave and Sub-6 GHz bands. You also get support for CBRS — a critical requirement for many enterprises — as well as Wi-Fi 6 and Bluetooth 5.2 for connecting multiple peripherals.
The S21+, and S21 Ultra 5G also include UWB technology, a next-generation wireless technology that lets you quickly and securely share files with colleagues and clients nearby, as well as find tagged objects with your phone.
The S21 Ultra 5G also adds Wi-Fi 6E capabilities, giving access to the 6GHz frequency band and delivering lightning-fast connectivity in highly congested areas.
The power to work seamlessly from anywhere
With a Galaxy S21 — whichever model you choose — you'll have a great phone that gives you everything you need to succeed in your current work environment. All of the new Galaxy S21 devices offer brilliant displays, advanced cameras, impressive battery life, plenty of storage and 5G connectivity at a competitive price. With the power to turn your phone into a PC through Samsung DeX and defense-grade Samsung Knox security to protect your data, you can get it all done with the Galaxy S21 smartphone that suits you best.
Not sure if the S21 lineup is right for you? You can find the best phone for your business needs in this free, short guide. Once you've chosen, see how Samsung Smart Switch makes it a breeze to transfer content to your new Galaxy smartphone.