Foldable smartphones are truly remarkable feats of innovation. For many people, the first time they hold one and flex open the screen, the immediate, visceral reaction is: this just can't be possible. This reaction is quickly followed by another question: is this really going to last?
The question of durability is magnified when you're considering buying a foldable device for business use — and your productivity and customer relationships rely on the technology investments you make.
But three generations in, Samsung's Galaxy Z Fold3 5G seems to be proving that foldable devices are durable enough for on-the-go business use. From frame to screen to hinge, Samsung's engineers have bolstered virtually every aspect of the device to make Galaxy Z Fold3 more resilient than previous models.
But not only is the device more durable than ever before, it's unique benefits have also proved more valuable than ever before, as more workers shift to an on-going hybrid work arrangement. When employees are shifting between a number of work locations each week, device consolidation becomes more important than ever before.
In fact, according to recent research conducted by Samsung and Oxford Economics, nearly two-thirds (65 percent) companies plan to invest in foldables for their employees in the next four years. Employees, too, are keen on foldables. Managers in particular are especially excited to get their hands on these new devices, with 86 percent of respondents stating they are excited to see the benefits of these devices in action.
The unique benefits of foldable devices, combined with a proven durability, creates a unique benefit for businesses, especially those with hybrid workforces. Here's a closer look at why:
Foldable and durable
Galaxy Z Fold3's debut at the August 2021 Galaxy Unpacked event came with bold claims about the device's improved durability, which naturally made tech reviewers anxious to put the newest foldable to the test. Shortly after the device's release, Allstate Protection Plans, known for its relentless breakability tests, said, "Without a doubt, Galaxy Z Fold3 is the most durable foldable phone we've ever tested."
So what makes Galaxy Z Fold3 so durable?
The dunk
Galaxy Z Fold3 is IPX8 rated — a first for a foldable device — meaning it can withstand submersion in 5 feet of fresh water for up to 30 minutes. An Allstate dunk test confirmed this, and the device showed zero damage.
Foldables can present unique challenges when it comes to water resistance due to their mechanical hinge. Samsung engineers addressed this by applying an anti-corrosion solution and water-protectant lubricant to the driver of the phone through which the wiring passes so the hinge doesn't rust. The electrical connection between both halves of the device is also protected — ironically, by a liquid solution — to keep water out.
The drop
Even a drop from hip level can shatter the average smartphone screen. Galaxy Z Fold3 is built with Samsung's new Armor Aluminum in both its outer frames, as well as the housing around the hinge. Just as buildings are reinforced by placing rebar in concrete, metal elements are mixed into the aluminum to enhance its durability, according to one of the engineers involved in creating the Z Fold3.
Shop special offers
Find out about offers on the latest Samsung technology.
see deals
Speak to a solutions expert
Get expert advice from a solutions consultant.
Talk to an expert
In Allstate's drop test with Galaxy Z Fold3 open and facedown, the device weathered two drops from 6 feet and suffered only minor damage — with no cracks in the screen and no phone or camera functionality issues. So if you accidentally knock device off your desk or drop it as you're taking a photo, it will likely be unscathed.
The screen
Galaxy Z Fold 3's screens are made from Gorilla Glass Victus, Corning's most durable and scratch-resistant glass to date, with double the scratch resistance of its predecessor, Gorilla Glass 6. In lab tests, Gorilla Glass Victus survived multiple drops from 6 feet up.
Samsung's new foldables also come with an improved screen protector that's 20 percent more effective than previous models. The result is an inner display that's 80 percent more durable than its predecessor.
Go mobile-only with Samsung DeX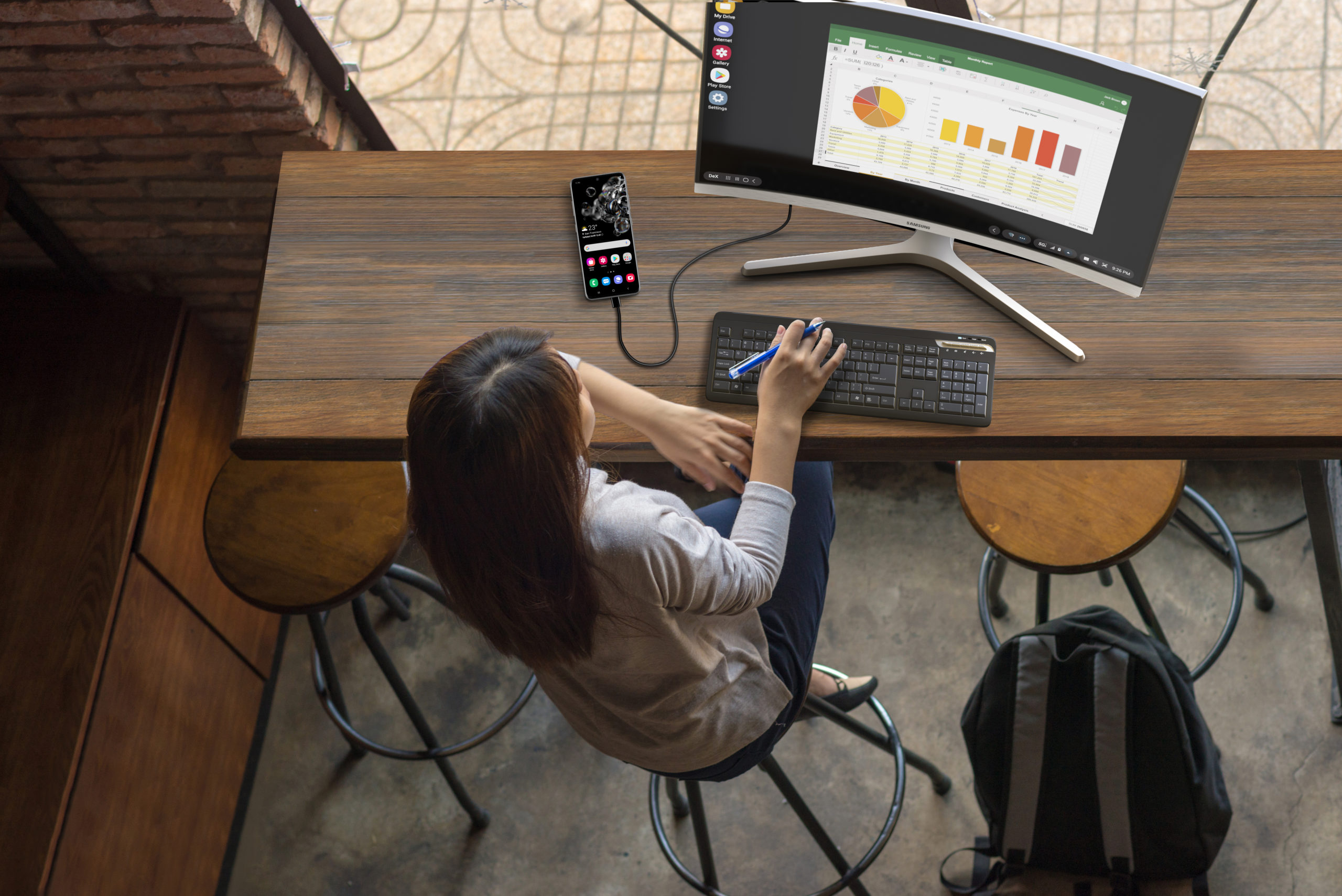 Your comprehensive guide to rolling out a mobile-only solution for your workers. Download Now
Another differentiator for Galaxy Z Fold3 is the fact that it's the first foldable smartphone compatible with an S Pen. Of course that brings with it another durability question: can the screen stand up to hours of S Pen tapping, sketching and writing?
In a durability test run by CNET, the device's interior screen was put through 18 straight hours of use with the newly compatible S Pen Fold Edition. The testing team concluded: "After 16,000 circles drawn on the surface of the Z Fold3, there is no visual or tactile indication that any kind of damage to the screen occurred." It's safe to say the screen will stand up to your longest notetaking session without a hitch.
"Of course, real-world use and accidents will vary," SlashGear writes. "But [Allstate's tests] at least offer some peace of mind that the phone isn't a fragile piece of glass."
The hinge
As you use your foldable, you'll open and close it countless times a day. How will the folding mechanism hold up over time? Galaxy Z Fold3 withstood intense hinge durability tests by Bureau Veritas, which certified that the device can be unfolded and refolded more than 200,000 times with no sign of damage. The hinge has also been shown to absorb shock upon impact from drop after drop, with its functionality unaffected.
Thinner, lighter, stronger, sturdier – and more productive
In addition to its slim and sleek design, Galaxy Z Fold3 makes giant leaps in foldable durability. It's the world's first water-resistant foldable, with an armor-aluminum-reinforced frame, and a tireless hinge. All glass is breakable — a factor every smartphone has to deal with, as many users have discovered first hand. But not every smartphone can unfold into a form-factor large enough to enable true, on-the-go productivity. And after rigorous testing, the consensus is that this all-in-one foldable for business is tough enough to work with you through it all, even those "Oh, no!" moments.
Get exclusive discounts, financing and other deals on Samsung business solutions such as Galaxy Z Fold3 5G through Samsung Business Direct. Not sure if foldables are for you? Take this quick assessment to discover the smartphone most tailored to your business needs.