Smartphones have become our most commonly used computing devices. Beyond work and communication, we use them for banking, shopping, payments and entertainment. But the mobile revolution has come with a few drawbacks, and with more people using smartphones as an everyday computing device, security and privacy issues are now top of mind for everyone. Samsung Secure Folder provides the ability for users to utilize smartphones for two lifestyles — work and personal.
Having the right smartphone security and privacy measures in place is especially important in a work environment, whether to protect you and your company against the threat of a lost phone or to ensure your personal content is kept separate from your work data and is unavailable to your employer. Some businesses deploy managed data separation solutions like an Android Enterprise Work Profile, which creates a partition between work and personal use. But many other employers operate with looser Bring Your Own Device (BYOD) policies or don't have the resources to manage and maintain such an infrastructure.
In these situations, people still want to feel a sense of personal privacy and have a separation between their work and home lives. Samsung's Secure Folder offers just that.
Building a connected ecosystem
Available on the latest Samsung Galaxy smartphones via the Google Play Store, Secure Folder offers a simple solution for those who want to protect their personal information, allowing users to securely segment their smartphones by protecting and isolating applications and their data. Even though Secure Folder is free, it leverages the enterprise-grade mobile security offered by the Samsung Knox platform — including data encryption — allowing anyone to easily create a secure area on their phone to store work data and keep it separate from personal data, or vice versa.
Shop special offers
Find out about offers on the latest Samsung technology.
See Deals
Speak to a solutions expert
Get expert advice from a solutions consultant.
Talk to an Expert
This secure storage space also allows users to customize how they access their data, whether it's via passcode or biometric authentication. For example, with Secure Folder, you can have two copies of your social media accounts running, each logged into a different user, and with no way for someone to jump to the Secure Folder account without unlocking Secure Folder. A user could have their personal account outside of the folder and their business or professional account inside (or vice versa), reducing the likelihood of mixing up the two.
Apps installed in these secure containers gain an additional layer of protection against cyberattacks, as access requires a PIN, password, pattern or biometric authentication method.
Easy to configure and use
Secure Folder is designed for easy setup and use. Apps can be added to Secure Folder simply by clicking "Add Apps" and selecting from what's already installed on the phone or downloading from the app store. All other content — including documents, photos and files — can be transferred to Secure Folder simply by choosing "Add Files."
Secure Folder can be used to protect applications (and the local application data) or just file data, such as a group of photos. Generally, Secure Folder data doesn't mix with data outside of the Secure Folder, although there are two important exceptions: contacts and calendar. If allowed by the phone's settings, the contacts and calendar applications have a unified view. Thus, if you've got your personal calendar local to the phone and your business calendar synchronized using Exchange, Secure Folder's calendar sharing lets you see both sets of events on a single screen. You can't edit events and contacts across the Secure Folder boundary, but at least you won't be late for a meeting because you were looking at the wrong calendar.
On Samsung phones with Knox security hardware, Secure Folder encryption information is all stored in the TrustZone, a separate computing environment that is completely isolated from the main phone CPU. This means that even if malware takes over the personal side of the phone, it can't get access to the Secure Folder keys. This provides another level of protection for Secure Folder data.
The mobile security top 10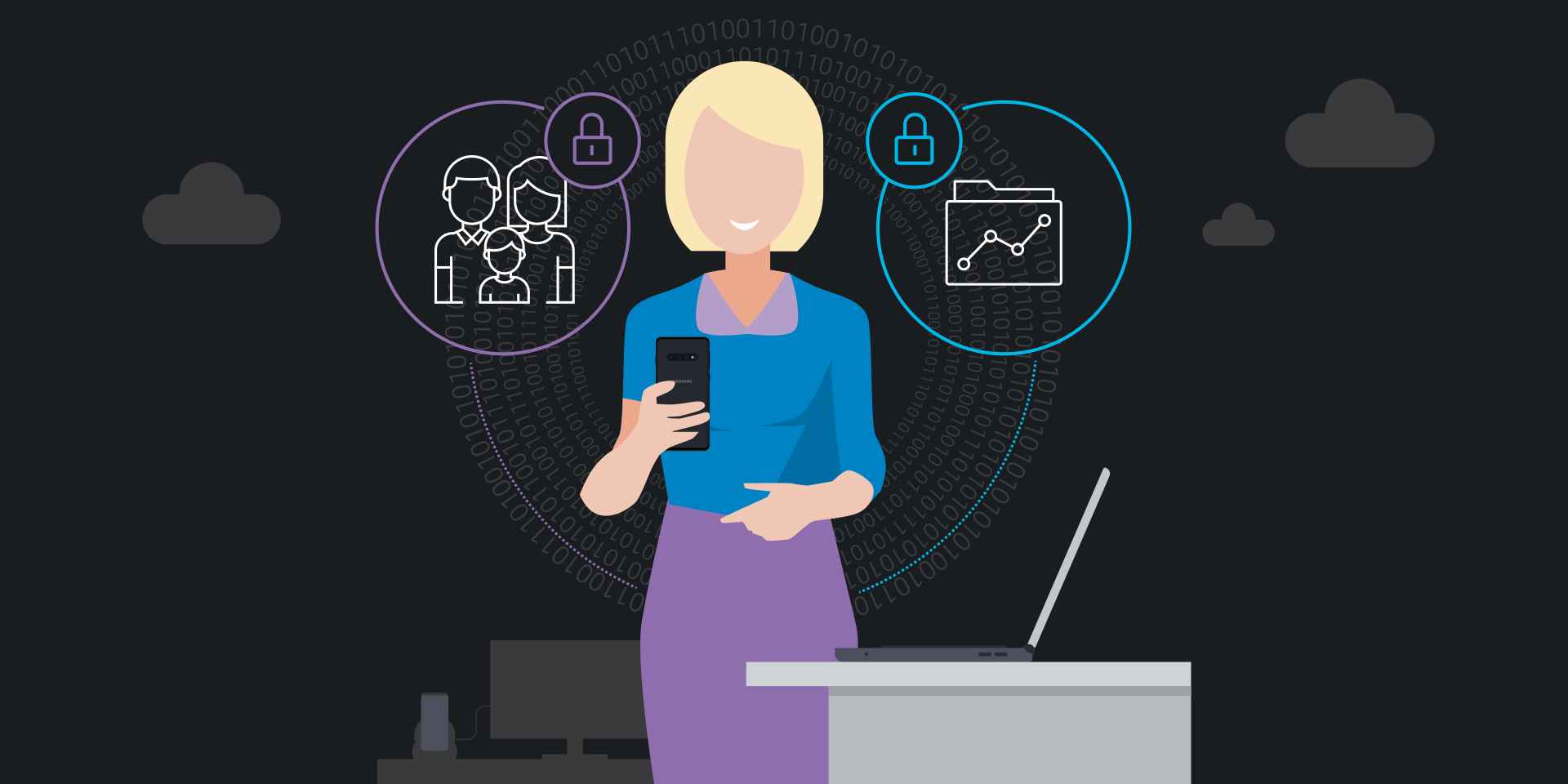 Get your free guide to better securing the personal and work data on your mobile phone. Download Now
Secure Folder applications look the same as any other smartphone application: They're just as fast, and just as simple to use. But there's a barrier between Secure Folder applications and the rest of the phone, and you can only move things across that barrier by explicitly importing or exporting to Secure Folder. Even if the phone itself is unlocked, the application and all of its local data are encrypted and unavailable until Smart Folder is also unlocked. Smart Folder also allows individual items to be protected — photos, for example, can be moved into the Smart Folder where they will be encrypted and invisible.
Secure cloud backup
Using data encryption on your device is important, but if your smartphone is lost or stolen, having a way to access that data is critical. That's why Secure Folder supports a secure cloud backup integrated with Samsung Cloud, making data restoration a breeze. It also gives users the opportunity to access both work and personal files at any point throughout the day, wherever they are.
Secure Folder and Samsung Cloud offer a hassle-free way to transfer everything to your new device. Besides restoring your data and apps, including those stored in the Secure Folder, your Samsung Cloud backup will also have your preferred home screen layout, your alarms and even your Wi-Fi settings.
With more and more people using their mobile phones for both work and personal productivity, the Secure Folder solution ensures your data is protected and that you can safely back up your files.
See how Samsung Knox secures your device with defense-grade protection. Find out how you can secure your work data — and your personal data — with our top 10 tips for mobile security.