The Samsung Galaxy S23 series is epic for business. It offers an impressive range of premium mobile device options built from the chip up for extraordinary productivity and enterprise security on the go. Featuring native Microsoft Office integration, impressive camera specs, and speedy charging, the entire lineup is packed with the power and features that business users need. That includes the new Galaxy S23 FE introduced in October 2023 to round out the S23 Ultra, S23+ and S23.
Which Galaxy S23 device is right for you and your team? All four have powerful processing to support innovative features like Link to Windows and Samsung DeX, which let you transform your mobile device into a PC-like experience. They also incorporate Samsung's defense-grade Knox security platform.
While any S23 device will do wonders for your business, there are some differences you'll want to consider before making your final pick between the Galaxy S23 FE, S23, S23+ and S23 Ultra. Here's a quick comparison of key features across the S23 range.
S Pen
The most "Note"-worthy difference across the Galaxy S23 series is S23 Ultra's embedded, Bluetooth-enabled S Pen. When S Pen compatibility was first introduced in the preceding S22 Ultra, it effectively merged Samsung's Galaxy S series with the business-ready Note line, which has always featured the embedded stylus. If you're an S Pen fan or want to tap into its many functions for the first time, the S23 Ultra is your choice. You can use the S Pen to mark up documents, sketch new ideas, click through presentations and navigate through work with absolute precision.
Built-in Bluetooth makes the S Pen double as a remote control for advancing presentation slides, taking photos, viewing media and more. It's really a magic wand for mobile productivity.
Shop special offers
Find out about offers on the latest Samsung technology.
see deals
Speak to a solutions expert
Get expert advice from a solutions consultant.
Talk to an expert
Display
The S23's 6.1-inch, FHD+, 120Hz display has nice brightness and a smooth scroll, especially for a base model. It's perfect for those who prefer a more compact phone that's easy to use one-handed.
As you move up the S23 series, the S23+ display is also FHD+, with 25% more brightness compared to the S23. The S23+ display measures 6.6 inches — notably larger than the S23 but still very compact. The S23 Ultra's 6.8-inch display takes the resolution up a notch, delivering stunning WQHD+ definition to view content.
The S23 FE's 6.4-inch display is FHD+ and 120Hz, but with less visual pop to enable a lower price point that's more feasible for a wider team to each receive a device. With any of the S23 devices, you're going to get a gorgeous display that adapts to the surrounding environment to be easy on the eyes. The S23 Ultra, however, takes the title for the highest resolution.
Battery and charging
Phones with larger screens require larger batteries, and that's the case in the S23 series. The difference in battery sizes reflect the difference in display size, brightness and resolution, but across the board, the S23 series is made to help you power through your workday, so you can work on your terms and not worry so much about the battery life of your phone.
The S23 gives you a 3,900mAh battery and 25W charging, meaning you'll likely stay powered up from morning to evening on a single, full charge even if you're using your phone continuously throughout your workday for everything from checking and responding to emails to browsing the internet and working on documents. The S23 FE has an enhanced 4,500mAh battery and 25W charging, again making it the ideal device for employees managing day-to-day tasks.
When you step up to the S23+, you get a 4,700mAh battery with 45W charging. The S23 Ultra adds even more power with a 5,000mAh battery and 45W charging. The extra battery can be helpful if you spend much of your day collaborating while on the go, or if you frequently work with large multimedia files.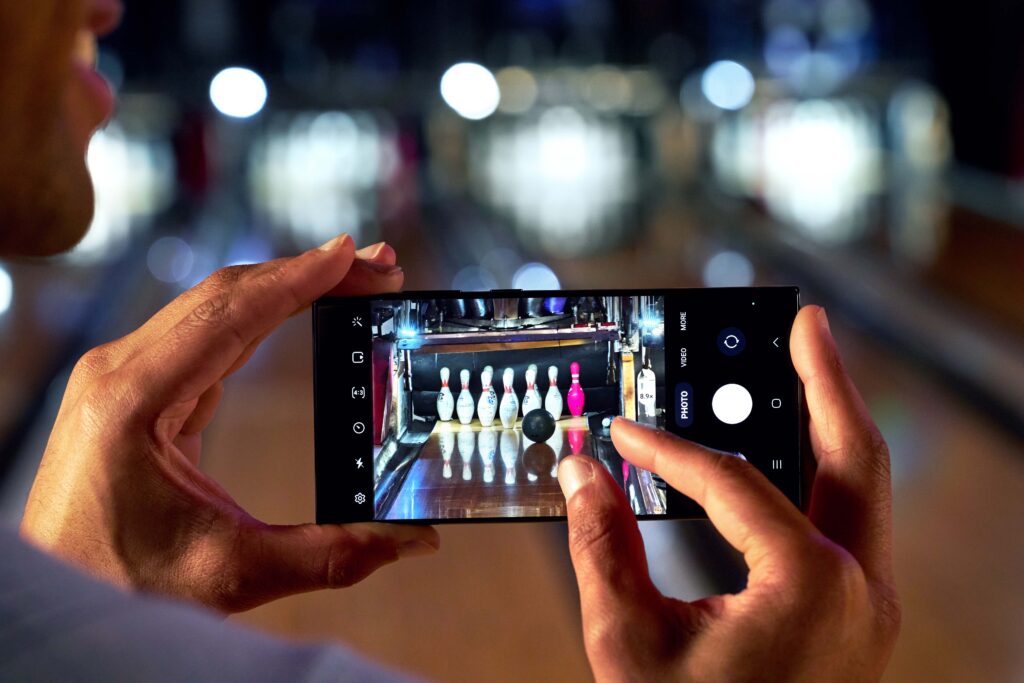 Camera
In the age of social media and digital marketing, the Galaxy S23 series enables you and your team to create professional-quality content with no tripod or gear bag required. The S23 and S23+ capture your business in vivid detail with 50MP high-resolution photos and 30x Space Zoom. The S23 Ultra takes 200MP high-resolution photos and offers 100x Space Zoom.
The S23 FE significantly outperforms its price category with an impressive camera suite that includes a 50MP wide-angle lens, 12MP ultra-wide lens, 8MP 3x optical zoom telephoto camera and 10MP selfie camera. It captures photos in rich color with reduced noise, and night videos are smooth and steady, even in the dark.
Thanks to Auto Focus Video Stabilization, all four devices can shoot incredibly smooth video. Consider giving your marketing team S23 Ultras, so they can present your brand in its best light while also traveling light. When it comes to a smartphone camera, staff in non-creative departments will be wowed by even the S23 FE's photo and video capabilities.
What's the best phone for your business?
Take this quick assessment to discover the smartphone most tailored to your business needs. Download Now
Storage
"Freeing up" space on your phone has been a consistent drawback of smartphones since their inception. But any option included in the new S23 series will help put that issue firmly in the past, where it belongs. If you're going with the S23 FE, S23 or S23+, you'll choose between 128GB and 256GB of storage, with 8GB RAM for snappy multitasking.
The S23 Ultra is available with 256GB or 512GB of storage, and 8GB or 128GB RAM. The faster RAM is helpful if you're a superuser of high-powered features like Samsung DeX.
When purchasing any smartphone — and especially one for business — it's generally advisable to get the most storage available if the price difference isn't a significant factor.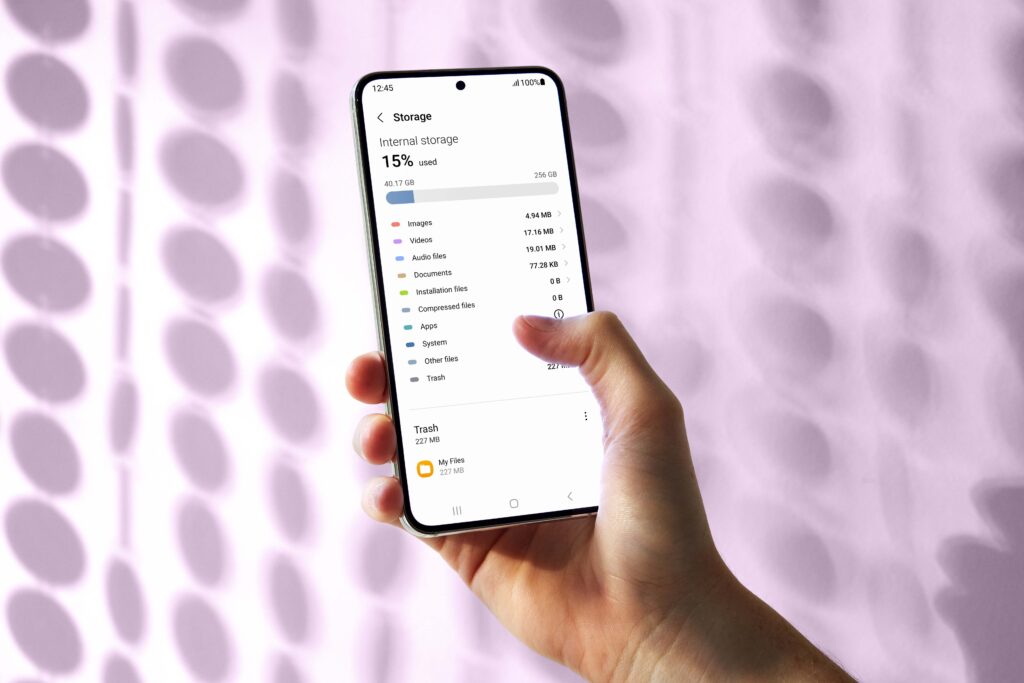 The Galaxy S23 range: See how epic every workday can be
Between the embedded S Pen, unreal screen resolution, extended battery life and unparalleled camera quality, it's easy to see why the buzz is the loudest surrounding the S23 Ultra. That said, the S23 or S23+ can certainly be a noticeable upgrade from the phone you're using now, and the S23 FE offers the perfect balance of essential Galaxy features that employees want at a price that business leaders will love.
All four devices are extremely durable and come with built-in Microsoft and Google integration, Samsung Knox security, and a premium processor for powerful performance. With Samsung DeX natively integrated into all four as well, your team can quickly connect wirelessly to a monitor for a desktop PC experience powered by their mobile device.
Enhance your everyday with a phone that's anything but.
Sign up for updates on the Galaxy S23 FE, and enjoy exclusive volume pricing, bulk trade-in discounts, free shipping and more with a Samsung Business Account including 50% off Samsung Care+ and a free case.