On paper, it seems like an easy decision for hotels to deploy Smart TVs in all their guest rooms. Smart TVs make it easier for hoteliers to provide guests an entertainment experience similar to or better than their technology at home. With Smart TV, guests can do the things they are accustomed to at home: streaming music, movies and television shows, accessing smart widgets and apps, and more. And hoteliers can personalize the guest experience while streamlining operations, for example, by serving up information on in-room dining, events or special offers, or enabling guests to review their folios and check out with a touch of their remote control.
Coax Technology a Barrier to Smart TV in Hotels
Despite their many benefits, deployment of Smart TVs has been slower than expected, with less than one in five having adopted the technology, according to a Hospitality Technology study. The main reason most hotels haven't yet provided their guests with Smart televisions is because they lack the required technological infrastructure. In order to deploy Smart TVs, hotels must have a wired Ethernet connection in each room, since Wi-Fi alone isn't sufficient or reliable enough to support Smart TVs. Although some hotels do have Ethernet cable running to each room, the majority of properties are wired with coax cable, which doesn't support traditional Smart TVs.
Replacing coaxial cable with Ethernet cable is an expensive and time-consuming task that isn't feasible for many hotels. Therefore, most hotels are unable to gain access to the many benefits of Smart TVs, putting them at a significant competitive disadvantage compared to hotels that do have these features.
Measuring the Impact of Hospitality TVs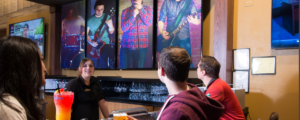 Hospitality TVs helped this resort create a first-class entertainment experience. Find out how. Download Now
Samsung 694 Series Hospitality TV Works on Coax Cable
With the introduction of the Samsung 694 Series Smart Hospitality TV, hotels no longer have to decide between expensive renovations or losing business to other hotels. This new series has an embedded DOCSIS 3.0 cable modem and doesn't need an external modem, enabling hotels with coax cable to deploy this Smart TV and use all its features. Instead, they will simply need to install a compatible Cable Modem Termination System (CMTS) on-premises to provide high-speed data over coaxial cable to up to 200 guest rooms.
With this new Smart Hospitality TV solution, guests can now screen mirror movies downloaded onto their mobile devices or computers on their in-room televisions, enjoy apps and entertainment from popular streaming services directly on their TV, and access their social media accounts.
Hotels with Smart TVs can then utilize the benefits of content management solutions like Samsung LYNK® REACH, which provides customized viewing options for guests. This allows hoteliers to provide premium content for each room and even personalize options based on guest preferences. For example, the family staying in room 456 could view a variety of family television shows and movies, while the couple in room 787 could choose from a selection of romantic comedies.
By using DOCSIS technology, Smart TV capabilities are now more easily accessible to hotels, creating more options for guests and raising the bar for hoteliers. By equipping all guest rooms with Smart TVs, hotels can provide guests with the level of personalization they have come to expect during their hotel stays.
Find out how to stay ahead of the competition and give your guests the Smart TV experience.