There will be a sea of direct-view, fine pixel pitch LEDs around the exhibit hall floor of the big InfoComm pro-AV trade show this year.
LED displays have been part of the outdoor display market for many years, but in the last 24 months, advances in technology have led to an explosion of products aimed at the much larger indoor market. According to IHS Inc., sales of high-resolution LED displays were up 366 percent in 2015 from the previous year, and sales of other indoor-focused LED displays were up 129 percent. While some of that big jump owes to the amount of product just starting to come onto the market, IHS also expects 70–80 percent annual sales growth in this category in the next year.
The marketplace attractions are relatively simple: large, super-bright, energy-efficient displays that stack and join like building blocks, have no seams and don't have to conform to the rectangular shapes that define the more conventional LCD display business. Samsung is the largest display manufacturer to expand its professional display capabilities into LED. Together with subsidiary Prismview, Samsung will be showing several products at InfoComm.
What Is Direct-View LED?
LEDs that can be directly viewed have changed much of the dynamic in how displays are marketed for use in indoor spaces. Venues vary from airport common areas and railway hubs to hospital lobbies and feature walls in flagship retail spaces. The term "direct" refers to the fact that multicolor LEDs are the direct, visible lighting source and visual canvas for displays. Flat-panel LCD displays also use LED lights, but indirectly: white LEDs sit behind the LCD layer or at the hidden edges of LCD enclosures to act as the light source. In other words, consumers don't directly view the LEDs in LCDs, but they do with direct-view LEDs.
This relatively new technology is more simply referred to as indoor LED, since these display modules are expressly designed for the indoor market and don't have the ruggedized properties and differing technical specs of lower-resolution outdoor LED displays, such as those spectacular digital signs you see in New York's Times Square, in the tourist zones of many world capitals, and on highway billboards and big scoreboard and replay screens in sports stadiums.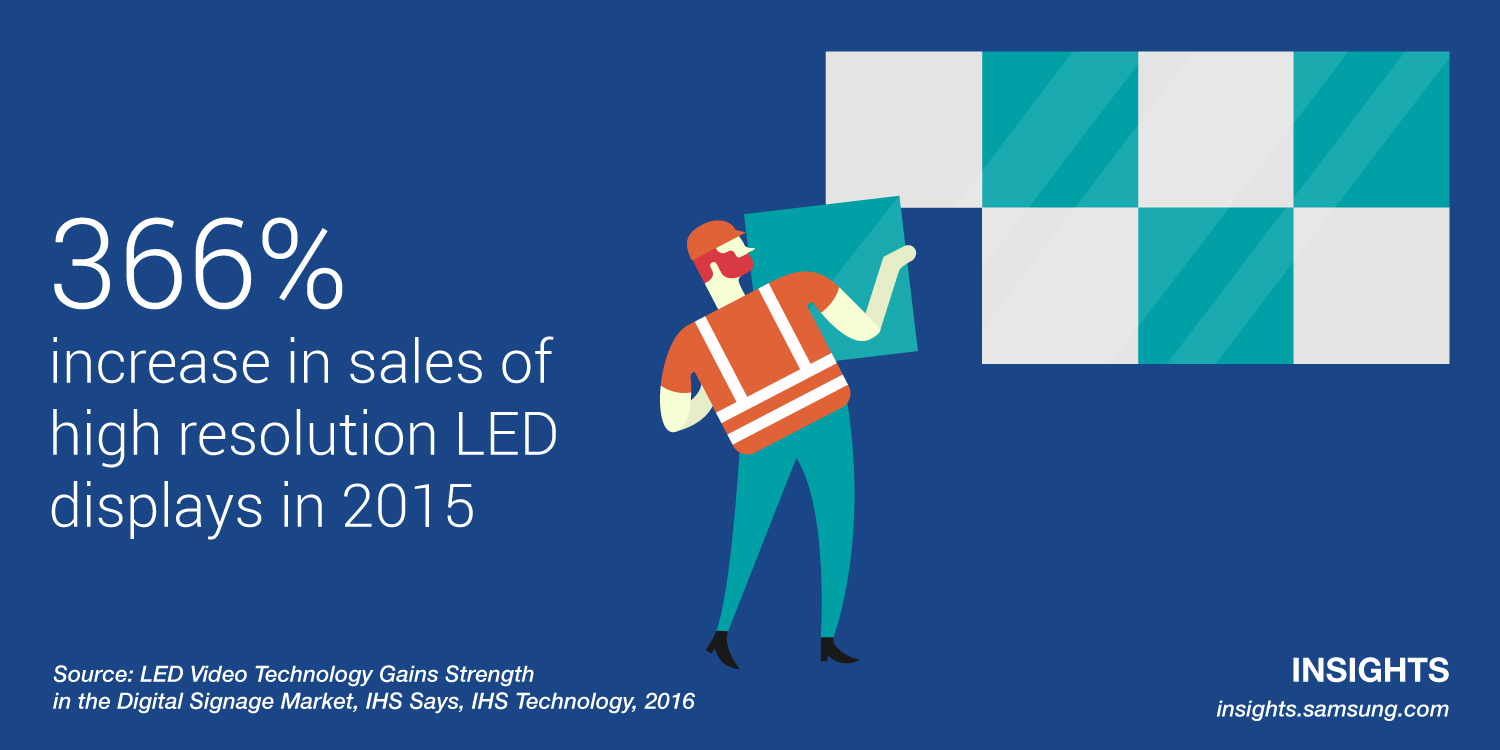 Importance of Pixel Pitch
Most outdoor LEDs are defined and marketed by their pixel pitch — the distance between each of the thousands of LEDs used to make up a display. That pitch number is tied to viewing distances. A digital highway billboard with, for example, a pitch of 12 (or P12), will look crisp from 120 feet or more away. A P8 display will look good from 80 feet. The simple rule of thumb for indoor and outdoor LEDs is to multiply the pitch by 10 to establish an appropriate viewing distance. That means a 20-millimeter pitch display will look bright and crisp from 200 feet back, while a 6-mm display will look good as close as 60 feet.
Indoor displays are also marketed by pitch, and as the number of competing manufacturers of direct-view LED has exploded in the past two years, pitch measures have grown increasingly slim.
Display resolution has long been a big consideration for LCDs and other higher-end visual technologies, but has never really been a discussion point with LED displays because of their "coarser" pitches. But the new generation of fine pitch, direct-view LEDs has brought resolution into the conversation and marketing message.
HD Displays
InfoComm attendees will see some LED products marketed as HD, with 4K or even 8K resolutions. Any display, with any pitch, can technically be an HD display. It's all about the number of pixels needed to match up with HD resolutions. The tighter the pitch, the smaller the LED display configuration can be to have enough pixels to rate as HD. To that end, a coarse density LED screen, like a P10, would have to be massive to include enough pixels to be considered HD.
Costs have dropped dramatically for direct-view LED in the past two years. But they are still substantially more expensive per square foot than LCD displays used for video walls. However, that will change as competition and production volumes gradually push prices down. In some circles, indoor LED walls are predicted to take over from LCD video walls within five years. If you're attending InfoComm, allocate some time to learn more about this rapidly emerging display tech.
Find the digital signage solution that works best for your business by checking out our full line of products here.