Touch is the ubiquitous entry point for mobile devices today. The phones and tablets that keep mobile professionals productive depend on a touch-optimized interface, and touchscreen laptops are increasingly common. So it makes sense that touchscreen advantages should factor into the latest driver of productivity — the convertible or hybrid device.
In the past, businesses may have viewed the touchscreen laptop as a novelty or even a distraction from providing true productivity to employees. However, the latest generation of Windows 10 Pro touchscreen laptops and convertibles offer an experience that is optimized for touch, an important evolution that unlocks the true value of the intuitive tactile technology
One example can be found in Samsung's Notebook 7 Spin. In both the 13- and 15-inch versions, the screen rotates 360 degrees, making for easy use either as a traditional laptop, a tablet or in "tent-mode" for seamless collaboration and presentation. It's compatible with the Windows 10 Continuum feature, which automatically adjusts the user experience based on the device's orientation.
Case Study: Field Service Mobility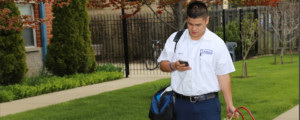 White Paper
See how smartphones have streamlined field-services workflows for this pest-management company. Download Now
Used in any of their possible configurations, convertible touchscreen laptops are a real-world example of the value of touch for the mobile workforce, and offer many benefits for business users.
Convenience. Users can carry out a slew of important tasks quickly and easily, swiping and tapping with ease and efficiency in order to manipulate files, interact with applications and input information. Selecting, dragging, zooming and resizing windows or images can all be carried out with ease and dexterity using basic touch controls. While touchscreen laptops only require a single input device — the fingertip — they perform just as well with the integrated keyboard and trackpad when its time to do some heavy document work or data crunching.
Intuitive. When it comes to accessing information on a mobile device, touch can offer the swiftest route between any two points, and touchscreen advantages are universally recognized by the mobile workforce. Phones and tablets, the primary tools of the mobile worker, are almost universally geared toward touchscreen functionality. For those seeking the versatility of a convertible device, it seems an intuitive extension to take touch into this flexible new environment. When compared with traditional touchscreen notebooks, the convertible form-factor allows users to make use of touch in a more intuitive way, such as setting the device in "tent-mode" while browsing through product information with a customer.
Versatility. Touchscreen inputs can boost productivity and simplify a host of controls on a hybrid device. But on a convertible laptop, business users also have the versatility to shift to more traditional notebook use cases, such as connecting to external peripherals and displays. And with their Intel Core processors and long-lasting battery, the Notebook 7 Spin convertibles have the power needed to get the job done.
Future-ready. Not all operating systems used today are optimized to provide a touch-friendly experience. On the Notebook 7 Spin, Windows 10 Pro is designed for touch, building on the foundation laid in previous Windows iterations. The next generation of business applications will follow suit, with an emphasis on touchscreen as the mobile input mechanism of choice. Choosing a touchscreen convertible device today positions the mobile workforce to make the best use of tomorrow's emerging productivity tools.
For many business users, touch will be the natural choice on a convertible device like the Notebook 7 Spin. Whether used as a laptop for personal productivity, or shared in tablet or tent mode for easy collaboration and demonstration, these convertible devices serve as a natural platform for those seeking to leverage the many benefits of a touchscreen approach to mobility.
Looking for the ideal mobile computing solution to drive productivity for your business? Check out our mobile computing selector tool to help hone in on your specific needs.