The recent popularity of augmented reality technology has illustrated consumers' willingness to embrace this new trend, as long as it delivers real value. Done well, AR could shape up to become among the top hotel technology trends over the next few years.
Augmented reality differs from virtual reality in that instead of immersing the user in a different world, it superimposes digital media over the real one. Using either special glasses or an AR-enabled browser on a smartphone, an AR application adds virtual sound, images or words on top of what the user is already looking at, much as Google Maps inserts location pins and routing onto a map. Some call the superimposed media an "aura."
AR technology is a great fit for hotels and their guests because it addresses two primary traveler needs: information and entertainment. Hotels are also leveraging AR behind the scenes to lend those same benefits to internal decision-making.
The following early applications of AR technology illustrate its potential to make a dramatic impact on the hospitality industry.
Wayfinding and points of interest: Similar to Google Maps, each room at the Hub Hotel from Premier Inn, the U.K.'s largest lodging chain, includes a wall map of the area, and according to Hospitality Technology, when a traveler aims a smartphone at the wall, they can see information about local points of interest and how close the hotel is to each attraction. Similar technology is available to offer a glimpse into the history of sites for tourists in London, Paris and Amsterdam, where one group recently pulled off the first virtual reality flashmob. On property, AR can highlight amenities and help guests find their way around.
Hospitality TVs Make a Big Splash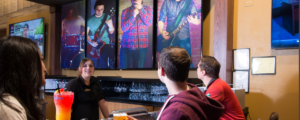 Hospitality TVs helped this resort create a first-class entertainment experience. Learn more. Download Now
Property previews: Brochures, websites and other marketing materials are all about bringing a property to life for a potential guest, but AR technology takes that concept up several notches. Luxury property The Mansion at Casa Madrona uses an "augmented, printed brochure to more effectively demonstrate and showcase their renowned amenities and accommodations to potential guests," according to Augment.com. Similarly, luxury tour company Destinology worked with Google to produce StreetView guides to 40 of the hotels it markets, and Best Western hotels is capturing 360-degree images of 2,200 of its properties for a similar project, according to The Guardian. Online travel agency Hotels.com is also leveraging augmented reality technology to preview cities for potential visitors via an augmented reality technology microsite. Hotels can also use AR to facilitate room selection during booking.
Translation: Non-native speakers sometimes struggle to read signs, menus and other written materials on the property or online. AR solves this problem by enabling guests to point an AR-enabled device at the content and see it in their own language.
Virtual entertainment: Residence Inn is targeting millennials with Residence Inn Mix, a social program that incorporates interactive AR entertainment experiences. Guests download an app from Blippar, then aim their phones at "blippable" beverage coasters to access interactive trivia games, customizable selfies, and suggested food and beer pairings, according to Digital Trends.
Virtual design and decor: AR technology is also helping hotels bring blueprints and artist renderings to life, creating a better vision for potential investors, zoning boards and communities. AR can also become the decor itself; at the Inamo restaurant in London, AR images projected onto tables enable guests to select their own table theme, order items from a multimedia-rich menu or see a live video feed from the kitchen, according to the Digital Tourism Think Tank.
Analysts concur that hotels must differentiate their brand experiences, particularly if they seek to win over millennials, who shy away from predictability and are quick to embrace the new and different — especially if it leverages mobile devices. Now that consumers are becoming more aware of the power of augmented reality technology, it's poised to take its place among the top hotel technology trends.
Looking for more innovative ways to make technology a part of your guest experience? More and more hotels are offering mobile payment and check-in options to cater to millennial guests.