Moving your legacy applications to a smartphone screen can present some design considerations and challenges, especially when it comes to data-intensive applications like inventory management, sales enablement or project workflow. In order to create the foundation for a successful application migration to mobile, user productivity must be the focus throughout your initial analysis and planning.
Follow these four tips to ensure a successful mobile migration that keeps UI and UX at the forefront.
Perform a Mobile UX Analysis
Crafting a legacy app transformation involves creating a new user interface for what could be a complete rethinking of how users consume and interact with data. Translating a legacy application user interface to the latest smartphones requires a fundamental reevaluation of the data your workers need to access in the newly transformed app. It's important to focus the UX to ensure that your application has a smooth and successful adoption. Releasing an app with poor UX can create a short-lived spike in adoption that quickly trails off.
The process starts by performing a complete UX analysis that includes the following:
Mapping on-screen data to job functions
Creating a vision for the proposed mobile app to sell to users
Interviewing users and stakeholders to determine any outmoded or wasteful features in the legacy application
Looking for logical groupings of features to carry over from the legacy app to your mobile app
Security can also affect mobile app UX, so be sure to factor it into your UX analysis. Because of user familiarity, you'll be ahead of the game if your enterprise is already standardized on Active Directory (AD) or Single Sign-On (SSO). But if your legacy application relies on another security tool that you need to change in the new mobile app, this could have a greater effect on users.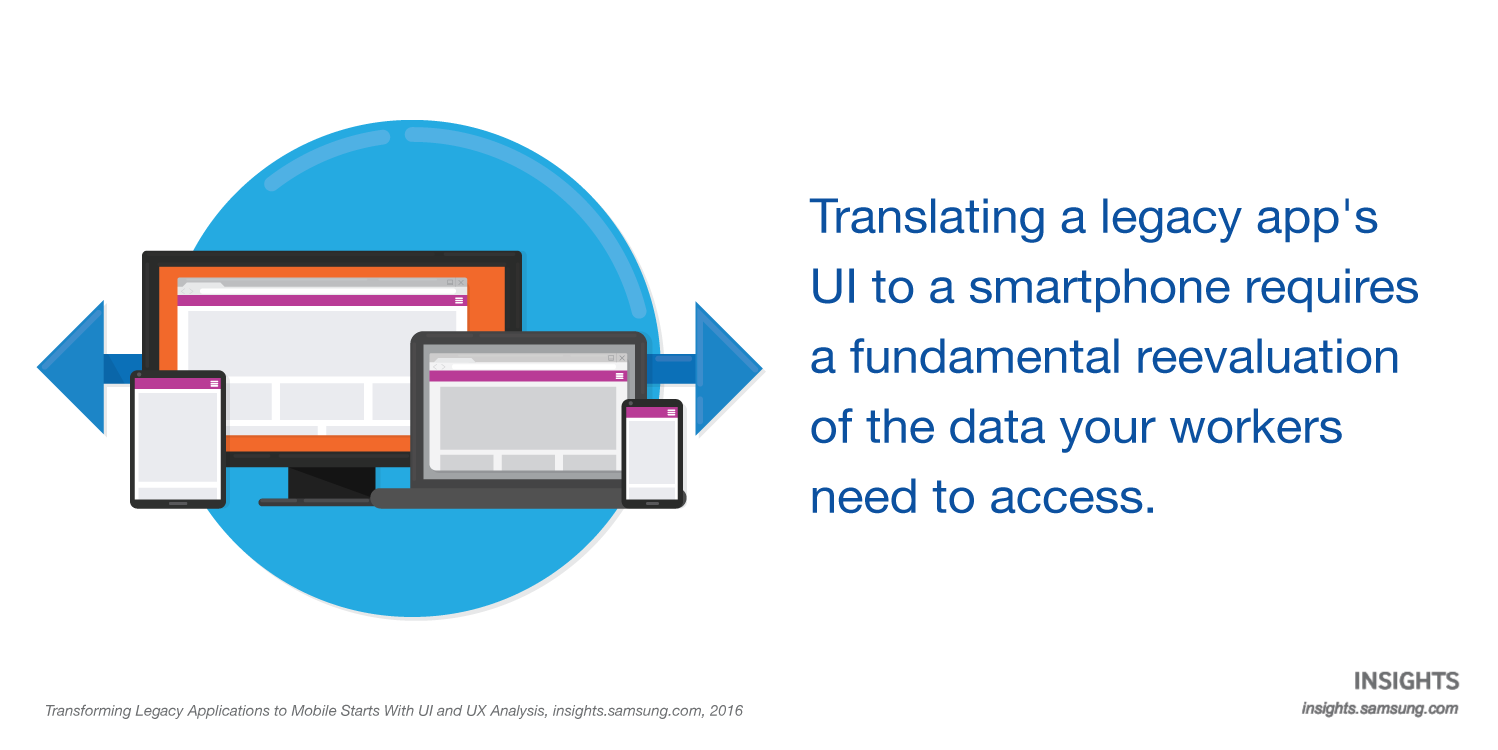 Plan for Iterative Development and User Feedback
Consider creating UI mock-ups born from the old legacy application to share with prospective users, and use the preview to get feedback on your upcoming mobile app. You can create wireframes using Microsoft Visio or another diagramming tool. Some app development tools also let you create UI mock-ups.
Users now expect iterative releases of mobile apps with enhancements because of their experience with consumer app stores. Therefore, it's smart to create an informal product roadmap of features based on user requirements. You should also establish a channel for user feedback on the interface, features and experience, which could take any of the following forms:
User testing
Help desk ticket
Email feedback
Informal and verbal feedback
Integrate Mobile Features for Productivity
Along with an appealing mobile experience, application migration to mobile means new productivity features that can help transform your legacy applications. Be sure to invest time in the seamless integration of these mobile features as part of the transformation.
Cameras on mobile devices open new opportunities for worker productivity and offer exciting possibilities for certain legacy apps. Adding camera support to your legacy inventory application opens the door for developers to also add bar code or QR code scanning, depending on the technology stack you choose for development.
Push notification support is also imperative for the mobile user experience. With so many legacy applications out there built to support one internal workflow or another, when creating your new mobile app, look at points in the workflow where push alerts can prompt mobile workers at various phases. For example, a sales manager could receive a notification to approve pricing for a salesperson's pending deal. Conversely, the same salesperson could receive a push alert when management approves pricing.
SMS messaging is another option for mobile alerts. Mobile back-end as a service (MBaaS) platforms like Red Hat, AnyPresence and Kony provide tools to add SMS messaging to your legacy application. SMS alerts can be useful for sending field service workers changes, confirmations and other short-form information to help them plan their work or save them from having to follow up on project or task information.
Some MBaaS solutions let you build in back-end analytics to monitor the success of your app without needing to ask the end user. You can monitor which features get used as well as any issues that arise, and use that information to further improve your app UX.
Other productivity options for newly mobile apps include support for hardware add-ons for mobile devices. There's a growing list of smartphone accessories that can augment mobile apps. If you mobilize an inventory application, there could be a new requirement to support a third-party bar code scanner that your employees can attach to their mobile devices.
If you keep user productivity at the forefront of your strategy, you'll lay a strong foundation for crafting a successful legacy app transformation.
Moving applications from desktop to mobile requires a complete change in mindset. Learn more about how Samsung's application support services can help you make the transition.