For years, mobile device connectivity has been locked in, literally, at the time of purchase. But now, the emergence of the unlocked device is changing the landscape, both for business and personal users. In particular, enterprises that need to equip their employees with smartphones are finding cost savings and flexibility in the freedom of unlocked phones.
Mobile devices traditionally have been "locked" into specific carrier networks: A Sprint phone wouldn't work with Verizon or AT&T, for example. For enterprise mobility managers, locked devices have sometimes caused problems, as they've limited their ability to shop around for competitive pricing among providers. Locking also restricts a phone's ability to connect overseas, tying the enterprise to pricey roaming agreements and charges.
Until recently, consumers and businesses looking to break free of carrier-specific devices had to unlock their own phones, which could be done in a number of ways. Carriers would sometimes provide an unlock code if a phone has been paid for and is no longer under contract. Users could also pay for a third-party to supply an unlock code, however, this tampering could nullify the device warranty with the carrier.
But a new paradigm is emerging. A new generation of unlocked smartphones has come on the market, promising to deliver a new level of freedom and flexibility for customers. This new phenomenon is grabbing market attention: According to the latest research from Strategy Analytics, unlocked smartphone shipments in the U.S. grew 140 percent annually in 2015 to hit a record 14.6 million units.
As the market for unlocked devices continues to grow, enterprise IT managers find themselves facing a new set of challenges, but also new opportunities.
Mobile Security Cannot Be Ignored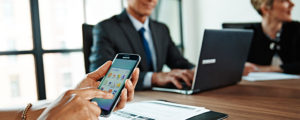 This webinar discusses the most important mobile security threats facing companies today Download Now
Advantages of an Unlocked Device
Why would an individual or enterprise want to buy an unlocked phone? There are a number of reasons.
For an increasingly mobile workforce, unlocking offers the promise of uniformity within diversity. By deploying an unlocked fleet, an enterprise can reduce complexity by ensuring they have fewer models to service and support. For example, with unlocked devices, if one carrier has a strong network on the West Coast while another carrier provides better service on the East Coast, users can choose the preferred network in their geography, while the enterprise mobility manager still only has to support a single type of phone.
More broadly, unlocking encourages competition. The enterprise may be able to negotiate a better deal in one region or another, without having to worry about the constraints of a carrier-specific contract as they did in the past.
Unlocked devices also expand the usage possibilities of smartphones. Some enterprise applications may call for handheld devices without cellular connectivity. Devices with WiFi access only provide a versatile and affordable tool for store associates or warehouse staff in retail, for example.
International Travel Benefits
International travel is another area in which an unlocked phone may give the enterprise a newfound advantage. In the traditional setup, a traveler wanting to use a locked phone overseas would be bound to pay the carrier's standard roaming rate, and those rates and fees could be steep. With an unlocked phone, that same traveler can arrive at a foreign destination and simply pop in an international SIM card for whatever local networks are most advantageous.
This has become a routine affair in much of the world. In Europe, a traveler can buy a local SIM card in an airport vending machine. For corporate-liable devices, IT managers can equip traveling executives with SIM cards as needed, working out cost-effective arrangements with local carriers based on enterprise need.
With unlocked devices like the Galaxy S7, enterprises gain a new competitive edge, driving down the total cost of ownership by standardizing device training, service and support, while at the same time reducing unnecessary software that typically comes pre-installed on carrier-locked phones. It makes sense that businesses are taking a close look at the unlocked option, just as carriers are exploring ways to best serve user needs in a newly unlocked mobile environment.
While unlocked devices provide mobile enterprise users with greater freedom and flexibility, IT leaders must look at other ways to enhance employee engagement as well.