When it comes to smartphone screen size, there's been a clear trend towards large-screen mobile phones for both business and personal use in recent years. These larger devices allow individuals to do more and expand their usage beyond typical smartphone applications. Often called phablets, a portmanteau of phone and tablet, large-screen phones are typically defined as devices with a display of 5.5 inches or larger.
The phablet market continues to grow at a fast pace. According to IDC's Mobile Phone Tracker for Q4 2016, the dollar value of the US phablet market is expected to grow at a compound annual growth rate of 9 percent through 2018. This growth is significantly greater than the relatively flat smartphone market forecast from IDC.
So what are some of the reasons that business users prefer phablets?
The larger screen enables you to view more and do more. With a larger smartphone screen size, it's much easier to effectively view, edit and use productivity apps such as email, calendar, documents and presentations.
Business users can more effectively multitask using multiple windows to view two apps simultaneously. For example, users can view a map or video while at the same time texting or responding to emails.
With the larger screen, a stylus becomes very valuable for on-screen note taking, drawing and usage with other applications.
Larger devices typically also have larger batteries. This is useful for mobile professionals and field service personnel that require all-day power and don't have time to stop and charge their smartphones during the day.
Mobile devices are frequently used for both business and personal productivity, and there are many daily tasks that are enhanced and simplified on a larger display, such as online shopping, reading the news, keeping up on social networks, taking pictures and watching videos.
Enhance Productivity With a Mobile-Powered Desktop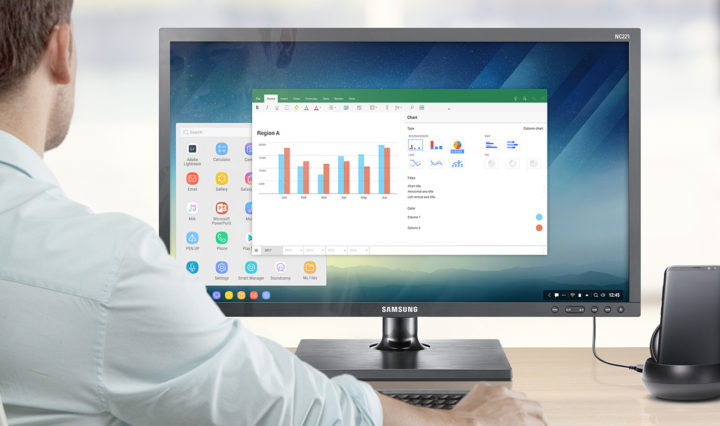 Here are three ways you can save time by switching to Samsung DeX. Download Now
Samsung pioneered the phablet category with the introduction of the Samsung Galaxy Note series in 2011. The original Galaxy Note was the first major smartphone launched with a screen larger than 5 inches and featured the built-in S Pen for additional productivity. While at first the Galaxy Note was viewed as an anomaly, consumers and business users clearly liked the additional screen real estate, and in today's marketplace it would be viewed as having a modestly sized screen.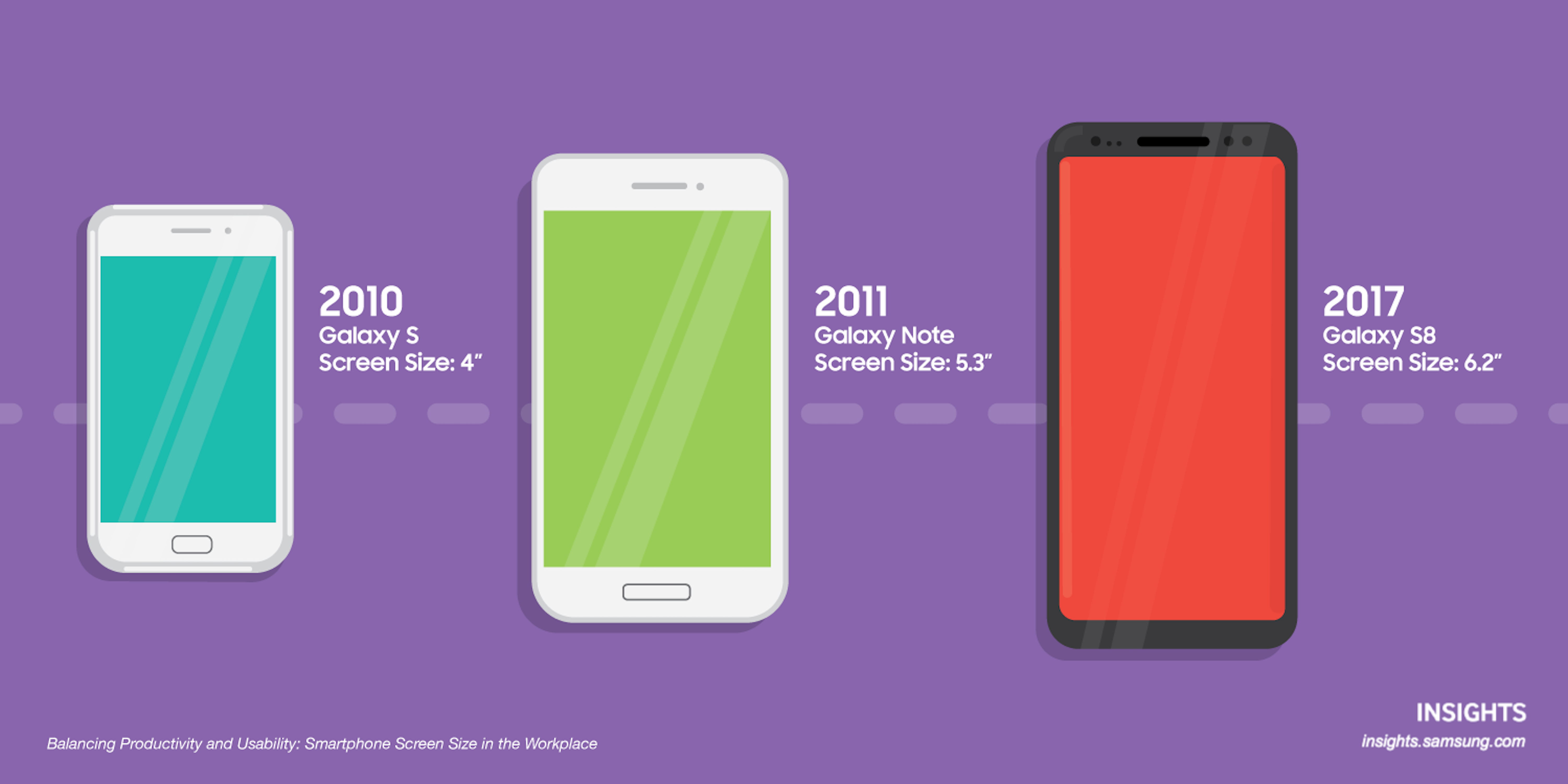 Larger Screen, Enhanced Usability
Despite the success of the phablet category, users suffer from a "large screen, small device" paradox. They want a large screen, but not a large device. In planning for our latest smartphone launch, our market research showed that many business users were interested in a 5.5-inch or larger screen for their next smartphone. However, users were also concerned that a large device could be too big to carry around all day or to operate comfortably with one hand.
It was this customer feedback that drove our design and engineering efforts around the recently announced Galaxy S8 and Galaxy S8+, which feature 5.8-inch and 6.2-inch Infinity Displays. The new Galaxy S8 and Galaxy S8+ give you maximum screen with minimum bezel, in a similar sized form factor as the Galaxy S7 and Galaxy S7 edge, enabling a comfortable grip and easy single-handed usage. There's an 18 percent larger viewable area in portrait mode and 36 percent larger viewable area in landscape mode, when compared with the Galaxy S7.
These devices take multitasking to a new level by enabling you to maximize the benefit of the new screen real estate. We've added a new Snap Window feature that allows users to pin their key application to the screen for persistent viewing with multiple windows open. Multitasking has never been so effortless. Users can navigate with maps to an appointment while on a conference call, or video call while responding to texts, or review presentations while checking their calendar.
Application development targeting phablets and large display devices continues to grow. Enterprise IT managers and the broader app business ecosystem are embracing phablets and understanding the benefits of a larger smartphone screen size for rich communications, productivity and running various lines of business applications.
As the importance of phablets in the workforce increases, we'll continue to innovate and develop mobile devices designed to meet the needs of both business users and enterprises. IT decision makers should consider the enhanced productivity and efficiency that large-screen mobile phones offer when deciding which devices to use and deploy for their businesses.
Unlock the true potential of mobility with the Galaxy S8, which enables mobile productivity from anywhere.