Huge and bright LED video wall displays will get a lot of the attention at this year's InfoComm pro-AV trade show, but the industry pros will know there's still a big business market for more conventional flat panel displays.
The massive trade show is a must-do event for most North American systems integrators and digital signage solutions providers because it's a one-stop exhibition loaded with all the latest products for the commercial display industry. It's not only the flashy screens, but also all the boxes, cables and connectors that get content efficiently and perfectly to those screens.
The sector is booming in terms of demand, though it's also a field crowded with manufacturers — particularly in the rapidly emerging LED video wall displays sector. Vendors of all stripes take up space because market demand for Narrow Pixel Pitch (NPP) LED displays has grown dramatically in the last three years. However, there are still a lot of end users putting up LCD video walls and individual large-format LCDs in all types of spaces, from luxury retailers and restaurants to corporate lobbies and control rooms.
An Industry Snapshot: Video Wall Displays and More
Research firm IHS Markit's latest numbers for 2017 suggest the high-brightness LCDs, used for video wall displays, will outsell NPP LED products through 2018, with LED eventually taking over as hyper-competition forces prices to drop. High-brightness LCD shipments are expected to grow by 52 percent in 2017, while shipments for the narrow-pitch LEDs, says IHS, should grow by 75 percent this year.
Videowalls Bring Benefits to the Modern Enterprise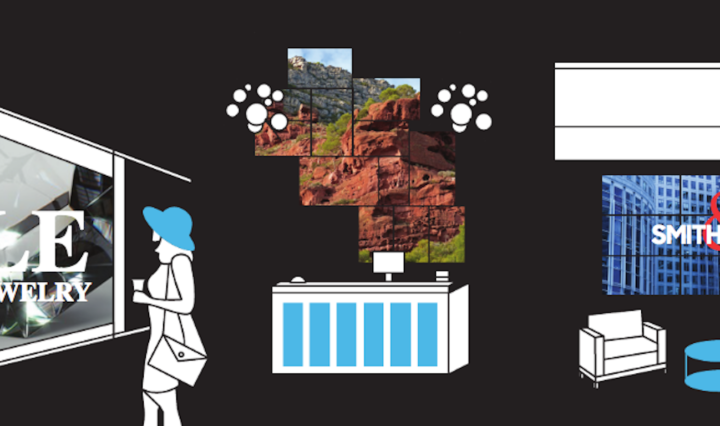 Explore the possibilities of video wall technology. Download Now
Still, high prices, particularly at the most narrow (or fine) pitch, are slowing the shift, but another reason why LCD-based video walls continue to be widely adopted is the extremely narrow width of bezels — the seams between displays joined in clusters to create these big digital canvases. The seams are there, but only just. Samsung's UH Series video wall displays, when joined, create a seam that's less than 1.7mm. NPP LED walls are truly seamless, but they're still best seen from at least 10 feet back, whereas products like the UH Series look great even from just 10 inches away, or 10 yards.
Narrow pitch LED and OLED (organic light emitting diode) displays have generated buzz at recent InfoComms, and this year Samsung is showing new QLED technology positioned as a commercial foil to OLED. QLED is short for "quantum dot LED" displays — a relatively new technology that adds a film of microscopic molecules to an LCD display, generating deeper blacks, sharper whites and more precise color reproduction.
QLED are positioned as premium displays, but like most Samsung commercial displays, support the company's Smart Signage embedded media player technology.
Integrators will also be looking at options for outdoor signage displays, for advertising and promotion, but particularly for applications like quick service restaurant drive-thru lanes. Outdoor signage displays like Samsung's OH series are designed to win the viewability battle with direct sunlight and operate in harsh weather conditions — from frigid to baking — on a 24/7 basis. Interest and adoption is picking up in quick service restaurants (QSRs), as studies show a clear total cost of ownership (TCO) benefit.
An Updated Look at 4K
Ultra-high definition 4K displays have been on the market for a few years, but InfoComm attendees this year are likely to start giving them a closer look, as the ecosystem that supports and feeds the display business has started to catch up. There are now numerous media player options for supporting smooth playback of 4K video files, as well as all the infrastructure gear needed to move video signals of that size around. There's still a relatively low library of non-entertainment content even available in 4K, but even that's changing.
The educational side of InfoComm this year has a pair of interesting tracks focused around the idea of screens creating large digital canvases for any public or private space. Furthermore, there is a series of eight 90-minute sessions throughout the week that discuss high-profile applications, like a wall-filling LED display in Salesforce's San Francisco head office lobby, and the applied technologies within those jobs. There's also a day-long specialty conference, called TIDE, that looks at the intersection of technology and storytelling in anything from retail to workspaces.
InfoComm is a big show, with a lot to see in three packed days. If you are going, be prepared to be steadily dazzled by what's now possible with digital displays, for inside and out.
In order to fully reap the benefits of digital signage, developing a total cost of ownership model is essential.