Digital image capture is employed across a broad range of businesses and industry verticals, including professional photography, real estate, retail, insurance claims and public safety.
In the past, digital single-lens reflex (DSLR) cameras were the de facto standard for capturing professional-grade images, especially under more challenging conditions that required zooming, motion stabilization or compensating for low light.
Today's advances in smartphone cameras are bringing DSLR capabilities and features like optical zoom, high dynamic range (HDR), autofocus and optical image stabilization (OIS) to mobile devices. Dual camera technology is also becoming more prevalent in smartphones, enabling many of these DSLR-like features to exist in compact smartphone designs.
According to the Strategy Analytics' Global Handset Imaging Enablers Forecast, smartphones are increasingly adopting these DSLR features, with the most significant growth predicted in rear dual camera and OIS, as highlighted in the chart below: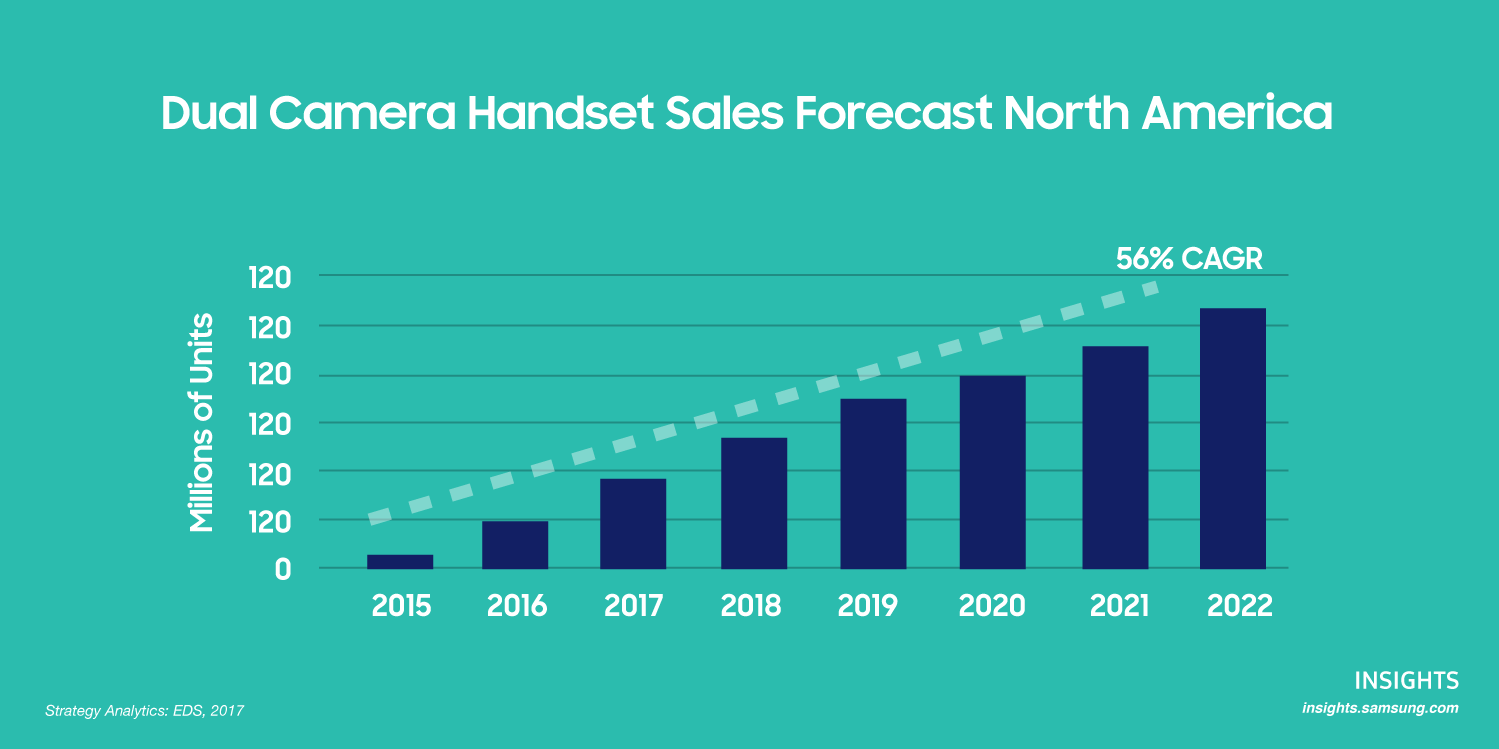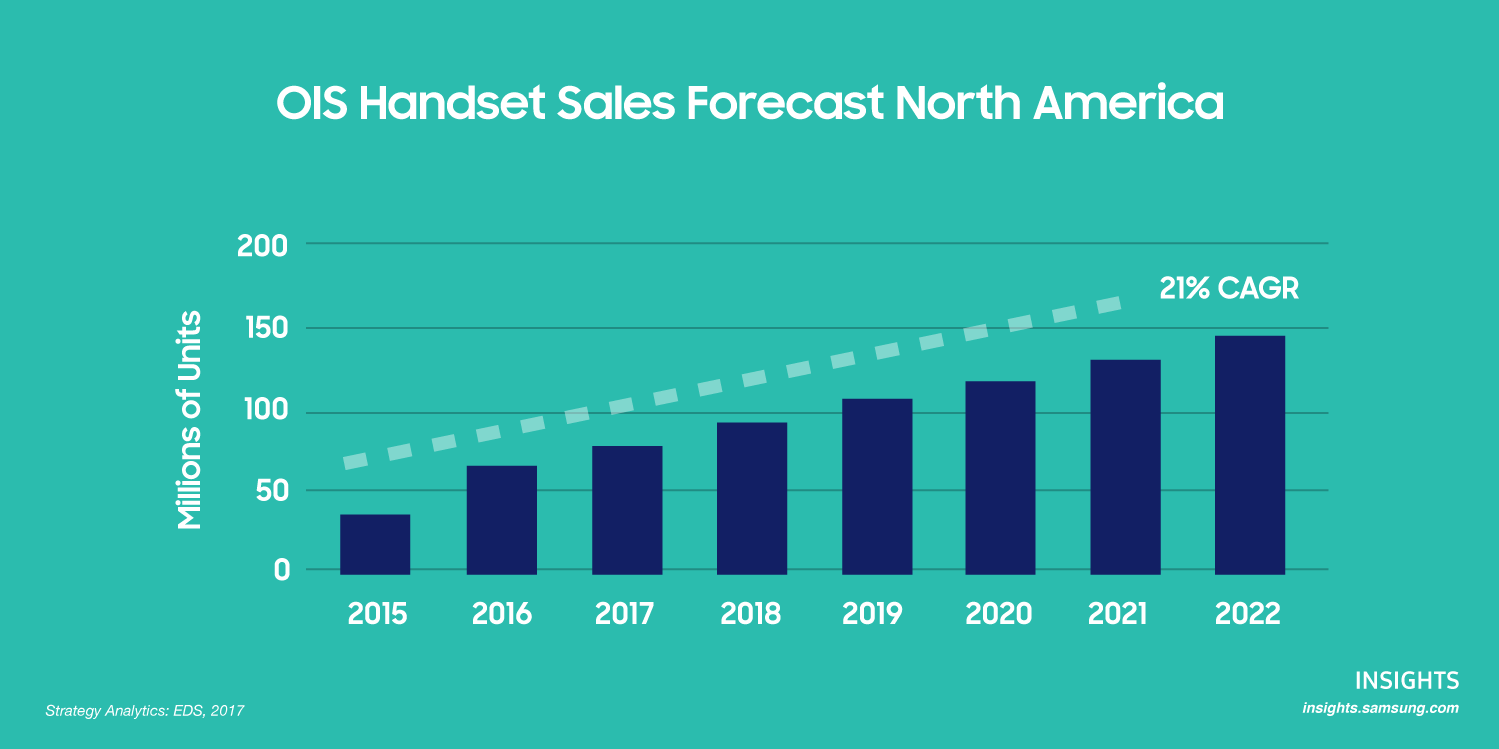 Source: Strategy Analytics EDS
Samsung continues to improve on its award-winning smartphone camera technology, with the introduction and enhancement of DSLR features and capabilities in the Galaxy Note8. This new camera experience can serve as a DSLR replacement for business users taking high-quality photos for work. Let's take a look at these features in a bit more detail.
Clear Zoom With Dual OIS
The Note8 introduces the world's first dual camera with optical image stabilization on both lenses. It consists of one 12MP Dual Pixel f/1.7 77° wide angle lens for capturing full scenes and one 12MP f/2.4 45° telephoto lens for crystal-clear zoom.
Designing the Best Smartphone for Business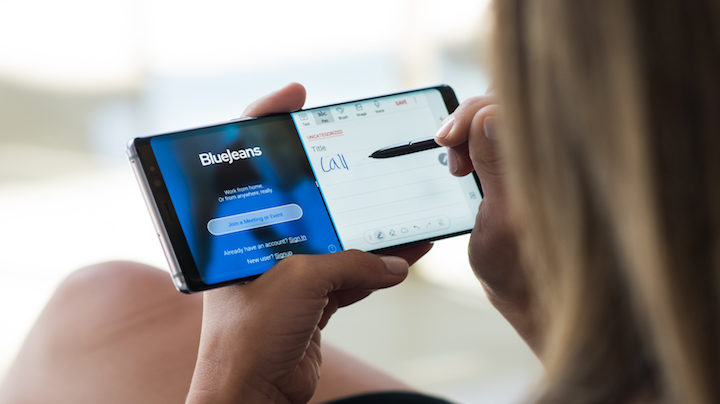 See how the new Note8 is the result of an effort to create the best smartphone for business. Download Now
It enables 2x optical zoom without loss of quality, and up to 10x digital zoom to capture even more distant images. Optical image stabilization in both cameras with Clear Zoom enables clearer shots with less blur, even when zoomed. The Note8's optical image stabilization rivals that of thousand-dollar, professional DSLR cameras. Both lenses automatically move to counteract natural hand shaking for two crisp, clear images, even when in motion.
Live Focus With Dual Capture
The Note8's new Live Focus mode allows you to create a professional blurred background effect, also referred to as "bokeh effect." The soft, out-of-focus background makes the object in the foreground more prominent and vibrant. This effect can be adjusted both before and after taking the photo. Live Focus mode also enables Dual Capture, which means that each shot results in two saved images: one zoomed-in portrait with bokeh effect, and one wide-angle shot with the entire background.
Dual Pixel and HDR
The Galaxy Note8 continues to lead with its Dual Pixel and HDR camera technologies. Dual Pixel sensors enable significantly faster auto-focus, ensuring clear and sharp images especially for moving objects, even in poor lighting conditions. HDR enhances images by stitching together multiple photos taken in succession with different exposure values to maintain greater detail from the darkest and lightest regions. Together, Dual Pixel and HDR provide quick high-quality image capture, even in the most challenging low-light conditions.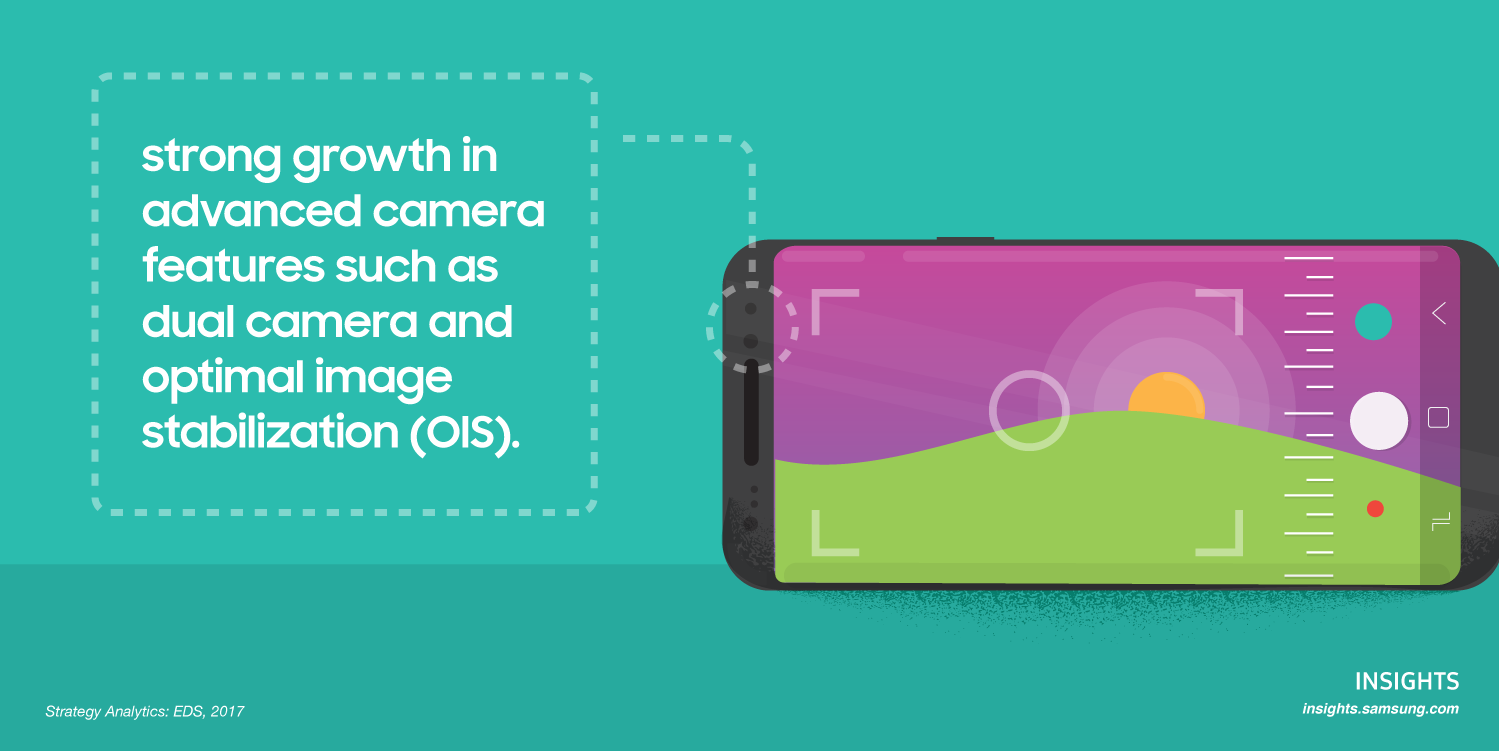 Pro Mode
The Note8 also includes a Pro Mode for finer grain control of key image capture attributes. Pro Mode allows you to adjust a combination of these six settings: ISO, shutter speed, color tone, manual focus, white balance and exposure value. You can also opt to save your image in RAW format for further post-processing enhancements.
ISO measures the sensitivity of the image sensor. A higher ISO number setting is typically required for shooting when there isn't a lot of light, or when fast shutter speed is needed, such as when shooting indoors without flash or when taking ultra-fast shots of moving images.
The Pro Mode shutter speed setting adjusts the length of time a camera shutter is open to expose light into the camera sensor. Shutter speeds are typically measured in fractions of a second. For example, 1/125 means eight milliseconds. Fast shutter speeds are better for freezing images in motion, whereas slower shutter speeds can create motion blur effects along the direction of motion.
The color tone setting allows adjustments of color intensities to create different color balances and effects.
The manual focus setting provides greater control on the focal point in an image, which is especially helpful in situations such as when the subject is close up or when shooting a scene comprised of many elements.
The Pro Mode white balance setting balances the color temperature in your image by adding the opposite color to the image in an attempt to bring the color temperature back to neutral.
Exposure value (EV) is a number that represents a combination of a camera's shutter speed and f-stop. This Pro Mode setting allows you to quickly underexpose or overexpose your image, overriding the camera default.
In summary, the Note8 brings professional-grade imaging to a new level with features including Clear Zoom with Dual OIS, Live Focus and Pro Mode. These features will empower your business by bringing the high performance of a DSLR camera to you at a fraction of the cost.
Discover how the Galaxy Note8 can bring a new level of productivity to your enterprise.