We are all constantly striving to find a better work-life balance, juggling those appointments and to-do lists for both our personal lives and our jobs. Mobile technology offers a lot of tools to better manage schedules and tasks, but still not everyone does a good job putting those apps to work.
Increasingly, smartphones are introducing features that try to organize your life for you, without you even asking. Users of the Galaxy S8 and Galaxy Note8 can take advantage of Bixby Home and Reminder, two features designed to give you what you need, when you need it, while making sure that you never forget to attend another meeting.
Here's how they work:
Bixby Home
Bixby Home is the hub of everything you do throughout your day, offering users a unified card-like interface which shows you what's coming up, contextually relevant information, social media updates, breaking news alerts and much more.
Bixby Home is accessed by pressing the dedicated Bixby button or swiping right from the home screen. Here you will find everything you need when you need it. Depending on the time of day or what's on your calendar, Bixby Home will present you with the information you need without ever having to open another app.
Increase Productivity With a Mobile Desktop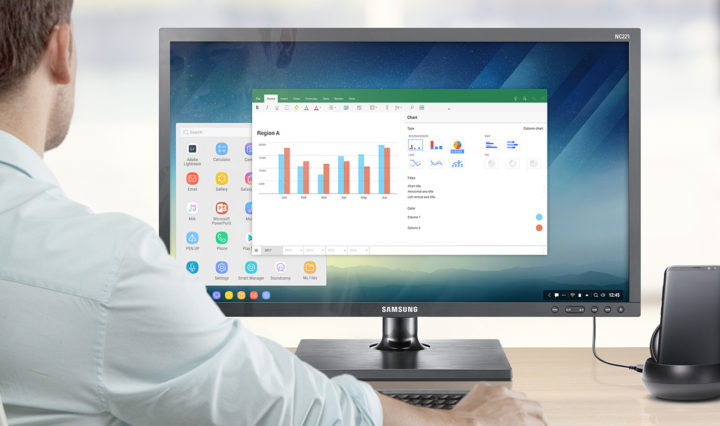 For example, in the morning Bixby Home could show you a rundown of that day's schedule, what the weather is going to be like on your commute, and the latest news headlines. During your work day, you will receive timely reminders about upcoming meetings and if you need to contact someone you are due to meet, you can do so directly from the Bixby Home screen.
But this is not a generic solution. Users can customize Bixby Home to prioritize the information important to them including core modules like their schedule, email, Samsung Health, weather, news and frequently used apps. These can all be muted or prioritized, depending on what you are interested in. By taking the time to personalize your feed, it will quickly become integrated into your daily routine.
Samsung Reminder
Reminder is a task management tool for setting and managing reminders and is a key tool for improving work productivity. By using Reminder, you will never forget to attend a meeting, prepare a presentation or pick up some milk again.
Deeply integrated into the operating system, Reminder can be accessed from a range of places, including within apps, on the Bixby Home screen and even on the Always On Display. You can set reminders to alert you at a particular time or when you reach a particular location. For example, on your commute, you can set a reminder to send an important email the minute you reach the office. To make things even easier, users can add their work and home addresses to the system — and if they have a Bluetooth connection in their car, they can add that as a location too.
Reminder moves beyond simple to-do lists to let you set reminders for everything from video and images to websites, phone calls and messages. There are a variety of ways you can set reminders. Using Bixby Voice, you can simply say: "Remind me to call Alan, David and John when I get to the office" and Bixby will create an itemized checklist and deliver it when you arrive.
You can also create reminders with the Share Via menu, the same menu you use to share content with contacts and other apps. Reminder is also built directly into apps like Phone and Messenger, and if you want to manually type it out, you can simply open the Reminder app and put all the details in there.
Of course, reminders only help you work efficiency if you can see them. With the Note8, you can see reminders on the Bixby Home screen, with the Always On Display, via a widget on your home screen or you can catch a glimpse from any screen by swiping left from the right edge.
Reminder will also automatically sync your reminders across all of your Samsung devices so no matter where you are or what device you are using, you won't miss a thing.
In today's fast-paced work environment, getting all the information you need when you need it is essential. Bixby Home and Reminder can help you do just that, keeping you focused on the task at hand and ensuring you're in the right place at the right time — no matter the time of day.
See how enterprise mobile solutions are changing the way that employees work on a daily basis.