The future of the ubiquitous meeting room projector may be as dim as the light spilling out of them, as bigger, much brighter technologies like direct-view LED displays are finding their way into corporate spaces.
Projector fans can be noisy, they never seem to be quite level, but their biggest failing is light output. Unless a company invests in expensive, high-powered projectors, viewing a presentation on a boardroom screen means dimming or switching off the room lights and cutting off any natural light source. The crisp visuals on the presenter's laptop screen end up looking dull and washed out on the big screen.
The other issue, simply, is conventional projector lamps are like lightbulbs at home — they don't last. They can be expensive and, if the projector is ceiling mounted, there's nothing simple about changing that bulb. There are, however, LED and laser light-source options coming on the market with longer operating lives, but varied brightness.
Change is Coming
Large-format LCD displays have already supplanted meeting room projectors in many office spaces because the bulb issue is eliminated and LCDs can do a better job of cutting through light. Their main limitation is size. A 98-in. diagonal display would all but consume a wall at a personal residence, but in a larger boardroom, it's not that big.
Enter direct-view LED — technology that grew out of the LEDs we all see at stadiums and on digital billboards. That LED display technology has matured and evolved, and also miniaturized. These days, manufacturers like Samsung are using LEDs small enough to pack together in ways that result in the displays looking as good as HD LCDs, even from just feet away.
The Ultimate Guide to Conference Room Technology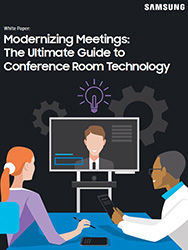 White Paper
Download this guide to effectively plan your next meeting room technology upgrade. Download Now
That's interesting for architects and audio-visual consultants because they can start to design showpiece and primary meeting room spaces — even corporate auditoriums for larger companies. Because of the modular, building-block nature of LED, displays can be extra-wide like a cinema screen, but without the seams needed when LCD video walls are built and individual displays are tiled together.
There's no visual quality compromise with LED. In fact, Samsung has started marketing direct-view LED as an alternative to traditional lamp-based projection systems and screens in cinemas. A landmark moviehouse in Seoul, South Korea, already has one in their theater operating on a 1.5mm direct-view LED.
It's not just about scale, though. Samsung's direct-view LED uses High-Dynamic Range technology (HDR). That technology amplifies visuals and eliminates the muddiness people see when a scene has a mix of dark and light. HDR generates a wide range of contrast, and handles something called low-tone grayscale settings, in such a way that viewers see the brightest colors, deepest blacks and most pristine whites.
Vivid, accurate color and ultra-high resolution isn't just important at the movies. In corporate settings, particularly in executive suites, brand marketers care deeply about their true colors, and engineers care deeply about the fine detail in what they are seeing.
Practical Considerations
There are also practical arguments around LED display versus traditional projection systems, such as positioning.
Presentations in larger settings require projectors either beaming visuals from the back of the room, angled from above or from the rear of the screen — with the projector set well back to visually "fill" the screen. Presenting from the front means the speaker is casting a shadow or staring into a bright light. Operating from the rear consumes a lot of precious real estate, at a minimum of $60 a square foot in lease costs. An LED display can be as large as it needs to be, and rest flush against a wall or stand free, with minimal impact on a room's footprint. The technology is also, in many cases, fanless and because of that, absolutely quiet.
LED technology has been on the market for many years, but high-resolution indoor displays only started emerging within the past five. Marketplace adoptions rates have grown, and a result, manufacturing costs have come down, as have prices for buyers. They remain, however, premium products. A high-resolution LED wall of a certain dimension will cost more than an LCD wall put together with multiple displays of the same size. But the cost gap is closing.
At the same time, capabilities are rising. Right now, most LED displays are there to see and not touch. But it's expected that a direct-view LED canvas will soon also support touchscreen-style interaction.
Currently, there limited examples of big meeting spaces that use LED as their main visual focal point, but that will change. Soon, IT managers and employees will no longer have to worry about noisy projectors, burnt-out bulbs or faded presentation screens, but simply be able to turn on a display and present in vibrant color.
Learn more about Samsung's direct-view LED displays.