First there were smartphones, then there were cracked screens. For field services workers and others with active jobs, a dropped phone too often meant a shattered interface. The phone repair industry boomed, and repair bills became a painful reality for enterprise users.
Then came the ruggedized phone. By choosing a drop-resistant smartphone with a shatter-resistant design, warehouse workers, manufacturing workers, construction workers and others gained the ability to work effectively even in harsh environments. Demand is strong for such devices: $7 billion in 2016 and growing to over $10 billion by 2023, according to Research and Markets.
Now a new wave of ruggedized devices is emerging. These smartphones deliver enterprise-grade durability while also responding to calls for a more user-friendly format. Rugged devices offer enhanced durability and better work-life balance for active users, pairing the toughness to withstand drops and splashes with the flagship features and functionality found in higher-end consumer phones.
These devices "are beginning to look more like their consumer counterparts in terms of processing power and user interfaces," notes Field Technologies. "That should be good news for end users as they leverage their mobile investments to run more complex applications and generate additional benefit."
Analysts see strong interest in such devices, with their "slimmer, thinner and lighter designs." They foresee adoption of the rugged phones in the lifestyle market as a key driver of overall demand for ruggedized phones.
Does Your Workforce Need a Rugged Smartphone?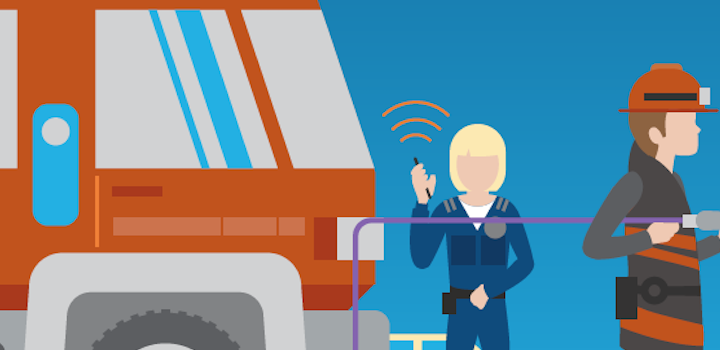 White Paper
View this infographic to discover the benefits a rugged device could bring to your enterprise. Download Now
The features inherent in Samsung's Galaxy S8 Active can serve as a kind of template, illustrating five key points to look for when choosing a smartphone with your active employees in mind. With built-in security, long battery life and other top-shelf features, the Galaxy S8 Active is more than just a sturdy workhorse. This rugged phone is now the most durable version of one of the top mobile devices in the market. Here's why:
Rugged specs. Rugged devices should meet technical standards for durability, including MIL-STD-810G spec and IP68 certification. Developed by the Department of Defense, military-grade testing or MIL-SPEC defines the survivability of devices under the harshest conditions. To investigate the durability of the Galaxy S8 Active, researchers put the devices through a 26-drop trial from five feet. The design also incorporates a two-layer screen that includes Gorilla Glass 5 and a polycarbonate outer layer, as well bumper provides shock protection.
Battery life. Whether it's on the factory floor or out on a job in the field, battery life is a perennial "most important" criteria for business users of mobile devices. The Galaxy S8 Active delivers with the largest battery available on a Samsung smartphone, at 4000mAh, combined with fast wireless charging.
Security. Every smartphone ought to have built-in security that enhances the work-life balance. Samsung Knox provides strong hardware-based security, and can combine with the add-on Knox Manage EMM or Knox Configure tool to give enterprise administrators maximum control over device security. The Galaxy S8 Active's built-in biometric authentication features, including iris scanning, ensure even greater security.
Camera. A rugged phone should have top-shelf amenities to support users who need to capture quality photos or video in the field. The Galaxy S8 Active's specs tell that story: 12-megapixel Dual DP f/1.7, OIS and LED flash on the rear, and 8-megapixel with autofocus on the front.
Expandable memory. Another key feature, Galaxy S8 Active delivers 64GB internal RAM plus up to 256GB microSD support. This makes it suitable for high-intensity data applications and provides expandable computing power while employees are out of the office.
Flexible workflow. Does the device allow the user to easily transfer work back and forth between mobile and desktop environments? With Samsung DeX on board, the Galaxy S8 Active becomes an extension of the desktop: Dock the smartphone into a the DeX station to access a complete desktop experience. For functions like word processing or accessing virtual desktops, this ability to go large adds versatility to the smartphone platform, boosting productivity and letting mobile workers easily transition back into the office.
The rugged smartphone represents a next step forward for mobile devices. Field service workers and employees in a range of other heavy-use industries already know the value of having a phone that you can drop or douse without getting destroyed. Now they're asking for more: Choosing a smartphone that includes the same high-grade features as the top consumer devices.
The Galaxy S8 Active fills that niche, from batteries to biometrics. With robust security features, high-end cameras and ample memory to support all that functionality, the newest devices take rugged to a whole new level.
See how enterprise mobile solutions are changing the way that employees work on a daily basis.