Long before mobile was a buzzword, people working in hospitality spent their days on their feet. Management jobs in the industry mean attending to the many daily tasks required to keep guests satisfied and venues running smoothly. As more hospitality functions become digitally enabled, those on-the-go managers are forced to juggle multiple devices: phones to communicate, tablets to work with vendors and guests, and laptops to access backend business applications.
There's finally a form factor for those multi-tasking managers: 2-in-1 devices, in which the keyboard detaches or folds back, transforming a powerful laptop into a convenient tablet.
Hospitality Digital Transformation
People who manage vital parts of a restaurant, hotel or other hospitality property — such as sales, banquet, food service and house managers, as well as general and district managers — perform many different types of tasks in a single day. They may sit at a desk or table to review reports, run payroll and manage the marketing budget. They may also spend time collaborating with a vendor on a schematic for an event, presenting a preview to a group event customer, taking inventory of a freezer, even getting sign-off from a customer on their phone.
Laptops are a great fit for those first tasks, while a tablet is much better for the others. And then there are the activities that cross that line — say, the customer watching the presentation wants changes that require going back into the hotel's revenue management system. The 2-in-1 format bridges the gap, becoming the ideal solution to support the hospitality digital transformation.
An Ideal Match
A well-designed 2-in-1 such as Samsung's Galaxy Book offers a unique combination of features and capabilities that make it the right hospitality technology for managers:
Collaboration: For things like previewing properties or collaborating with a vendor over a contract, the 2-in-1 format is light, slim and easily portable, so it's convenient to carry across a large campus or up many floors of a hotel. The Galaxy Book 2-in-1's sleek design and dazzling AMOLED display take presentations to the next level, putting the brand in its best light.
Processing Power: Managers accessing powerful applications such as restaurant or property management systems require fast processors and enough memory to ensure easy multi-tasking. Samsung's Galaxy Book sports a robust Intel Core i5 processor and 8GB of memory.
Connectivity: Workers on the go need lightweight devices, not a million accessories. A 2-in-1 device is streamlined with just a few ports to keep its design compact and easy to carry.
Productivity and Support: Managers lose precious time when they are forced to stop what they're doing, switch devices, and recreate or retrieve data. The Galaxy Book enables users to easily switch back and forth between form factors, delivering notebook-level performance and tablet mobility. It also runs Windows 10, so it's easy to ensure access to critical backend applications from both laptop and tablet modes. Standardizing on one platform also minimizes support costs.
Avoiding Mobile Productivity Pitfalls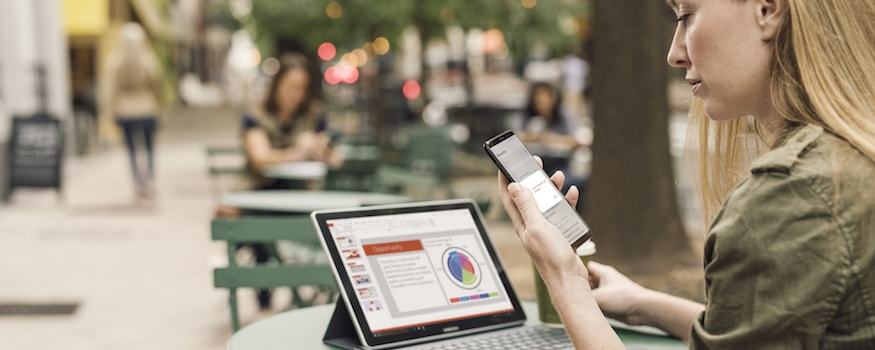 See how a 2-in-1 solution offers the benefits of being mobile without sacrifcing productivity. Download Now
Integration: Hospitality managers must stay connected with employees, upper management and increasingly, directly with guests. The Galaxy Book 2-in-1 makes communication seamless across devices. With Samsung Flow, a manager can sign into the Galaxy Book's Windows OS with the fingerprint sensor, share files, access their Samsung phone's hotspot and respond to a message — all without touching the phone.
Battery Life: A 2-in-1's battery must keep up with the demands of many different apps and still last through a hospitality manager's long day. The Galaxy Book can run for up to 11 hours.
Cost: When hospitality managers move to a 2-in-1, they are often replacing a laptop and a tablet. So while a 2-in-1 may cost more than a standard laptop or tablet, it's definitely less costly than one of each — in addition to being cheaper and easier to support. A backlit keyboard and pen come standard in the box, avoiding hidden add-on costs.
The Right Fit for Hospitality Jobs
According to IDC's Worldwide 2017 Q1 Personal Computing Device Tracker, convertible 2-in-1s command the fastest-growing segment in personal computing. That's because they elegantly bridge the gap across devices for mobile workers with multi-faceted jobs that don't fit neatly into the box for laptop or tablet only.
These workers can be more productive with a Galaxy Book because they're not juggling several devices or running back to their desks.
Sales. Tablet mode: Previewing properties, collaborating on contracts, collecting signatures, planning layout of a ballroom. Laptop mode: Budgeting, revenue management, scheduling.
Concierge. Tablet mode: Sharing screens to preview excursions, selecting seats. Laptop mode: Making reservations, entering data, checking schedules.
Restaurant Manager. Tablet mode: Taking inventory, creating orders, monitoring kitchen, reservations. Laptop mode: placing orders, scheduling, reports, payroll, marketing.
General/District Manager. Tablet mode: Displaying resets or marketing display planograms, checking dashboards, social media monitoring, communications. Laptop mode: Revenue management, reporting, payroll, budgeting.
Food Service. Tablet mode: Mobile order taking, inventory. Laptop or tablet mode: Mobile POS for events (such as a cash bar).
Housekeeping/Operations Manager. Tablet mode: Task management, inventory, repair schematics. Laptop mode: scheduling, reporting, inventory management.
The smart, flexible design of the Galaxy Book 2-in-1 empowers the hospitality digital transformation by equipping hardworking managers with the right tools to work from anywhere and collaborate on the go. When managers can seamlessly move from one task to the next, staying connected while using just the right tool for the job at hand, they can put worries about juggling devices aside and put their focus on enhancing the guest experience.
Learn how you can impress your guests and streamline operations by checking out our latest hospitality technology solutions.