Intelligent Scan is a smart, new biometric authentication feature introduced on Samsung's Galaxy S9 and S9+ phones. Over the past few years, Samsung has incorporated a range of biometric options on its latest mobile devices, including fingerprint, iris and facial scanning technology. Each has pros and cons when it comes to balancing security and convenience for the business user.
Intelligent Scan isn't a new type of biometric authentication per se; instead it's a smart algorithm that allows the phone to select the best unlock option — either facial recognition or iris scanning — based on environmental conditions.
One challenge with iris scanning has been use in bright sunlight. In those conditions, Intelligent Scan will instead utilize facial recognition to verify the user. Conversely, in dim lighting, facial recognition doesn't work as well, so the phone utilizes the infrared iris scanner instead. This all happens virtually instantaneously, making Intelligent Scan a fast and convenient way to unlock your device.
Secure Your Phone With Biometric Authentication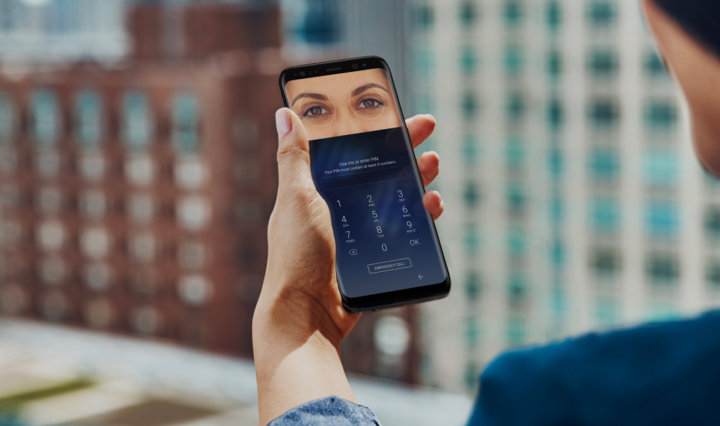 Find out the pros and cons of each biometric technology in this infographic. Download Now
That said, it should only be used by individuals or businesses comfortable with the level of security afforded by facial recognition technology. Enterprises concerned about device security should consider options such as fingerprint or iris scanning.
Using Intelligent Scan
Setting up Intelligent Scan on your Galaxy S9 or S9+ is easy.
Open your Settings menu and select Lock Screen and Security and then Intelligent Scan. You'll be prompted to set a pattern, PIN or password if you haven't already. This will always be your fallback if you are unable to unlock using biometrics.
Next, you'll be prompted to register your face and iris. (Again, if you already have these set up, you'll skip right by these steps.) To register your face, hold your phone 8 to 20 inches from your face and position it in the circle. Accept when prompted to turn on face unlock. To register your iris, hold your phone 10 to 14 inches from your face and position your eyes in the two circles. You'll then be prompted to turn on iris unlock.
The final step is to select Intelligent Scan unlock to activate the feature. Your phone will now automatically evaluate the environmental conditions during the unlock process. For the user, the experience is seamless, making it easier than ever to "unlock with a look."
Download our guide to keeping personal and work data safe on your smartphone.