Warehouses are a key link in the supply chain, and every company is looking for ways to keep up with customer demands for fast shipping while lowering costs and addressing special warehouse management requirements such as food and pharmaceutical safety regulations.
To that end, fully integrated warehouse management solutions are replacing traditional paper-based and legacy system workflows. In a recent survey conducted by Ivanti and VDC Research, the number one pressure driving mobile warehouse device investment was customer demand for faster orders (55.7 percent) followed by replacing older systems that are incapable of keeping up with these orders (42.1 percent).
As companies rush to improve warehouse management to respond to the demands of e-commerce, IT decision makers supporting warehouse operations are considering upgrading their mobile devices, with 53 percent saying their current warehouse mobility deployments are immature, according to the VDC report.
Keeping the Warehouse on the Cutting Edge
By using the most up-to-date mobile devices and Internet of Things (IoT) solutions, a warehouse manager can elevate their enterprise to create a truly connected warehouse experience. But having the right device and operating system is a key component of a seamless warehouse management solution.
The Definitive Guide to Warehouse Efficiency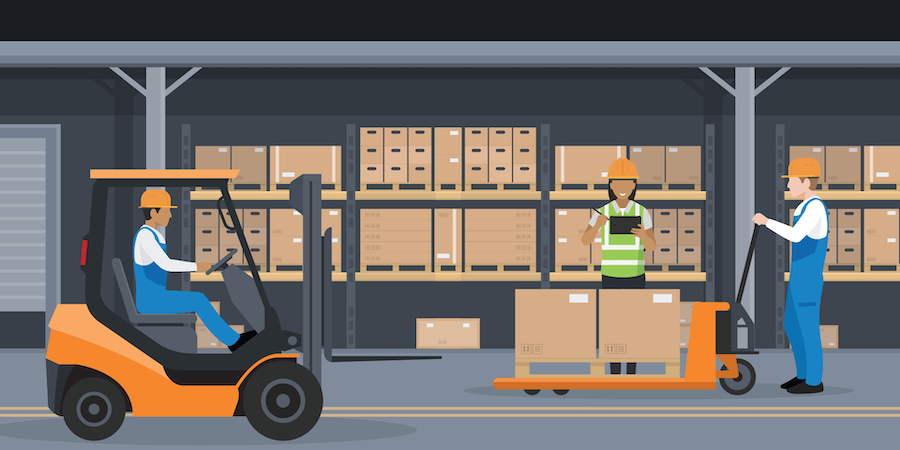 Get your free guide to increasing warehouse efficiencies and cutting costs with mobile processes. Download Now
Nearly 40 percent of respondents in the report indicated they are evaluating or planning to move to an alternative mobile OS platform for their next-generation mobile computing solution. It's anticipated that many will make the switch to Android devices, which comprise a growing percentage of rugged device shipments (39.6 percent in 2016) due to their sophisticated functionality.
To incorporate IoT devices in a warehouse, experts recommend a system that will support both new smart devices and legacy devices that may still be in use. The warehouse should support wired and wireless connectivity, and the support infrastructure should include mobile device management systems for device setup and maintenance. Rugged handheld devices, such as the Samsung Galaxy Tab Active2, that can withstand a variety of environments and a tough work environment should also be a consideration — as should an operating system that allows for the greatest productivity and applications.
A smart warehouse can increase productivity and reduce labor and other costs while connecting with everyone from suppliers to retailers. Sensors of various types enable automatic identification and data capture (AIDC) for warehouse management, employing technologies such as barcodes, radio frequency identification (RFID), biometrics and optical character recognition (OCR) to support the growth of management solutions down to pallet- and item-level tagging.
A warehouse may still use printed pick lists or may have adopted pick by voice or other technological aids, but a warehouse using IoT devices that are LTE and Wi-Fi enabled can direct a picker to the right spot in the warehouse faster and with more information.
An IoT-equipped warehouse may upgrade to automated guided vehicles to retrieve items. Sensors in the warehouse can detect locations of people, vehicles and merchandise and can transmit locations and events to warehouse managers and management systems. Additionally, employees using smartphones or tablets can load boxes or pallets on a truck in the correct order for shipping.
Mobile devices can also help warehouse managers re-engineer processes. For instance, in a legacy routine, inbound material put-away and inventory consolidation may be two separate processes. But with a mobile device, directed put-away can incorporate consolidation automatically, reducing the steps and time required to accomplish both tasks separately.
Integrating Devices
A warehouse manager seeking to upgrade legacy technology to IoT devices can expect benefits in three key aspects of operations:
Reduced cost: Labor can be reduced or redeployed to higher-value tasks thanks to improved efficiency. Using a ruggedized device like the Tab Active2 can reduce the risk of costly breakage in tough working environments. The Tab Active2 is tested against MIL-STD-810G specifications, with a rugged design and shatter-resistant screen that can withstand drops of up to five feet onto flat surfaces. It also has IP68 certification for dust and water resistance.
Seamless workflow: The Tab Active2 has long-lasting, replaceable batteries for long shifts in the field. It also enables efficient gloved use through Enhanced Touch capability, facial recognition-based device unlocking, and an S Pen for note-taking and inputting information. These make completing tasks such as picking, sorting and staging faster and easier. Enhanced sensors (accelerometer, geomagnetic and gyroscope) and a high-resolution camera also enhance collection of critical warehouse inventory and management data.
IT Friendly: Security was highlighted in the VDC report as the number one selection criterion for a new device, followed by customization capability and support for a modern user interface. The Galaxy Tab Active2 is built on the top-rated security platform, Samsung Knox. Samsung Knox not only offers end-to-end device security, but easy provisioning and customization with Knox Configure, as well as Knox Manage for ongoing device management and security.
While warehouse operations will always be under pressure to deliver inventory faster while lowering costs, warehouse management solutions, such as an Android-based rugged tablet connected with IoT devices, will give warehouse managers the edge they need to remain nimble and meet performance and productivity demands.
Get your free guide to increasing warehouse efficiencies and cutting costs with mobile processes, and discover more technology advancements in the transportation field that are set to dramatically impact this rapidly changing industry.