With hundreds or even millions of assets, many organizations face challenges tracking everything they have and ensuring that the right parts are in stock as needed. Traditionally, managers have used spreadsheets and other paper-based systems to track all these assets. However, manual processes don't match up with the speed at which businesses function. Real-time information is becoming indispensable, especially when things go wrong.
With asset management applications on handheld mobile devices, organizations can have greater visibility into not just the location of assets, but also the scheduling of proactive or preventative maintenance, tracking of work orders, and the staffing allocation for maintenance and repair operations.
Streamline Asset Maintenance
One of the biggest value-adds asset management software can provide is the ability to simplify and improve work and repair orders. Organizations often don't have the information they need to make timely decisions. This results in over-ordering because they don't know what parts they have in stock or, worse, equipment being offline because critical parts weren't ordered in time. These seemingly small inefficiencies can add up to a big financial cost.
With asset management software like IBM Maximo, organizations gain the ability to track all asset types, check their health in real time, and streamline global operations, from procurement to contract management. This allows organizations to see their parts inventory in real-time and order and request parts from anywhere at any time.
Through IoT, which allows sensors to be connected to devices, organizations can also improve their maintenance strategy. With the ability to track when repairs are required, organizations can move from reactive, run-to-failure maintenance to proactive, preventative maintenance strategies that limit equipment downtime and ensure that maintenance is carried out only when necessary — providing significant time and cost savings.
Mobile Tools for Asset Management
The transition to mobile applications is also dramatically improving asset management practices. In most cases, maintenance employees are on the floor and in the field, where they need real-time, from-anywhere access to information, such as whether a part is in stock. In the past, organizations have used Wi-Fi-enabled laptops bolted down in trucks to communicate, which prohibits employees from walking around with the device and requires them to track information on paper and re-enter it into the laptop.
Now, however, rugged tablets are providing an affordable, reliable mobile option. With a solution like Maximo Anywhere, which is designed for mobile, no cellular service is required. Field workers can enter work orders — without Wi-Fi — that will be saved and uploaded to the home office once the mobile device is reconnected to the internet.
21 Tests the Galaxy Tab Active2 Survived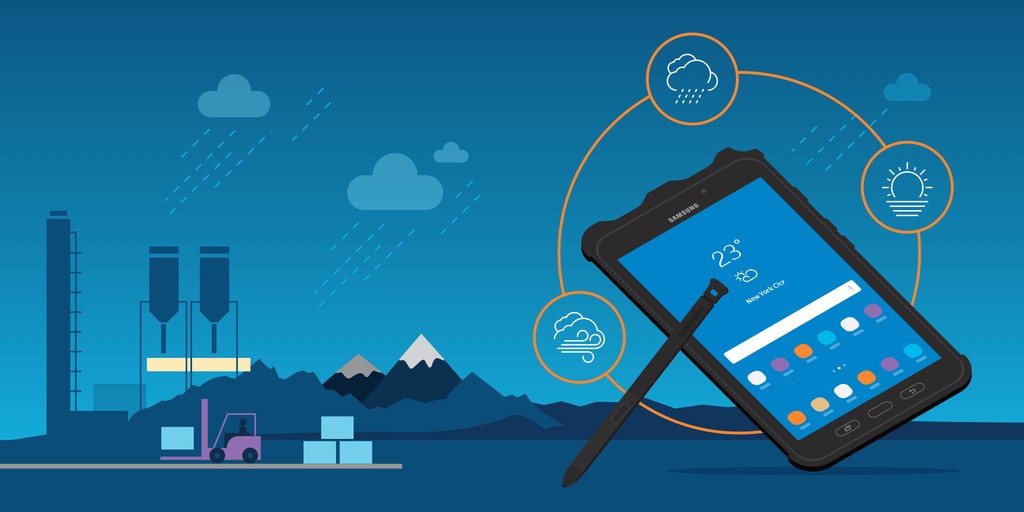 See a full rundown of the MIL-STD-810G testing the Tab Active2 passed in this infographic. Download Now
Having mobile devices in the field also allows employees to access other features on the devices, like high-quality cameras or the ability to use augmented reality (AR) applications in scenarios such as determining where faults are for inspections. Mobile devices also help organizations avoid human error by eliminating manual processes and paper systems where information is easily lost or entered incorrectly.
Final Considerations
When deciding how to launch your digital asset management program and which mobile devices to use, keep these three considerations in mind.
Rugged Tablets: If there is concern that devices could get wet or exposed to dust, intense temperatures or significant altitude changes, a rugged tablet is probably the way to go. Also, in an environment where employees need to be wearing gloves to do their work, a rugged tablet with a capacitive touch pen, like the Samsung Galaxy Tab Active2, makes it even easier for workers to be highly productive while using the devices.
MDM Solutions: If you'll be deploying a large number of mobile devices, you may also want to consider a mobile device management (MDM) solution to help you provision and manage devices throughout the organization. Samsung Knox Configure, for example, allows you to streamline the IT experience and improve employee productivity and security considerably through uniform device settings, ensuring no rogue apps are installed on devices.
CYOD vs. BYOD: Think twice about a BYOD program for mobile asset tracking solutions, as it will be more difficult to implement from a security, provisioning and management perspective. It's worth exploring other options that let you maintain more control over employee devices.
Comprehensive asset management software offers cost and time savings. But the biggest benefit is fewer errors and more visibility into the condition of your assets and your maintenance workflows.
Learn how the Samsung Galaxy Tab Active2 can help solve your toughest business challenges, including Enterprise Asset Management.