Good news — your business is growing! But don't throw the confetti just yet: Without a solid scaling strategy, new business growth can create chaos.
One potential casualty during growth is employees' ability to collaborate. As you move to a new physical space or migrate to a more capable technology platform, the collaborative processes that supported your initial success can begin to unravel under the increased pressure.
A conscious focus on scaling the tools of collaboration is essential to keep the organization moving forward. Make it easier for your teams to work together, share ideas and unlock their potential by providing them with collaborative tools they can use to create value and innovation in the workplace.
Make sure employees carry mobile devices that support communication and productivity wherever they go — whether they're making sales calls, meeting clients at building sites or stuck at the airport. With devices that meet the demands of the task and the environment, businesses can keep collaboration going 24/7 with their preferred platforms and apps.
Here are a few suggestions to fortify collaboration during growth.
Optimize Access to Team Members
Put the right tools in your team's hands, such as chat-based workspaces and internal social media platforms. The best spaces bring together people, conversations and content — along with the tools that teams need — so they can easily collaborate to achieve more. These spaces should seamlessly bridge the virtual and the physical to support the remote working and telecommuting that can create feelings of separation and unpredictability.
Unify Your Communications
Missed calls can be a major source of revenue loss for any company, and the risk of this loss increases as your team spreads out and travels more. Avoid frustrating your customers by investing in a unified communications (UC) tool like Verizon One Talk to ensure that every call is answered — even when the initially targeted employee is away from their desk.
Choose the Right Phone for Your Small or Midsize Business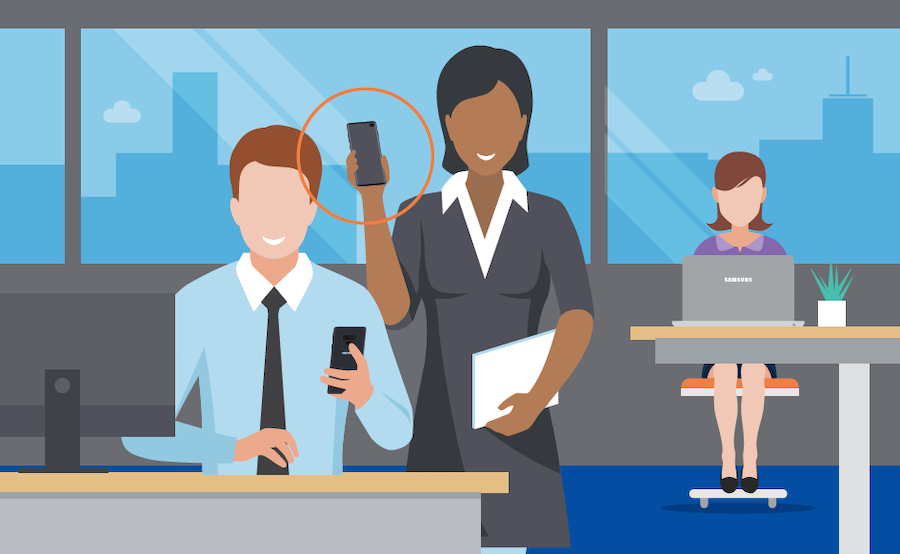 White Paper
Get your free guide to matching the right smartphone with your business and employee needs. Download Now
Keeping your team easy to contact is key, not only to avoid losing customers, but also to keep geographically distant team members connected and working together smoothly. With the right UC tool, you'll be able to institute a variety of automated processes to ensure calls get to the right people. This includes hunt groups, which continually forward the call down a prioritized list until it's answered, as well as extension dialing, for quick access to team members, no matter where they are.
Automate Workflows to Increase Efficiency
Twenty-two percent of the average employee's time is spent on repetitive tasks, which can diminish employees' focus and bog down collaboration. Research from Deloitte shows that many executives have made continuous process improvement a top priority. Collaborative technologies that use automated workflows and process intelligence help organizations spend less time on manual processes, and more time generating valuable insights.
To increase efficiency, consider investing in cloud-based tools for workflow integration and process intelligence that perform well on mobile devices.
Increase Collaboration With Customers
The explosion in mobility demand and cloud computing is impacting small and midsize businesses (SMBs) as much as the enterprise. David Smith, Microsoft's VP of worldwide SMB sales, stated that "nearly half of small businesses think that cloud collaboration and similar cloud-based tools have led to more satisfied customers."
Cloud-based mobile applications that bring businesses and customers together for work can boost customer satisfaction by centralizing communications and accelerating workflows. When companies and customers collaborate online, staff can effectively respond to requests in real-time with quickly sourced information.
To take full advantage, equip employees with mobile devices that keep them always on and always connected. Samsung offers mobile devices that match any company's budget and situation, from unlocked smartphones fully customizable to every business need, to MIL-STD-810G rated rugged tablets that resist breakage and water damage.
For more help choosing the best phone for your growing business, download our free guide.