Businesses are under more pressure today than ever before. Economic uncertainties, combined with the transition to a fully remote or hybrid workforce, means that teams need to find additional ways to collaborate better, win and retain customers, and do more with less.
With many employees still adapting to the new normal, now is the time to evaluate whether you have the right cloud-based software in place to empower your team.
Online business software has evolved rapidly in the past decade. Whether you're adopting a project management platform to keep everyone in sync, time tracking and invoicing software to increase productivity, or a smart CRM tool to track leads and win new business, these modern, subscription-based tools can quickly pay for themselves.
Here's a collection of some of the top cloud-based business software available today.
1. Paymo
Paymo is an integrated work management platform that's designed especially for small and medium businesses. If you are looking for a single platform that can help bring order to the chaos, get projects moving faster and reduce the time spent on paperwork and admin, Paymo checks a lot of boxes.
With Paymo, you can quickly set up detailed project plans, delegate tasks and work toward milestones. For owners of small but growing businesses, it gives visibility into how your team is collaborating so you can identify problems and manage resources effectively.
In addition to project and task management capabilities, Paymo includes a team scheduling module to view and manage resources on the same timeline, an intuitive timesheet solution with web, desktop and mobile timetracking tools, as well as invoicing features that allow you to create invoices on top of existing data. It's particularly popular among creative agencies, web development shops, consultants, legal firms and architects, as well as freelancers.
Another great thing about Paymo is that it works with the tools that you already use: sync comments from Slack, send tasks to Google Calendar, and export invoices to QuickBooks Online and Xero so you can work where you feel most comfortable.
2. Google Workspace
You're most likely already familiar with Google Workspace and the various productivity apps it encompasses: Gmail, Docs, Drive, Calendar, Chat, Meet and others. However, you may not realize that Google also has Google Workspace packages that can let you run your whole business in the cloud.
So what are the key differences when you sign up for Google Workspace?
For starters, you and your team get email addresses with a custom business domain — which immediately adds a level of professionalism to your business.
Next, Google Workspace makes working together so much easier, with shared calendars, team chat and intuitive videoconferencing and screen sharing.
Shop special offers
Find out about offers on the latest Samsung technology.
see deals
Speak to a solutions expert
Get expert advice from a solutions consultant.
Talk to an expert
Of course, you'll have all the tools you need to create and get work done, including Google Docs for word processing, Sheets for crunching numbers and Slides for crafting presentations. You can work on a single document with teammate or people outside your company, and everything is saved automatically.
Google Workspace gives you more space on Google Drive to store and share all your files in the cloud (the amount of space depends on the package you select). It also includes Forms (a professional survey builder) and Sites (a website builder).
Last but not least, with Google Workspace, you can appoint an admin for your organization who can quickly add users, manage devices and configure security to keep your company's data safe.
3. GoCo
Is your HR department still using outdated software for time tracking and payroll, and paper-based onboarding processes? GoCo automates all three.
GoCo is a cloud-based employee management platform that includes an HR information systems database, a benefits administration module and an embedded payroll solution. The platform follows individuals throughout their employment life cycle with your company through automated HR communication — from the initial offer letter and new-hire paperwork all the way to the final W-2.
GoCo says that it saves the average small business up to seven hours of HR time per new hire and up to 15 hours per employee. On average, a 75-employee company using GoCo saves $30,600 in reduced turnover, $14,200 in reduced admin costs and $25,900 in employee productivity — a total annual return on investment (ROI) of $70,700.
4. Fiskl
Freelancers and small business owners have to keep track of a lot of information in order to stay on top of customer invoices and ensure tax compliance. Fiskl streamlines that data and automates financial management so you can stay focused on your other business priorities.
Fiskl combines invoices, payments, expenses, banking, quotes and timekeeping into one easy-to-use mobile app. You can see everything your team logs in real time and issue invoices with just a few taps on your smartphone.
Fiskl automates expense tracking by extracting data from your phone so you don't have to scan receipts, and it automates banking by connecting your bank account to the app so it can reconcile invoices with payments. The mobile-first platform also includes time tracking and mileage tracking integrated with Google Maps, as well as online and mobile payment integrations with Paypal, Stripe, WePay and Google Pay.
5. Time Tracker by eBillity
Time Tracker by eBillity provides smart, automated solutions for employee time tracking, attendance and invoicing. It was founded in 2011 by two childhood friends from Brooklyn who set out to create an app that would answer the simple question: what did my employees do this week?
Time Tracker makes employee timekeeping for payroll and billing streamlined and easy. Employees can track time anywhere via a mobile app, and managers can approve in a single click.
For field-based teams, GPS tracking lets you know the status of employees at a glance, so you can send the nearest employee to an emergency call out and identify route inefficiencies. You can also create a geofence around a work site so that employees can only clock time when they are within the defined boundary.
The scheduling tool is designed to keep you organized and save you time. You can easily create daily, weekly or monthly schedules, create templates, copy past schedules and drag-and-drop to make quick changes. Employees can request time off right from within their Time Tracker account. In case of scheduling changes, Time Tracker notifies employees within the app, as well as through an automated email.
As well as the retail, transport and construction industries, Time Tracker is popular for professional services firms and other companies that need to capture employee hours for greater productivity and more accurate client billing. The seamless integrations with leading payroll and accounting platforms extends the functionality of Time Tracker, providing a robust solution to help save you time and increase your profitability.
6. Ripl
Though social media has long been an important marketing channel, the pandemic made real-time communication a must for small businesses. Ripl simplifies the task by letting you turn smartphone photos and videos into professional, consistently branded social media posts.
Once you download the app and create a business profile, Ripl scans your photos to make personalized recommendations for social media posts, and then walks you through a three-step customization process. You can also pull content from Ripl's stock library of more than 500,000 images and videos. With just a few clicks, you can then publish content to all your relevant social media channels. The more content you create and post, the better Ripl gets at recommending content — and the better you get at engaging your audience.
7. signNow
signNow began as a tool for signing documents and collecting legally binding e-signatures, but it has evolved into much more than that. The platform gives you smart tools to speed up your company's e-signature workflows, increase productivity, improve team collaboration and delight customers with a consistent signing experience.
Anyone in your company can create and set up e-signature workflows with signNow on any desktop or mobile device, even while offline. For example, an HR manager can collect signed onboarding documents from new hires in minutes, instead of taking several days. To make the signing process fast and intuitive, an HR manager can add fillable fields to each document in the onboarding package and assign them to a new employee. The manager then sends documents to multiple employees at once (each will receive their own copy) via email or direct link. With signNow's reminders and notifications, the HR manager gets accurate onboarding documents in time and without hassle. The result: employees are onboarded faster without manual copy-paste work, and with fewer errors and increased visibility into the process.
signNow's integrations with CRMs, browsers, cloud storage services, document management platforms and mail services allow individuals and enterprises to sign and send documents without leaving the apps they already use. It also meets industry-leading security and compliance standards, including HIPAA, GDPR, FERPA, SOC 2 type 2, and PCI DSS, ensuring the highest level of protection for your data.
8. Pipedrive
Does your CRM help your sales team build and manage a strong pipeline, or is it just another database? Pipedrive lets your sales team visualize their pipeline by mapping customer data to the sales process and guiding them through the necessary workflow to convert each prospect. It even does some of the work for them, including automated call logging and initiating certain communications.
The highly customizable solution can be as simple or sophisticated as you want it to be. You can funnel in contacts from Pipedrive's database of more than 400 million leads, customize data fields and sales stages and integrate your favorite business apps for collaboration and productivity.
According to Pipedrive, during the first year of using the solution, 78 percent of new users close deals faster, and 73 percent win deals faster.
9. eHopper
eHopper is a complete cloud-based point-of-sale (POS) system that has everything a small business needs to ring up sales — on premise or online.
For U.S. customers, eHopper provides a 100 percent free credit card processing option, with users paying no credit card fees or additional monthly fees beyond the subscription cost (subject to approval).
Ringing up sales is easy, as eHopper POS works offline and can be used on Android tablets, iPads and Windows PCs. You can process payments quickly and reduce the time you spend on daily operations and back office tasks. The app is designed to promote efficiency within your business, and allow more time to focus on customer service and growing your business.
Sales information is easy to find. You get instant online access to your reports, which are kept up-to-date in real time as you handle transactions and store operations. eHopper lets you check on your daily earnings, number of items sold, stock of inventory and order details.
Business management is the cornerstone of eHopper. You can process payments, generate reports, manage your employees and organize your stock with inventory software.
10. Magellan
Has your business just started making deliveries or ramped up how many you make? If so, you're not alone. Large enterprises and small businesses alike were forced to adapt quickly in response to the COVID-19 pandemic. But meeting customers' high expectations for prompt delivery isn't easy, and those expectations will likely heighten over time. You'll need a technology solution to help you simplify delivery services, so you can not only meet your customers' expectations but exceed them.
Magellan was initially launched in the aerospace industry, but over the last 30 years, the company has become the leader in consumer GPS navigation. Now, they're empowering businesses around the world with their fleet navigation systems, offering two solutions designed to support fleet management and successful deliveries: Magellan Fleet Navigation and Magellan DeliveryComplete.
Choose the right phone for your growing business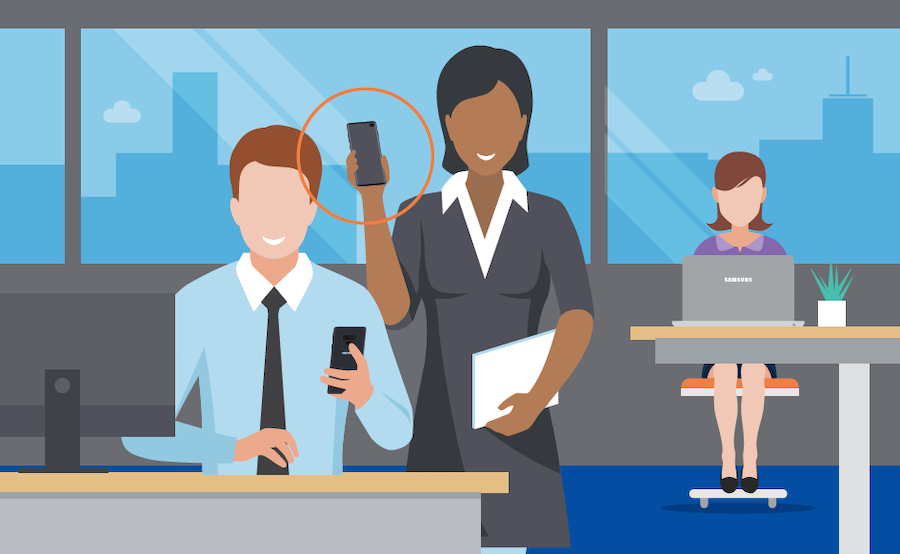 Get your free guide to matching the right smartphone with your business and employee needs. Download Now
By using Magellan Fleet Navigation, long-haul drivers can enjoy a one-touch navigation solution, comprehensive and easy-to-read maps, real-time traffic updates and advanced driver assist features. With Magellan DeliveryComplete, delivery drivers can take advantage of real-time driver communications, an intuitive monitoring dashboard, detected deviation notifications and many other features that make their job easier.
Drivers won't have to worry about learning any complex software. Magellan Fleet makes navigation easier than ever, resulting in improved driver safety, significant time saved, lower operating costs and enhanced customer service.
11. pdfFiller
pdfFiller is a smart way to solve all your PDF problems. Designed for Android, Mac OS or Windows, it enables you to create branded online forms, edit and annotate PDFs, e-sign documents and send them for signing.
pdfFiller offers a full set of intuitive editing features and supports PDF, Word, PowerPoint and text formats. You can upload PDF files from your device's hard drive, cloud or online storage, import documents from email, or load files from other users.
Within each document, you can insert text boxes, lists, fillable fields, dropdown menus and checkbox fields. pdfFiller also enables online document signing, and you can prevent unauthorized use by adding watermarks. The signature wizard enables you to create a unique electronic signature and use it to sign documents.
Document workflows are more manageable with pdfFiller. You can download or print edited PDFs, share them for editing, and send them by USPS, fax, email or even SMS. You can follow up with reminders to recipients and make sure each document is submitted on time.
Explore exclusive business pricing, financing and trade-in options and other deals on everything from phones and tablets to monitors and memory. Not sure which devices to use for your business? This free guide can help.