When the federal electronic visit verification (EVV) mandate takes effect on January 1, 2020, home care agencies that provide personal care services (PCS) must have a state-approved EVV solution in place. For agencies that are already facing staffing shortages (and often tight budgets), EVV might seem like a headache right now, but there is a silver lining. This is an opportunity to adopt mobile solutions that have far-reaching business benefits — beyond just compliance.
Actsoft has been helping companies streamline field operations for more than 20 years, with GPS tracking services and workforce management tools that let businesses keep tabs on (and keep in touch with) roving workers. Until recently, healthcare companies had limited use for Actsoft, because the platform wasn't HIPAA-compliant and couldn't transmit personal health information. But thanks to some major security upgrades, the application is now HIPAA-friendly and EVV-ready.
"Our application has been doing the things that are required for this EVV mandate for years," says Brent Baughn, a solution engineer for Actsoft. "We just created some prebuilt modules to easily meet this customer need."
How does the Actsoft EVV solution work? What does it take to get started?
How Actsoft Works
The Actsoft platform helps companies better manage field operations by:
Tracking the GPS location of mobile devices, fleets and/or assets;

Providing workforce management tools — mobile time clocks, scheduling and work order dispatching, secure messaging and barcode scanning;

Converting paper-based workflows into electronic forms that can be submitted in real time
Home care agencies can use the platform to meet the EVV mandate by leveraging either a prebuilt scheduling module or a mobile form.
With the mobile form method, aides use the Actsoft Encore app to complete a simple electronic form. When they arrive on site, they indicate the patient and services provided, and submit the form. The system validates the GPS location and duration of the visit, and sends that information back to the agency's web portal.
The Definitive Guide to EVV Compliance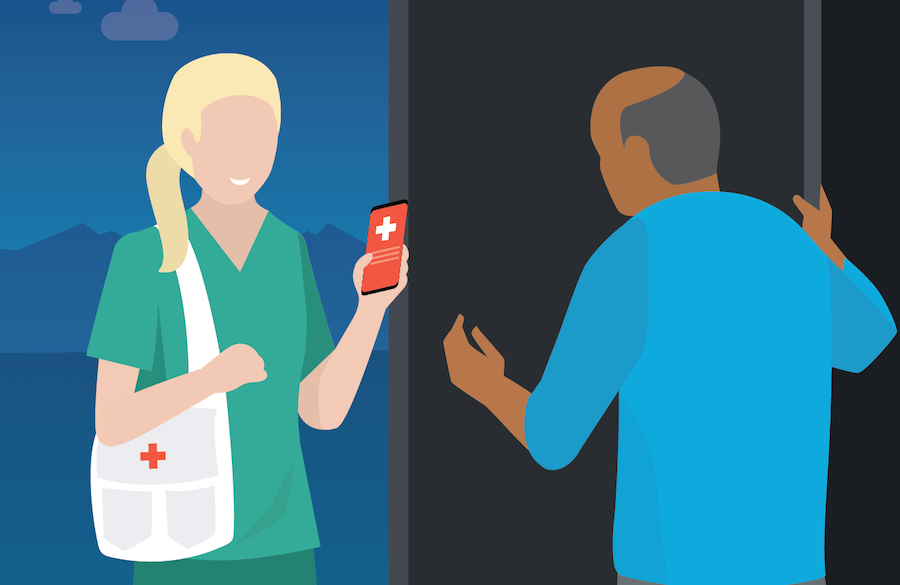 Understand the specifics of the EVV mandate in your state, and learn how you can use EVV to run a more efficient, profitable agency. Download Now
With the scheduling method, the agency simply puts in the aides' schedule for the day or week. Using the mobile app, aides can see their schedule, along with details about each patient and services that need to be provided. By clicking on the patient address, they can get turn-by-turn directions. When they arrive at patient homes and check in, the phone captures their GPS location (even without a cellular connection), matches it up with the other data required by the EVV mandate and provides the agency with the information they need for CMS reimbursement.
"This solution is preconfigured and built for home health, so it's easy to roll out," said Michael Courter, vice president of product at Actsoft. "There might be some additional onboarding if a customer wants to integrate some of the backend systems or the Medicaid claims portal. We have APIs for that and a professional services team that can help with integrations. Or agencies could just use take the information from our platform and plug their visits in manually."

Beyond EVV Compliance
The mobile form method is what all agencies need to meet the EVV mandate and improve accountability across their workforces. The scheduling method also helps agencies improve customer service and worker productivity.
"With the scheduling and dispatching tools, agencies can do continuous tracking and get historical data of where workers were in between visits," Courter explains. "Then they can make sure they're sending people on the most efficient routes and that they're getting there efficiently. Also, they can make decisions during the day if schedules need to change. If someone calls in sick, or if a patient has an urgent need, you can take a look at workloads and where people are and make some decisions in real time on how to juggle those schedules."
Baughn says that both methods increase CMS reimbursement speed. "Many aides have been filling out paperwork after the visit on their own time. Now they can capture all the pertinent health information and get that information back to the office immediately, and the agency can file that claim right away, instead of waiting until the aide's next trip back to the office."
Hardware Requirements
The Actsoft Encore mobile app can be installed on just about any smartphone, but the company encourages healthcare customers to invest in newer devices for improved security and manageability.
"Not all devices are made the same," says Courter. "I can think of several cases throughout the years where a company bought devices that didn't meet the specs and ended up having problems. The processing power or the battery life was insufficient."
To help customers get quality smartphones that don't break the budget, Actsoft has partnered with Samsung and Mobility CG to offer an EVV bundle including a discounted smartphone, the Actsoft Encore EVV solution, a cellular data plan, case, screen protector and repairs.
"Coming from an enterprise support world, incredible reliability and battery life is what I think of when I think of Samsung devices," says Baughn. "I've worked with many different manufacturers, and when customers ask what device they should get, I say you can't go wrong with a Samsung device. We've tested and certified probably 90 percent of the newer Samsung models, and I can't think of a single instance where we've had an issue with reliability. It's overall been a very good customer experience."
Like the Actsoft application, all Samsung devices are HIPAA-compliant and secured by Knox, Samsung's built-in defense-grade security platform. This, Courter says, is yet another advantage for healthcare companies.
"Security on the device level is key. We're also recommending that any healthcare customers use some sort of mobile management platform, and Samsung has Knox Manage as a great add-on."
When choosing an EVV solution, Courter's best advice for agencies is to think long-term. "Our customers aren't just buying an EVV solution. We're going to work with them to maximize the solution and help them understand what they can get out of it. Whether they want to fully embrace digital transformation right out of the gates, or a year or two years from now, they'll have a platform they can build on and a Samsung device that can help get them there."
Listen to an extended discussion on how the Actsoft solution streamlines the EVV process. Or, speak to a Mobility CG consultant today about the turnkey EVV bundle featuring the Actsoft Encore EVV solution and Samsung smartphones with an AT&T data plan, as well as other great benefits for personal care agencies.