If you've just made the decision to upgrade to the Galaxy Note10, there's a good chance it was the S Pen that won you over. An advanced, built-in stylus, the S Pen lets you do everything from writing, annotating and drawing, to highlighting, translating and even using it as a remote control for your phone. It's an incredible piece of hardware, but what makes it even more powerful is the Samsung Notes app that comes preloaded on the device.
Samsung Notes has been refined with each new edition of the Galaxy Note line, and provides a smart, intuitive and versatile platform for capturing ideas or keeping meeting minutes. Work more productively than you ever have with these five tips for using Samsung Notes — no matter where your busy day takes you next.
1. Jot Down Quick Notes
When you're racing between meetings and trying to keep track of all the action items landing on your plate, you can't afford to write notes on the closest slip of paper only to lose them in the rush. Fortunately, you can start jotting down quick notes right away using your Galaxy Note10 and you'll never lose them.

To quickly launch Samsung Notes, simply pop your S Pen out, tap on the pen icon to open the Air Command menu, and choose Create Note. This will open the Samsung Notes app in a popup window, where you can start writing immediately. This window can be resized and moved around if you need to multitask on other apps. When you're done, just tap save.
To access all the features of Samsung Notes, you'll want to open the full version from your apps screen. You'll notice that it opens up in full-screen mode, giving you access to additional tools that you can read more about below.
You can also choose to have a new Note open automatically when you pop out your S Pen or when you press the S Pen button. These customizations can be made in your Settings menu under Advanced Features > S Pen, and can be a great time saver.
2. Convert Your Handwriting to Text
Another thing you don't have time for: typing up your handwritten notes at the end of a long day. Samsung Notes can help you stay on track by instantly converting your handwriting to text.
Go Mobile-Only With DeX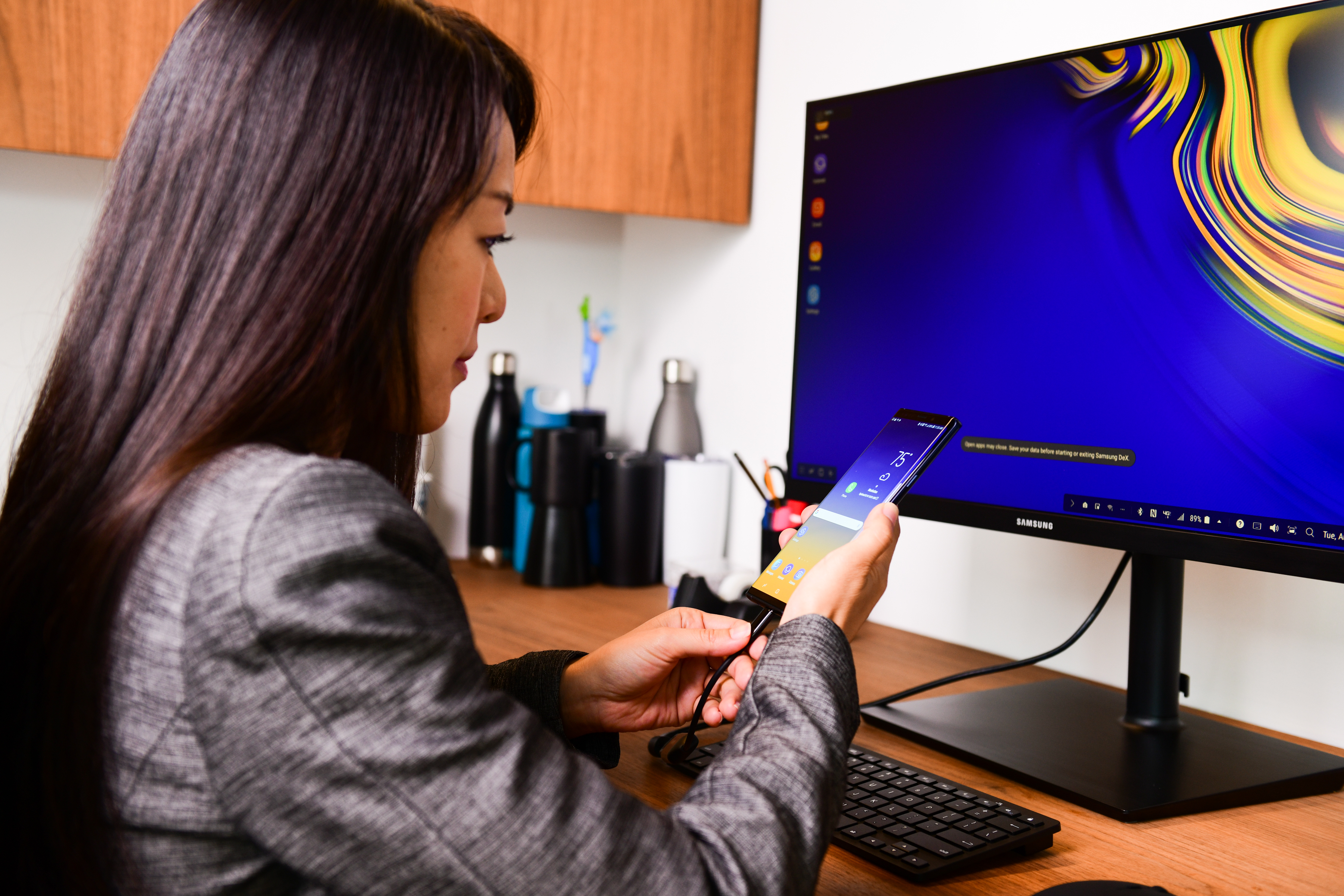 White Paper
Your comprehensive guide to rolling out a mobile-only solution for your workers. Download Now
There are several ways to convert handwriting to text in the Samsung Notes app.
To have your handwriting converted as you write, tap the Text icon at the top left in the menu. That will give you a panel on the lower half of the screen to write on, while you'll see the converted text appear above.
If you want to quickly convert a section of your handwriting in an existing Note in drawing mode, you can do that too. Just tap the handwriting-to-text icon in the tools menu along the bottom of your screen. From there, you can copy and paste the text anywhere you like — for example, into an email.
Lastly, on the new Note10, you can export directly to a Microsoft Word file from Samsung Notes. This is a great option if you have several pages of meeting notes you'd like to share around. After saving, tap the Share icon at the top right of the app. When you select Microsoft Word, you'll immediately get a nicely formatted file with both the handwritten and converted text.
Writing in another language? You can also set up Samsung Notes to recognize your language of choice and convert your handwriting in that language to text as well. Go to On-screen Keyboard > Samsung Keyboard Settings > Manage Input Languages and select your desired language from the list.
3. Shape and Format Your Notes
Jotting down a few words is handy, but having the ability to fully format them is powerful. Center your text or align it to the left or right side, just like you would in Word. Add bulleted or numbered lists by tapping an icon towards the top of the screen, and start writing.
Want to liven up your notes with color highlights? Choose your preferred pen style, color and pen width. A dash of color here and there can be useful when calling attention to something, or you can bring out a digital red pen if you're in editing mode. If you've got a few favorite pen styles, you can add them in the Notes app for quick access anytime you like. You can also go back and change the color of some of your handwritten text after the fact. These features are all accessed in the tools menu at the bottom of your screen.
You don't have to stick to just text, by the way. Add images or voice recordings to your note for a multimedia twist, bringing your notes to life. If you want to include a product photo or a short clip from a recent speech, you can do that in short order. Just tap the paperclip icon along the top menu to select the attachment.
4. Organize Your Notes
If you use Samsung Notes regularly, you will want to organize your notes so you can easily find them later. After you've created a few notes, the Samsung Notes app will ask if you're interested in categorizing them. For example, you might create a strategic planning category if you're hard at work on a new plan for your division, or if it's budget season, a financial category that helps you keep track of all those line items you need to remember.
All your notes are searchable, too. Search for a specific note from the main Notes screen, instantly calling up your action items from last week's staff retreat. Although the Notes app typically shows your most recently active notes in a grid format with a miniature screenshot of each one, you can adjust the view so they appear in simple list form or with a small thumbnail image. You can also sort your notes according to the date they were created, the date they were last modified or their title.
Are you working on a note that you want to keep available for quick, frequent access? Open the note, tap the star icon at the top right-hand corner of your screen and then access the app settings to make starred notes always appear at the top. You can even pin a favorite note to your Note10's home screen — just tap the triple-dot icon on the top right.
5. Collaborate on Notes
Wish you could collaborate on a note in real time with your team? You can! Just open the app settings, tap Shared Notes and turn that feature on. From there, you can create Shared Notebooks and invite your friends to join you on a collective brainstorm, no matter where everyone happens to be at the moment.
If you're constantly switching from one device to the next, it's critical to have your notes up to date on the device you're using. The good news is Samsung Notes is also available for download from the Microsoft Store for use on compatible Windows 10 PCs, so you can access all your notes easily from your laptop.
Whether you're jotting down feedback on a colleague's report as you're grabbing breakfast or organizing your thoughts about an upcoming project on the train home, you can record them all while they're fresh in your mind using the S Pen, Samsung Notes and your Galaxy Note10. It's as natural as putting pen to paper — only now, more productive than ever.
All that's just the tip of the S Pen — here are 10 more things you can do with the Note10's magic wand. Don't forget to take advantage of our special business offers on the latest devices, and explore how mobile workspace solutions can improve your teams' productivity and collaboration, while reducing your overhead costs.