This is part two of our look at the why and how of content management systems (CMS) for digital signage. Read part one to learn all the ways a CMS can benefit your business' display strategy.
There are hundreds, and by some estimates thousands, of digital signage CMS options on the market. They range from raw startups to software representing more than 25 years of development and refinement. Some are general platforms that service a wide variety of use cases, while others are somewhat specialized to uses like food services, higher education or retail banking.
Some CMS software is sold on an enterprise basis — meant to be installed and managed by a larger customer's IT team, behind a firewall. However, the majority of CMS products currently marketed are cloud-based platforms, with multiple end users accessing a shared set of servers and databases, and subscribing to a service.
In most cases, end users or their outsourced solutions providers manage and maintain digital signage networks from a simple browser, and some platforms have controls that are accessible via smartphone.
Choosing the right platform among all these options requires many considerations, but there are a few main factors to help you get started.
Budget
There are free, open-source options available, as well as "freemium" services that provide core functionality at no charge, but apply fees for broader or full functionality. Most cloud-based systems charge by the device, per month, similar to wireless phone plans. On-premise systems usually have front-loaded one-time costs, which can work better for some companies if the system is funded as a capital cost, as opposed to an ongoing operating expense.
Modernize Your Workplace With Digital Signage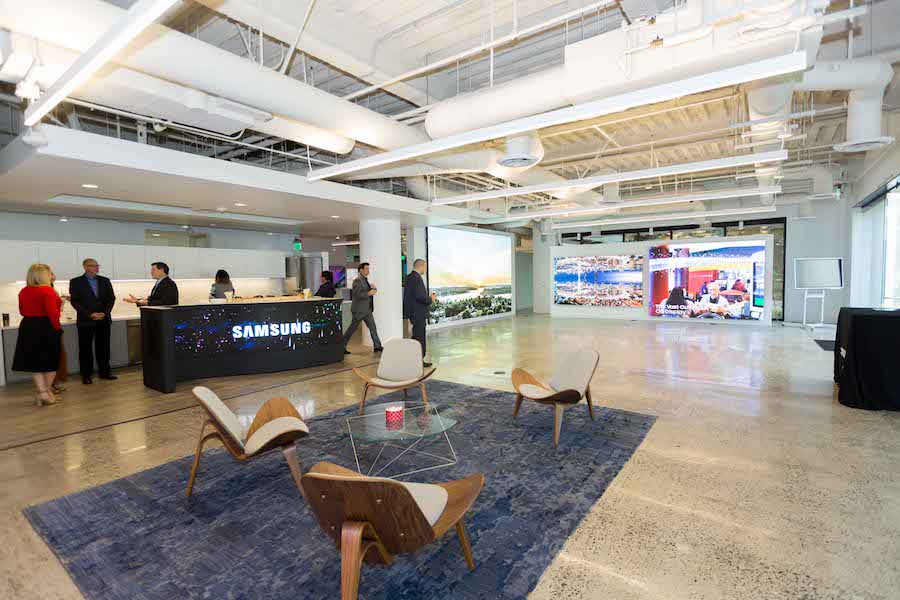 Explore how corporate offices are producing dynamic, engaging content for workers and clients alike. Download Now
Operating style
Cloud-based systems leave the IT demands to the software as a service (SaaS) provider, while enterprise (or on-premise) systems are hosted and managed internally by the end user's IT teams. Most end users now are opting for SaaS — outsourcing the system (and sometimes even operating tasks like scheduling and monitoring) to a service provider. Samsung is somewhat unique, in that it offers versions of its own digital signage CMS MagicINFO at little to no cost, and versions that are cloud or on-premise server-based.
Content
Ultimately, the biggest influencer on CMS selection is what will be on the screen. End users should develop a clear vision for the network's purpose and objectives, and then the type, tone, volume and breadth of content needed. A platform designed for finance or healthcare, for example, may not suit the needs for retail marketing. A video-centric platform may be all wrong for a data-driven network that will change messaging using HTML5. A platform may be incredibly friendly and easy to use, but a time-consuming burden because it offers no scheduling efficiency at scale. Or an end user may invest in an incredibly robust, powerful system that does everything — only to learn with experience that just a fraction of the capabilities is really needed for the task.
Openness
End users that hope to have networks that use real-time data or integrate in some way with other business systems need an application programming interface (API). This is simply a "handshake" between systems. For example, key performance indicators from a manufacturing system could be automatically displayed and updated on digital signs in production areas.
How to start
Choosing the right CMS is a big, somewhat daunting decision. Even a little bit of research, or wandering a trade show floor, can dizzy someone new to the technology.
The best first steps involve planning, collaboration and assigning responsibility. Ask basic questions:
Why are we considering a digital signage network?
What are the objectives, and how will we measure success?
What does the content look like, how much of it will be needed, and how will it be produced?
How many sites are there? Where are they?
Cloud or on-premise?
Which department will be responsible? Do they have resources available? Is this budgeted?
Who needs to know, up-front and long-term?
That last line is very important. The most effective and successful digital signage networks get all the stakeholders involved and on the same page early, and keep them as informed and engaged as they need to be. Orphaned networks — ones that have little buy-in or support from other departments — usually struggle.
When everyone knows what they'll be doing with the screens, and why, the characteristics for the most appropriate content management system will grow evident, and the seemingly countless choices will narrow quickly to a few that make the most sense.
Get this free white paper to learn more about how to begin the digital signage process, and what kind of content management system fits your needs best. See how one award-winning wildlife museum used Samsung digital signage to help showcase and celebrate nature.