Each year at the National Retail Federation (NRF), digital signage's premier industry event, Samsung products turn heads and captivate audiences. The magnitude of the technology, however, far exceeds basic aesthetics.
Digital signage is important to retailers because it touches customers at every point in the buyer's journey, explained Shari Sentlowitz, senior manager of commercial display at Samsung Electronics America.
Whether it's an eye-catching outdoor window display or an indoor interactive kiosk, digital signage enables retailers to:
Teach customers about products
Execute brand activations
Reduce the perception of wait time in the checkout line
Enhance the Buyer's Journey With Digital Signage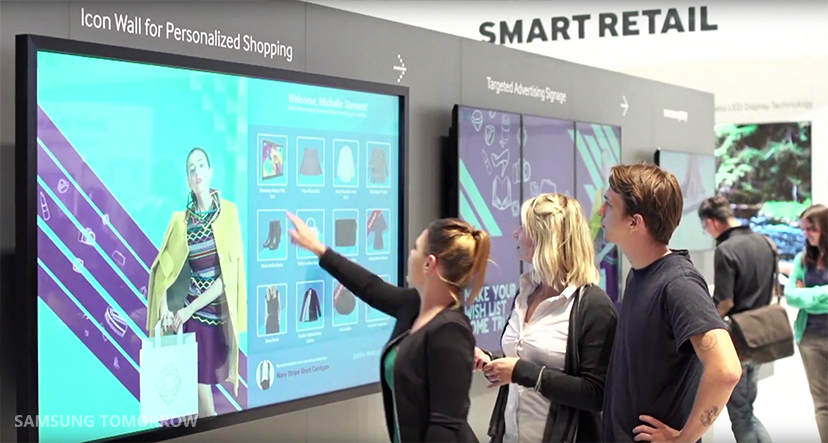 White Paper
Get your free guide to the what, where and how of digital signage in retail environments. Download Now
As display technology becomes increasingly interactive, retailers can leverage signage to create personalized experiences for customers. These experiences include helping customers find locations and information about products inside the store, ordering products and completing sales transactions. Video walls and standalone displays can serve content to customers based on what they touch and engage with on the screen.
Each year, Samsung unveils additions to its ultra-high definition displays, most recently being QLED technology. The QLED display is the only LED display on the market that achieves 100 percent color volume and has high dynamic range (HDR) technology. What that means in a retail environment is that the display you see appears exactly as intended, providing a more immersive and realistic experience than competing products.
See how one global apparel brand used a large direct-view LED video wall to attract customers. Discover more cutting-edge retail solutions to seamlessly integrate into the buyer's journey in this free white paper.