Smartwatches aren't just for tracking your steps, listening to music and checking messages. For public safety agencies, wearables offer a new way to connect police officers to computer-aided dispatch (CAD), detect signs of distress and potentially save lives.
To protect the public and respond to dangerous, unpredictable situations, police officers need to be hands-free and heads up when they exit their vehicles. But real-time information from dispatch is critical to situational awareness for officers too, as Reg Jones, Samsung's public sector solutions director, explains in this video.
Jones and the public safety team at Samsung believe the smartwatch can become a powerful force multiplier for officers, allowing them to stay connected and informed while improving overall safety with features like discreet notification, duress alerts and real-time geolocation.
"Wearables can integrate with mission-critical public safety applications, providing officers with vital access to information and improving command awareness of resources in the field," says Jones.
Enhancing Situational Awareness and Officer Safety
In combination with CAD applications, a wrist-worn device like Samsung's Galaxy Watch can silently alert an officer to incoming information with haptic feedback (vibration). Alerts, images or even maps can be instantly displayed on the high-resolution smartwatch screen. Bike and foot-patrol officers can receive and initiate CAD incidents just like officers who have access to an in-vehicle computer.
Enhance Public Safety Capabilities With Smartwatches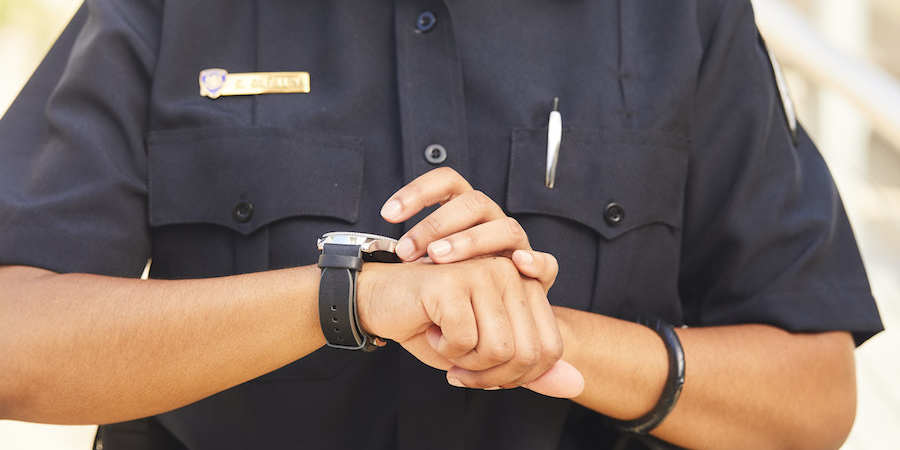 Get your free guide to leveraging smartwatches to enhance response capabilities. Download Now
Suppose an officer has just requested a wanted person's check during a contact with a suspicious subject. After sensing a vibration, the officer glances at the watch and sees a picture of the subject that is circled in red (signifying potential danger), and the words "Felony Warrant" displayed below the image. This critical information, delivered instantly and discreetly, can be a game-changer for the officer in the field.
Command awareness of resources is also improved because the smartwatch provides the geolocation of each individual officer, not just their vehicles. The device can also be programmed to notify the dispatch center of sudden movement, like a foot pursuit, or an elevated heart rate. Dispatch can then activate the watch's built-in microphone and hear what is taking place with the officer, all the while knowing the officer's specific location and direction of travel. If an officer gets into trouble, a duress alert can be sent with a quick touch.
"Wearables represent the new era in police safety and situational awareness," says Jones. "They can augment other technologies used by officers as well as function as a standalone communication device."
Samsung's new Galaxy Watch was developed with active environments such as public safety in mind. It features a durable design and is IP68-certified for dust and water resistance. In addition to the touch screen, the device can be controlled by voice, gesture, or a swivel of the watch's rotating bezel. The Galaxy Watch is available with built-in LTE, allowing it to make and receive phone calls just like a smartphone.
Samsung is collaborating with leading CAD software providers such as Caliber to bring new and innovative capabilities to wearables. Combining the power of a wearable with an in-vehicle CAD solution driven by Samsung DeX can improve communication between dispatch and officers in the field, while ensuring public safety personnel maintain anytime, anywhere access to mission-essential information.
Visit Samsung's Mobile First Responder page to learn more about empowering officers in the field and improving situational awareness. Learn more about how law enforcement technology is improving officer safety and access to information.