First there were smartphones, then there were cracked screens. Too often, for field workers and others with active jobs, a dropped phone has meant a shattered interface. The phone repair industry boomed, and those bills became a painful reality for enterprise users.
Then came the ruggedized phone. Drop- and shatter-resistant smartphones allowed manufacturing and construction workers to work effectively in harsh environments. Demand is high for such devices, with sales expected to exceed $10 billion by 2023, according to Research and Markets.
Consumer-Grade Power, Rugged Protection
A new wave of ruggedized devices is now emerging. These smartphones deliver enterprise-grade durability in a more user-friendly format. Rugged devices offer enhanced durability and better work-life balance for active users, pairing the toughness to withstand drops and splashes with the flagship features and functionality of higher-end consumer phones.

These devices are "beginning to look more like their consumer counterparts in terms of processing power and user interfaces," notes Field Technologies. "That should be good news for end users as they leverage their mobile investments to run more complex applications and generate additional benefit."
Analysts see strong interest in such devices, with their "slimmer, thinner and lighter designs." They foresee that ruggedized phones' adoption in the lifestyle market will be a key driver of overall demand for them.
Introducing the Galaxy XCover Pro
The features inherent in Samsung's Galaxy XCover Pro can serve as a kind of template, illustrating six key points to look for when choosing a smartphone with your active, frontline employees in mind. With built-in security, long battery life and push-to-talk capability, the Galaxy XCover Pro is more than just a sturdy workhorse. Here's why:
Rugged specs: Rugged devices should meet technical standards for durability, including MIL-STD-810G and IP68 certification. Developed by the Department of Defense, MIL-STD defines the survivability of devices under the harshest conditions. To test the durability of the Galaxy XCover Pro, researchers dropped it from a height of 5-ft. 26 times and submerged it for 30 minutes in 5-ft. of water. With Corning Gorilla Glass 5, the 6.3-in. edge-to-edge display is field-tough without sacrificing screen real estate or beauty.
Push-to-talk (PTT): The Galaxy XCover Pro integrates with Microsoft Teams and other PTT solutions. Businesses can use the two programmable buttons to simplify high-priority communications and tasks, so workers can be more collaborative and productive in all environments.
Battery life: On the factory floor or in the field, battery life is a perennial "most important" factor for business users of mobile devices. The Galaxy XCover Pro features a fast-charging 4050mAh battery that delivers 14 hours of continuous use. If the job still isn't done, you can simply swap out your battery to keep on going. A heavy-duty pogo pin connector provides rock solid connections for charging and peripherals.
Security: Every smartphone deployed in a business setting needs built-in security to protect your data. The built-in Samsung Knox platform provides strong hardware-based security and can combine with Knox Manage or Knox Configure to give enterprise administrators maximum control over device management and security. Plus, the Galaxy XCover Pro's built-in fingerprint authentication keeps unauthorized users from accessing the phone.
Powerful capabilities: A rugged phone should have top-shelf amenities, and the XCover Pro comes fully loaded. In addition to front and rear cameras that allow for easy photo and video capture in the field, the phone offers near-field communications (NFC) for wireless data transfer, internet of things (IoT) integrations and contactless payments.
Glove-ready: The Galaxy XCover Pro's enhanced touch capabilities let workers use the phone in virtually all conditions, even in the rain with gloves on.
For mobile devices in the workplace, the rugged smartphone represents a step forward. Field workers and employees in other heavy-use industries know the value of having a phone you can drop or douse. Now, they're asking for more: a smartphone with the same high-grade features as the top consumer devices, plus workplace extras that support productivity in the field.
Modernize Your Factory With Mobile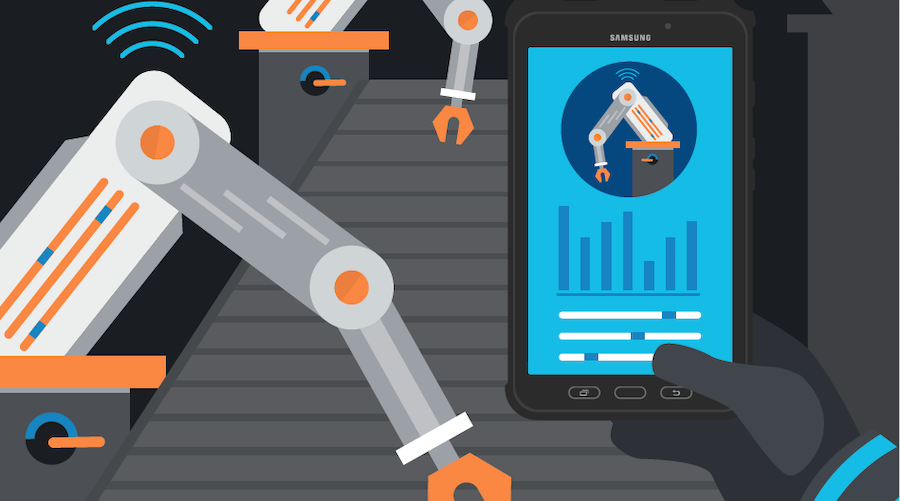 Get your free guide to the mobile technologies that will accelerate your smart factory journey. Download Now
The Galaxy XCover Pro fills that niche, with features from field-replaceable batteries to push-to-talk to enhanced touch. Adding robust security, NFC and programmable buttons to support that functionality, the newest devices take rugged to a whole new level.
See how Samsung's Galaxy XCover Pro can revolutionize your business' field work. And learn how paperless workflows can help you compete effectively and optimize productivity.