When you think about Samsung smartphones, your mind probably goes straight to flagship devices like the Galaxy S20 Ultra and Note10+. However, many businesses can get just what they need from the more affordable Galaxy A series of smartphones.
There are currently three Galaxy A series phones available in the United States: the Galaxy A10e, Galaxy A20 and Galaxy A50. Sold through leading carriers as well as unlocked directly from Samsung, the Galaxy A series provides everything you need in a midrange smartphone, giving businesses a reliable, secure and affordable platform for mobility initiatives. For businesses looking for an affordable device with a rugged form-factor, Samsung recently announced the MIL-STD-810G-tested Galaxy XCover Pro.
Core Galaxy performance
The Galaxy A10e, Galaxy A20 and Galaxy A50 all feature large screens, long-lasting batteries and plenty of storage for all your documents, photos and other data. The A10e and A20 have 32GB of built-in storage, while the Galaxy A50 comes with 64GB out of the box. If you need more capacity, all of these devices can be upgraded to 512GB with an optional microSD card. All three also sport a 3.5mm headphone jack, Bluetooth 5.0 connectivity and Wi-Fi 802.11 r/v/k support. Best-in-class Knox security and easy device management make them ideal for scalable enterprise deployments.
To help you choose which Galaxy A series phone is right for your business, here's a quick look at each device and a comparison of the key specs.
The Galaxy A10e: Your essential business smartphone
The A10e is the most affordable midrange smartphone in the A series, but it still delivers great business performance. The A10e's long-lasting 3,000mAh battery gives you more time to work, so you can keep up with calls, emails and texts throughout the day. Need a full view of all your work while you're on the go? Enjoy a bold, bright viewing experience on a generous 5.8-in. edge-to-edge Infinity Display with HD+ resolution. The Galaxy A10e also features a versatile 5MP front-facing camera and 8MP rear camera that lets you capture more detail.
What's the Best Phone for Your Business?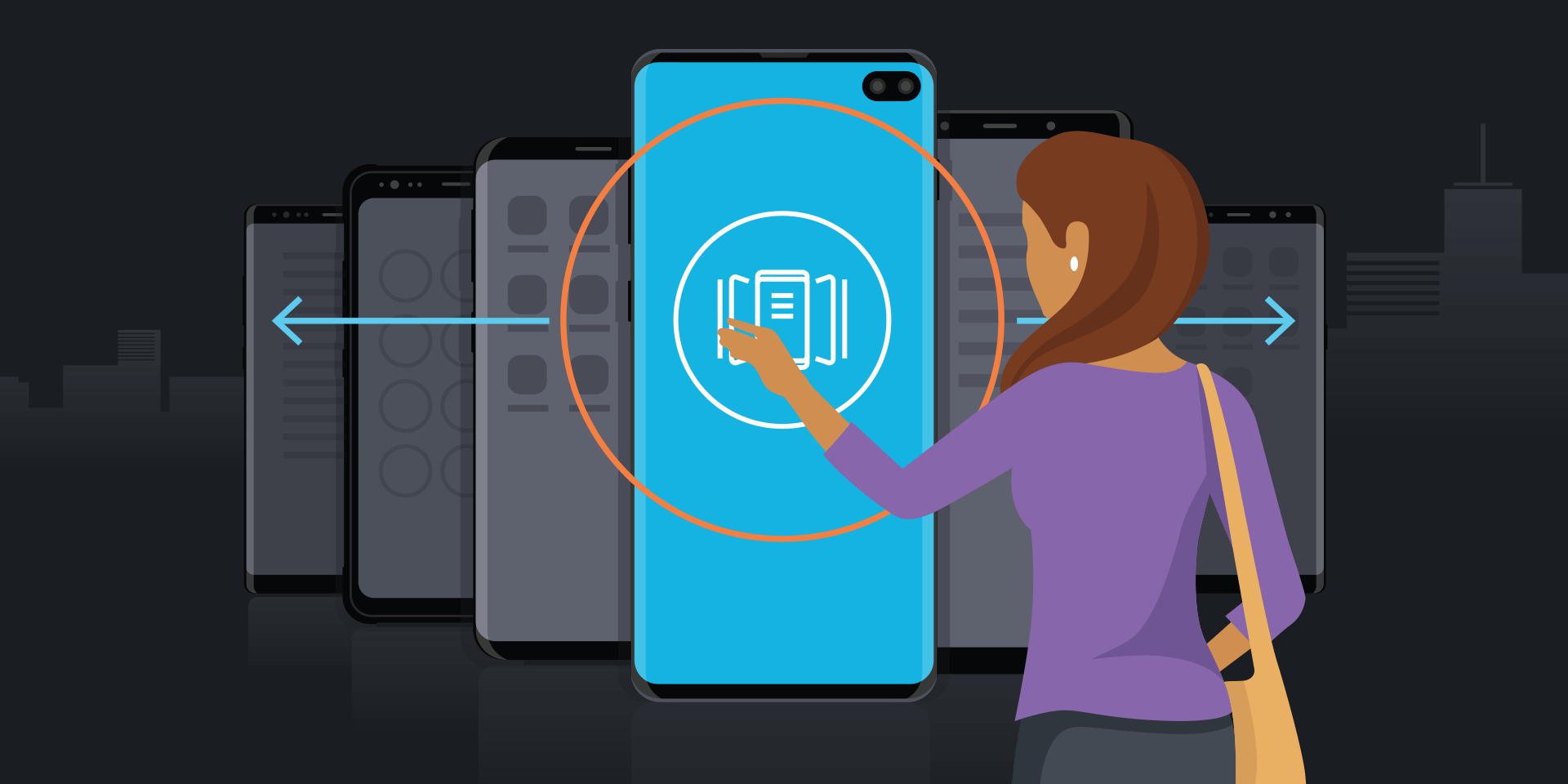 White Paper
Find the smartphone best tailored to your business needs. Download Now
The Galaxy A10e is the essential business smartphone for all your needs. With a large screen as well as plenty of RAM and storage, it allows you to stay productive while you're on the move — all at a very attractive price point.
The A10e is currently available on AT&T, Sprint, T-Mobile, US Cellular, and Verizon, as well as unlocked.
The Galaxy A20: Business productivity without compromise
With its larger, 4,000mAh battery, the Galaxy A20 keeps up with your fast-paced work life throughout the day and into the night. When you need a boost, power back up quickly with fast charging. And you can power through work faster with 3GB of RAM.
The Galaxy A20's brilliant 6.4-in. Super AMOLED display upgrades your view. A step up from the A10e's 5.8-in. TFT LCD screen, this vibrant edge-to-edge display ensures that you'll never miss a thing. The Galaxy A20 also features a dual-lens rear camera system, giving you the ability to shoot crisp photos with a 13MP main camera and capture more of what you see in every shot, thanks to an ultra-wide 123-degree field of vision that lets you fit everything in one picture. Meanwhile, the 8MP front-facing camera ensures you always present a professional image.
The A20 is currently available on Sprint, T-Mobile, US Cellular and Verizon, as well as unlocked.
The Galaxy A50: Enhanced business productivity and security
Designed for the way you work, the Samsung Galaxy A50 is the powerful midrange smartphone you've been looking for. Work even more efficiently with a long-lasting 4,000 mAh battery that gives you up to 25 hours talk time. When you need a boost, quickly top up your battery life with fast charging.
The A50 lets you stay secure with ease, too. With the in-display fingerprint scanner, unlocking your Galaxy A50 is as easy as touching the screen.
Like the Galaxy A20, the Galaxy A50 elevates your productivity with a brilliant 6.4-in. Super AMOLED display. Its user-friendly interface lets you access what you want with one hand, making it easier to multitask. The Galaxy A50 also features an upgraded 25MP/5MP/8MP multilens rear camera system. This includes an ultra-wide angle lens with a 123-degree field of vision, a 25MP main camera and a 5MP depth camera, allowing you to capture everything in vivid detail.
With 64GB of storage and 4GB of RAM, the Galaxy A50 is the true midrange smartphone that has everything you need for business and nothing you don't. And it's all protected by Samsung Knox, so you can keep your business and personal data safe with defense-grade security. If you need a midrange smartphone that supports the demands of a dynamic, always-on enterprise environment, the Galaxy A50 is the choice for you.
The A50 is currently available on Sprint, US Cellular and Verizon, as well as unlocked.
A rugged alternative
For businesses looking for an affordable mobile phone with a rugged build, Samsung recently announced the Galaxy XCover Pro in the U.S. market. Because of its durability, the XCover Pro is ideal for frontline workers in industries like transportation, logistics, manufacturing, field services, retail and utilities.
In addition to being IP68 rated for water and dust resistance, Samsung put the XCover Pro through extensive durability testing against the Department of Defense's MIL-STD-810G standard, including repeated drops and extreme temperatures. Additionally, the device features physical buttons that are programmable, ideal for workers who wear gloves and frequently access apps like push-to-talk communications, barcode scanning or inventory management.
While the XCover Pro is a beast when it comes to durability, it's still a beauty from a design perspective. With a 6.3-in. edge-to-edge display and slim build, it looks like a premium smartphone — not a brick-like handheld computer.
To power through long shifts, the XCover Pro features a 4050-mAh battery that is also user replaceable. Another differentiation is durable pogo pins for use with drop-in chargers. The XCover Pro delivers solid performance for multitasking, with 4GB of RAM and 64GB on onboard storage.
Freedom to work the way you want
Unlocked by Samsung smartphones give you the freedom to work the way you want, allowing you to choose your carrier and plan according to what works best for your employees. With unlocked phones, you can standardize on one device model across multiple carriers, greatly simplifying device management. Unlocked phones don't come preloaded with carrier apps, which means you have a consistent user interface. For additional flexibility, unlocked phones can also be configured for a Wi-Fi-only environment so no carrier network service is necessary.
Defense-grade Knox security gives you peace of mind
Not only do the Galaxy A10e, A20, A50 and XCover Pro give you the freedom to work the way you want, but they also provide the peace of mind that comes with trusted, defense-grade security. The Knox platform ensures security from the chip up, keeping hackers out and your data safe from the moment you turn the phone on.
From device configuration, enrollment and management to advanced mobile security controls and updates, Samsung has the mobility software and enterprise mobility services you need for every stage of the device life cycle. No matter where you and your team go or what you do, you can be sure your business' data stays secure with superior protection that's easy to manage.
Whatever your business requires, Samsung's Galaxy A series and XCover Pro offer a midrange smartphone to match. The Galaxy A10e, A20 and A50 all offer impressive battery life, plenty of storage, brilliant displays and advanced cameras, enabling mobile productivity at an affordable price. With the freedom to work the way you want and defense-grade security to keep it all secure, you can now get everything done on the go with the Galaxy A series smartphone of your choice.
Understand the costs and benefits of employee mobile devices in Oxford Economics' definitive study, or learn how unlocked devices can lower costs and streamline IT for your business.