In the era of COVID-19, the need for social distancing has inspired a rush to telework, and it has had a dramatic impact on employee productivity across virtually every industry. Many workers have had to learn to do their jobs from home, while IT leaders have had to reassess the tools and platforms they provide remote employees to get work done effectively and efficiently.
For some, telework has actually boosted their productivity, according to a recent survey by YouGov in partnership with USA TODAY and LinkedIn. Workers note that they save time on commuting and have fewer distractions. But 25 percent of respondents also say working from home has had a negative impact on their productivity. A good deal of them may lack the digital tools they need to work effectively in this new normal.
Since they first appeared nearly a decade ago, Chromebooks have been all about cloud-based productivity. Now the unique challenges of the COVID era are spurring wider adoption of these flexible computing devices.
At their core, Chromebooks offer a streamlined, user-friendly and cloud-centric operating system: the Chrome OS. They update automatically and, with the Chrome admin console, are significantly easier for IT to manage than traditional PCs.
Here's a deeper dive into why Chromebooks are the right productivity tools for workers in the new normal.
Remote collaboration that doesn't miss a beat
With Chromebooks, remote workers can collaborate easily across teams, with access to all the productivity apps they need to keep the wheels of commerce turning smoothly.
As cloud-based devices, Chromebooks are compatible with the most popular productivity apps. They are designed to work especially well with Google Workspace (previously known as G Suite for Business) and other Chrome web apps and extensions, while also allowing users to access Android apps via Google Play.
All the documents and files that employees worked on in the office will open up seamlessly on their Chromebooks at home. Employees can make changes instantly, write and save without missing a beat.

In the new normal, staying connected is key to driving productivity. Even when physically remote, workers can come together with Google Workspace to collaborate on documents, presentations and more. With Google Drive, files automatically sync across devices, empowering remote workers from virtually anywhere. Click-to-call and messaging apps bring popular Android smartphone collaboration tools to Chromebooks, making it easier for team members to stay connected even while they're physically apart.
Fast, high-capacity storage — both cloud and local
Chromebooks are designed to take full advantage of Google Drive and cloud storage, but today's best models offer plenty of space for storing content locally too. The myth that Chromebooks don't work when you're offline should have been busted some years ago. Google has refined the offline experience for Google Workspace and even many Chrome web apps.
That said, the cloud-native experience is what will deliver a scalable environment to keep workers going strong as they continue to work from home. To maximize that cloud-based storage, look for Chromebooks outfitted with fast NVMe SSDs, which offer significantly faster read and write speeds than conventional SATA type SSD or hard drives. That will ensure workers get lightning-fast file transfers and apps that launch in an instant. Also look for a UFS combo slot that will let your employees insert either a micro SD card or the latest UFS card to get even more storage capacity.
Time and energy saved
Time spent typing in passwords (or trying to remember them) is time that could be better spent accessing documents and information. To address this, Google has leaned on its experience with Android mobile devices to bring biometric authentication to Chromebooks. Over the past two years, fingerprint scanners have become a feature on several of the high-end Chromebooks catering to enterprise customers. After an initial setup, all it takes is a touch of a finger to unlock the device.
Go mobile-only with Samsung DeX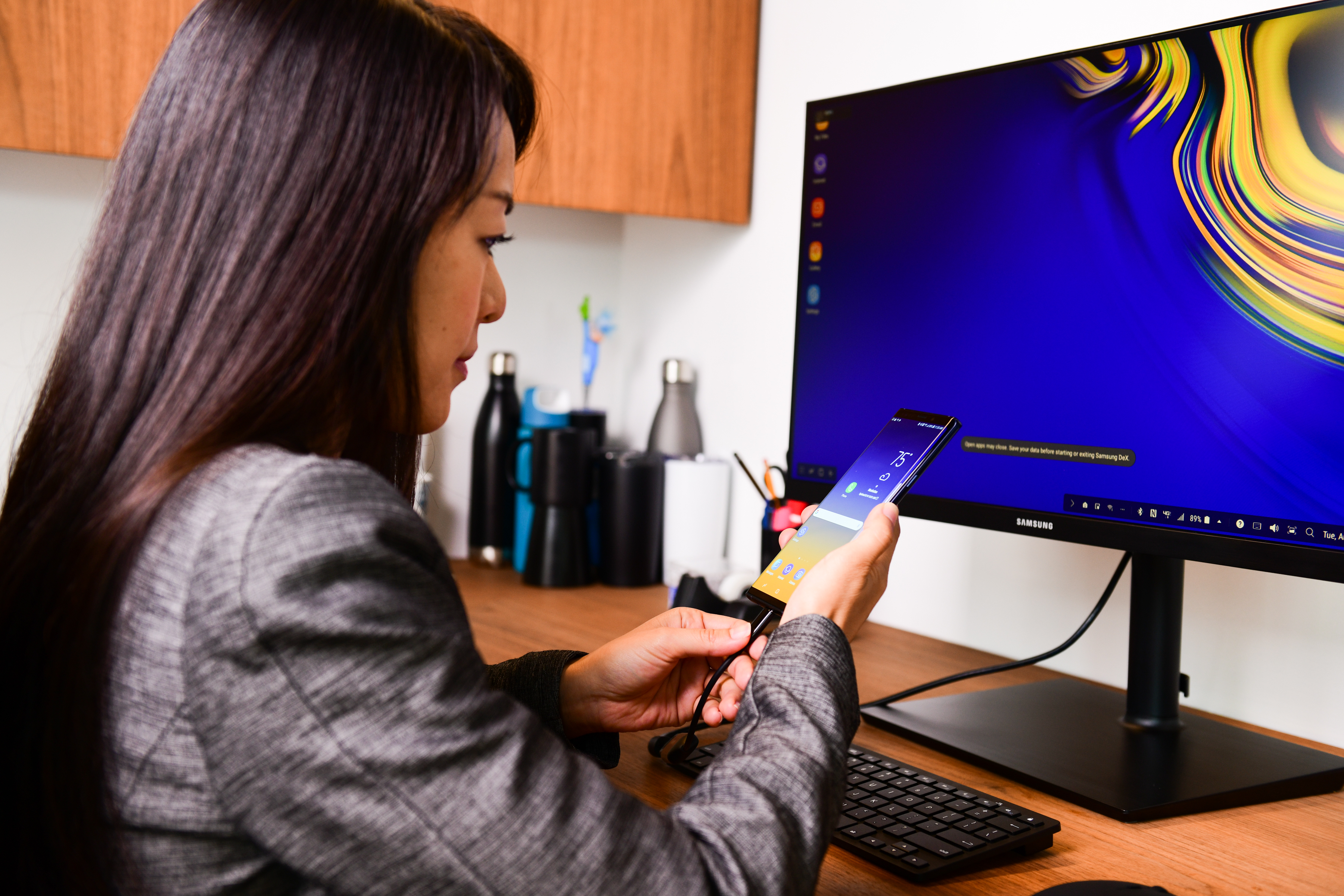 Your comprehensive guide to rolling out a mobile-only solution for your workers. Download Now
Google Assistant also saves time and energy, freeing workers to focus on more important work matters. Trying to organize your work-at-home day? Just ask: "Hey, Google, what's on my calendar?" You can use Google Assistant to send an email, set reminders and handle a range of other tasks. With support for over a million different actions, Google Assistant helps teleworkers get right down to business.
Easy management and security by default
On the admin side, the Chrome OS delivers powerful management capabilities that save IT time and effort, and reduces total cost of ownership by 43 percent, according to research from Enterprise Strategy Group. Organizations can benefit from decreased device downtime, increased end-user productivity and a significantly reduced security risk, the researchers found.
Much of this is due to the Chrome Management Console, which provides a single point of control for coordinating and implementing a wide range of device policies and settings. From enforcing managed browsing policies, to pushing or removing web applications, to providing access to internal virtual private networks (VPNs) and Wi-Fi networks, the console simplifies device management and gives IT greater control.
According to the security association ASIS International, cybercrime is up 400 percent since the COVID outbreak. Security vulnerabilities can lead to anything from a broken device to a multimillion-dollar data breach. Chromebooks deliver multiple layers of security automatically, protecting systems from malware and viruses and ensuring remote workers can stay productive — and company data stays secure.
The Chrome security architecture ensures all application and OS processes are kept separate from each other, and the browser uses sandboxes to contain threats. With Google Safe Browsing, users are warned of malicious sites before they navigate to them, helping them to steer clear.
No one knows exactly what the "new normal" will look like, but experts predict the work-from-home trend will continue for the foreseeable future. Samsung has long been a leader in Chromebooks, and its new premium Galaxy Chromebook is ideal for businesses trying to stay productive under these changing circumstances. With a host of impactful features — including a 4K AMOLED touch screen, built-in S Pen, fast 256GB NVMe SSD and fingerprint unlock — the Galaxy Chromebook helps businesses keep their workers going strong. It's a Chromebook that's built for business, and built for today.
Learn more about how Samsung Galaxy Chromebook can support remote workers. And see how schools are deploying Chromebooks for remote learning.