Welcoming staff back to the workplace is a top priority for many companies, but returning to work safely requires that business leaders first ensure proper social distancing and contact tracing procedures are in place. Fortunately, the solutions needed to support social distancing could be as close to hand as the smartphones in their pockets.
A recent poll published in Business Insurance found that 93 percent of employers are highly concerned about creating safe workplaces and guaranteeing that their policies comply with applicable health and safety regulations in the midst of COVID-19. A separate survey, conducted by Mercer, found that the biggest challenges for companies that have already reopened for essential employees were around following government guidelines, procedures and protocols (77 percent) and staggering employees' return to work to enable social distancing (63 percent).
Both of these concerns can now be addressed thanks to DMI Workplace Shield, two new applications developed by global digital business transformation leader DMI. The Social Distancing and Contact Tracing app is designed to help protect employees while they are at work, and the other, the Workplace Safety and Situational Awareness app is aimed at helping employers keep their workplaces clean and safe. Both apps use smartphone features like Bluetooth, Wi-Fi and alerts to make safety measures automatic, easy and private. Customizable checklists enable companies to protect their employees' health and maintain stringent compliance with their safety regimens simultaneously.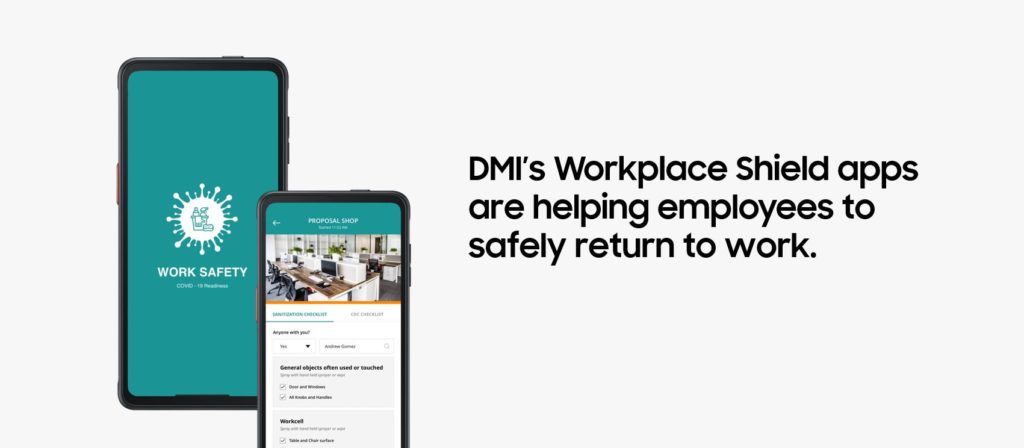 "It's easy to lose focus on social distancing during the course of your work, so it can really help to be automatically alerted to safety risks," says Chris Tengwall, DMI's executive vice president of platform solutions. "For companies, in addition to the human impact, an outbreak of COVID can be very detrimental to the bottom line."
These two apps, developed based on Centers for Disease Control and Prevention (CDC) guidelines with the help of a widely respected infectious disease expert, can assist any company looking to ensure the safety of its workplace, whether that workplace is an office, retail store, university or manufacturing facility.
Helping workers keep their distance
Current CDC recommendations for companies include conducting daily health checks, encouraging cloth face coverings and checking that workers always stay at least six feet apart. However, it can be hard to remain aware of distancing in the course of daily work, whether in an office environment, a manufacturing plant or hospital.
DMI's Social Distancing and Contact Tracing app can make this easier with a daily health checklist for each employee. Then, throughout the workday, if two employees come too close to each other, they will receive an alert in the form of a vibration or sound (even if only one of them is running DMI's app) so they can adjust to a safer distance.
"Users can adjust the app to their own comfort levels, such as how far away they want to be before they get an alert — say, eight or 10 feet instead of six — and how long it takes to get alerted," Tengwall explains.
The app tracks each of these encounters on the device anonymously so that if — and only if — a worker is later officially diagnosed with COVID-19, every employee with the app who has been near that worker in the previous 14 days will get a discrete, anonymous notification that they may have been exposed to the virus. DMI has gone to extra lengths to ensure user anonymity with technologies such as encryption, token tracking and on-phone storage of individual distancing data, so employers can enable contract tracing without violating worker privacy.
To help with compliance, DMI provides an easy-to-use admin portal for managing the solution. The portal includes customizable employee checklists, reporting tools for data analysis and an overall dashboard view of the workplace's safety posture. Individual users can also make app customizations, such as choosing the alert sound for their device. On a Samsung smartphone, users can also configure the side buttons to activate a Do Not Disturb setting, which can be useful during meetings.
Ensuring a clean and safe workplace
DMI has a long history of developing health and safety solutions for federal defense environments. Using the same platform, they built a second app, Workplace Safety and Situational Awareness, to help employers guarantee that their workplaces are regularly sanitized and compliant with health and safety requirements for COVID-19. This not only helps to ensure that cleaning is being performed properly; it also continuously reassures employees that they're working in a safe environment and may also reduce employer liability.
The comprehensive Workplace Safety and Situational Awareness app includes automated safety checklists to help organizations create, manage and modify their cleaning checklists through a user-friendly interface. Using their smartphone cameras, users can take pictures of the preventative steps they are taking while they work, noting their completed tasks as they go. Mandatory checks and time stamping can help to certify compliance.
The checklist is in accordance with expert medical guidance, but companies can adjust the content and business rules to accommodate their local regulations and custom workplace policies. "We worked with an infectious disease specialist and used CDC guidelines to build the checklists," says DMI's Tengwall. "This shows that the organization has done whatever it could to protect its workers."
Secure and manage your workplace wearables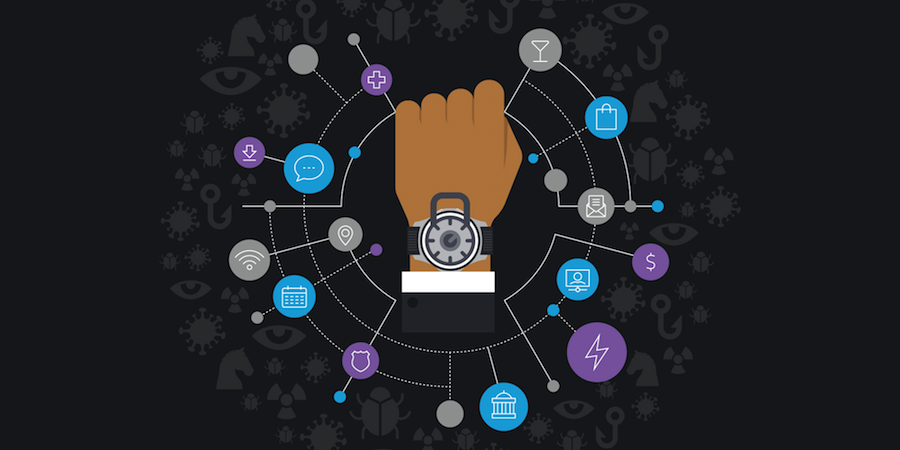 Get your free guide to the protocols that will keep smartwatches — and your company data — secure. Download Now
DMI has also incorporated features into the app that support real-time communication, situational awareness and data collection. For example, companies can communicate with their staff via push-to-talk, set up geofences to restrict access to certain areas and track staff or assets such as cleaning carts. All features are supported by a central portal, which also helps with real-time reporting and auditing.
Providing a flexible solution for safer workplaces
Of course, workplaces face more safety risks than just COVID-19. Both the Social Distancing and Contact Tracing app and the Workplace Safety and Situational Awareness app are built on DMI's flexible platform, so organizations can easily add new inspections, checklists and other functions to satisfy their specific safety and compliance needs. With these apps in place, companies and employees alike can enjoy peace of mind with the knowledge that they have implemented every possible safety measure.
Due to close collaboration between DMI and Samsung, customers can also take advantage of Samsung Knox device management and configuration capabilities as they manage large-scale deployments. The apps can be preloaded over-the-air and device settings configured for optimal usage. Customer can also choose from a broad portfolio of devices to suit their operational environment, from the rugged Galaxy XCover Pro to affordable Galaxy A series smartphones.
Learn more about DMI's Workplace Shield applications. If your workforce is working from home, try Samsung DeX.