When governments at all levels invest in new technology, they likely consider price, reliability, ease of use and quality — but their most important consideration may be security.
Do the hardware and software they select, and the vendors behind them, present any threats to the integrity of mission-critical systems, from military and policing to the power grids and traffic control systems that guide our everyday lives?
Wrong choices — and not just with core technology — can put sensitive systems and protected data at risk. Informed choices, based on established guidelines, can deliver peace of mind.
An increasingly big part of government operations centers, at all levels, are control room LED video walls that provide wall-filling, multiwindowed views on what's happening — whether that's for a police department, rail service or an electrical grid.
Getting compliant
While North America and Europe present some of the biggest markets for professional video wall technology, most of the components are designed and made in Asia.
That's why compliance with the U.S. Trade Agreement Act (TAA) — the gold standard in security protocols for any type of display screen, including LED — is widely adopted across the government sector as a key factor in screening vendors.
Originally developed more than 40 years ago, the TAA nurtures fair and open trading of manufactured goods, such as electronics, between countries. South Korea, home to Samsung, is TAA compliant, while China, Malaysia, Russia and India are not.
Security concerns are well-founded. Just two years ago, the U.S. Department of Homeland Security briefed the press on how Russian hackers had infiltrated the control rooms of multiple electric utilities in America, developing the ability to cause blackouts and other service disruptions.
Integrate digital signage in the control room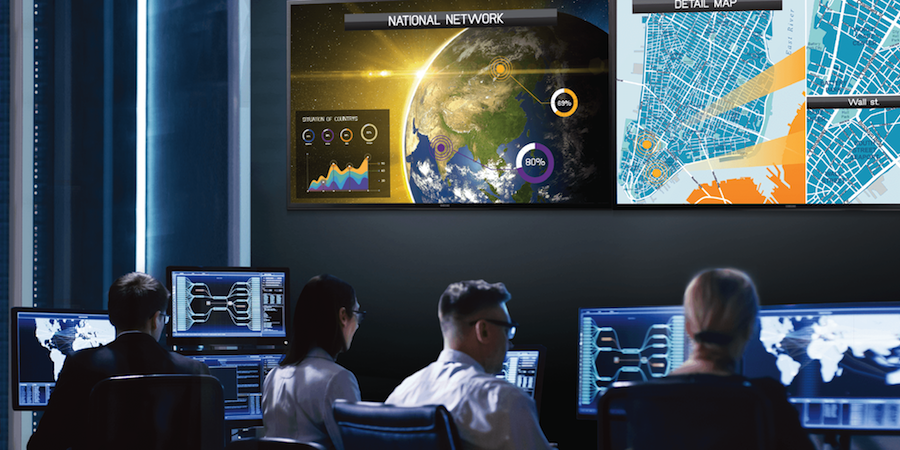 Streamline mission-critical workflows and content management with secure, large-format displays. Download Now
Hackers, the press was told, could make direct attacks on systems but also find their way in through the technologies of supporting vendors — cyber side doors.
Almost two-thirds of U.S. companies say their data may have been compromised within the last 12 months due to a hardware-level or silicon-based security breach, according to CSO Online.
Sourcing equipment that is TAA-compliant provides peace of mind for integrators and solutions providers that work in the government sector, but also protects them against business harm. The government contract penalties for being noncompliant include cancellations, suspensions and fines.
Big digital dashboards
Government agencies and private corporations have been increasingly adopting direct-view LED technology for use as large format "digital dashboards" in their operations centers, attracted by the ability to fill entire walls with an unbroken, seamless display canvas. End users also like the ability to turn on the lights or open the blinds in their operations centers — something that's not typically possible using LCDs or projection, which don't have the brightness properties to counteract other light sources.
Direct-view LED has matured to a level where fine-pixel-pitch versions can show everything from video feeds and dynamic charting on key performance metrics to the granular detail of schematics and mapping.
Samsung has several LED display series that are TAA-compliant — reliable, full-featured and backed by strict quality and safety standards.
Samsung's IF Series and IE Series direct-view LED displays both blend market-leading video processing tools with High Dynamic Range (HDR) technology that maximizes brightness and reveals all the nuanced detail of bright and dark visuals. Both series also come with embedded technologies that optimize colors and make both setup and management easy and reliable.
The IER series has displays with 1.5-millimeter to 4-millimeter pixel pitch, while the IF series has options ranging from super-fine 1.2-millimeter to 6-millimeter pixel pitch. Finer pitches offer more resolution in the same display footprint, while lower pitches reduce costs for environments where the viewers can be seated farther back from a screen.
The simple way to understand this is that a 1.2-millimeter display will look tight and crisp to viewers who are positioned just 10-15 feet away, while at that same distance, viewers would see the individual light pixels and gaps in a 6-millimeter-pitch display, with the on-screen content visually breaking up. Conversely, if the average viewing distance is 60-70 feet, that same 6-millimeter-pitch display will look spectacular, while a super-fine-pitch 1.2-millimeter display will look no different at that distance but cost substantially more.
A secure "Wall"
Samsung's premium IW Series, also referred to as The Wall for Business, uses microLED technology to deliver a stunning viewing experience that rivals what's available on premium LCD flat panel screens. The "micro" description refers to tiny light pixels embedded on the display surface in a sea of black background material. The tiny lights allow for more of that black to be seen, resulting in much-improved contrast levels and sumptuous visuals.
Premium visuals might seem, at first glance, like a luxury for an operations environment, but for agencies and industrial applications, fine detail and accurate colors can directly inform decisions that hinge on things like satellite, radar, seismic and even high-resolution surveillance imaging.
Ideal for command and control centers, The Wall's sleek modular design makes it possible to tailor the video wall to the dimensions of the room and even work around and over entry arches or other physical attributes of the space. IW Series walls are also available in preconfigured, large-format 16:9 sizes — simplifying design decisions.
IW Series business displays ship with Samsung's own Linux-based Tizen operating system, a cross-platform operating system that offers out-of-the-box security. It uses the same technology found in Samsung Knox, a defense-grade enterprise mobile security solution.
Information-rich direct-view LED video walls offer clear benefits to the day-to-day operations of government agencies, and TAA compliance ensures the technology is secure.
Learn more about secure digital signage in the public sector with this free white paper. Then discover the importance of establishing trust with your LED signage provider.