Fire inspectors and investigators have extremely demanding jobs. The role requires a depth of technical knowledge, often involves working evenings, weekends and holidays, and puts inspectors at risk of exposure to smoke, fumes and other hazardous agents. Increasingly, inspectors are also firefighters and must fit their inspection work around emergency callouts and other duties.
Inspectors have to be meticulous in their risk assessments, reviewing factors like hazardous material storage, the state of the on-site fire suppression equipment and access to fire exits. Inspectors are responsible for recording code violations and putting together detailed reports supported by photo or video evidence. In fire scene investigations, inspectors must complete reports, through the National Fire Incident Reporting System (NFIRS), that document the injuries, deaths and property damage and identify potential causes.
While they're on the go, fire inspectors can benefit greatly from access to mobile devices and apps. Rugged tablets combined with intuitive cloud-based platforms, such as those offered by City Reporter, Fire Lab and ImageTrend, help inspectors manage their busy schedules and file reports faster, with better detail — allowing them to work more efficiently.
The right mobile devices for fire inspectors
Samsung's new Galaxy Tab Active3 and larger Galaxy Tab Active Pro are ideal digital tools for fire inspectors, whether they're in the field or at the station.
Here are five ways the Galaxy Tab Active3 and Tab Active Pro can help fire inspectors on the job:
1. They stand up to anything
Even with an 8-inch touchscreen, the rugged Galaxy Tab Active3 can stand up to the toughest conditions that fire inspectors face on the job. And it weighs less than a pound. The device passed more than 20 tests formulated against U.S. Department of Defense durability standards. This included surviving 26 drops from a height of 5 feet and extreme temperatures ranging from −40 F to 176 F.
Transform fire and EMS with mobility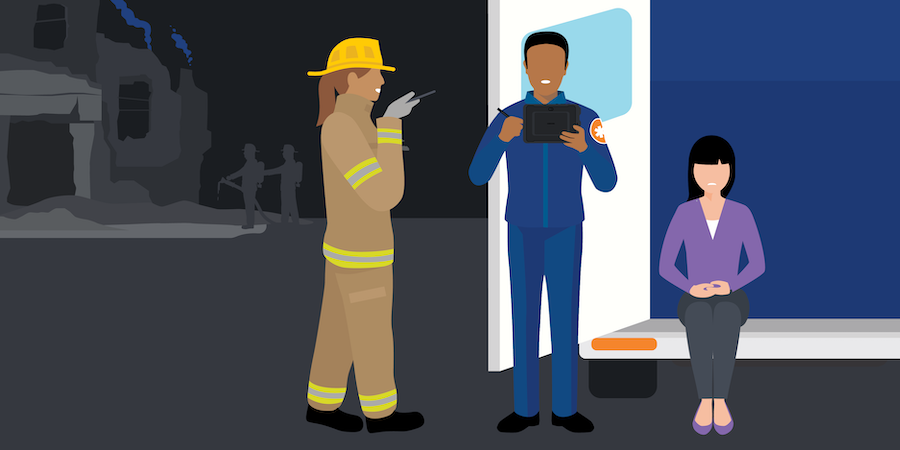 Take advantage of mobile devices to improve first-responder capabilities with this free guide. Download Now
The Tab Active3 also meets the IP68 standard (as defined by the International Electrotechnical Commission), meaning it can handle dust, dirt and sand — and survive 1.5 meters (5 feet) underwater for up to 30 minutes.
The Tab Active Pro is just as rugged, but it offers a larger 10.1 touchscreen for users whose work demands a display with a little more real estate.
2. They enable paperless workflows
Fire inspections involve a lot of forms and paperwork — which can be streamlined with digital technology from end to end. By moving inspection forms and reports to a mobile device such as the Tab Active3 or Tab Active Pro, agencies can collect information and populate forms while they're in the field.
Paperless workflows eliminate time-consuming manual processes, such as filing and managing paper forms. Digital information can be shared and retrieved instantly without any time spent storing, printing, collating or mailing. Images and videos can be attached to files, so images don't need to be printed out, saving time and money.
Both devices feature an IP68-rated S Pen stylus that is easy to use even while wearing gloves. Their 13MP front-facing camera can shoot all the high-resolution photos and videos a fire inspector could need, thanks to plentiful onboard storage — plus an added microSD card slot for expanding storage further.
3. They keep you connected and informed
Fire inspectors work from everywhere and may visit numerous sites in a single day. The LTE connectivity available on the Galaxy Tab Active3 and Tab Active Pro allows inspectors to work effectively from any location that has cellular service. They can stay connected to agency apps and online resources, respond to queries and file reports and documents. When fire inspectors have to work in an area with poor cellular coverage, they can still take notes on their tablet and upload them when they're back in cellular range. And as an inspector passes from one network to another, the Tab Active3's MIMO capability allows them to reconnect quickly.
4. They work all day long
The Tab Active3's long-life battery runs up to 11 hours per charge, while the Tab Active Pro's battery lasts up to 15 hours. If a fire inspector needs to stay on-site past that point, no problem. Either tablet's battery can be swapped out for a charged one in just a few seconds. The Tab Active3 also features a No Battery mode, which allows it to run safely on an external power supply in scenarios where the device is mounted in a vehicle.
5. They replace other devices
The Tab Active3 and Tab Active Pro are both compatible with Samsung DeX, which means the device can connect to a monitor, keyboard and mouse for a full desktop experience. Samsung works with many software providers to ensure their apps are optimized for DeX, so fire inspectors can use the Tab Active3 or Tab Active Pro in every work setting — including the office or the station — and consolidate all their work on one device. Given the budget constraints many fire services are facing, device consolidation can be a great source of cost savings.
Interested in other digital solutions for tough jobs? Learn more about Samsung's public safety technology. And see how the Corona Fire Department of California is using Samsung tablets in the field to improve situational awareness and data sharing.