In all levels of government, strategically positioned, highly visible single displays and video walls can help keep staff and the general public they serve informed and properly advised.
Digital signage in the right places — using scheduled or dynamically updated messaging — does everything from directing and updating the public to relaying mission-critical data and visuals for utility operators and first responders.
Here are 11 ways digital signage and video walls are best used by federal, state, regional and municipal governments:
1. Command centers
Large video walls give everyone from military and police to public utility operators a full view of critical operations. Narrow-bezel LCD arrays and seamless direct-view LED displays in control rooms provide wall-filling canvases that relay everything from traffic and surveillance footage to real-time, graphics-driven data from the operating systems that keep streetlights on and drinking water clean and safe. Fine-pitch and microLED products, like Samsung's The Wall, allow visuals like schematics and high-definition aerial imagery to be displayed crisply and vividly.
2. Crowd control
Waiting for government-issued IDs, licenses and permits may be a familiar and necessary chore, but it can be managed and streamlined by flat-panel displays coupled with technologies like queue management. Interactive screens can facilitate appointment check-ins and issue waiting list numbers, while screens in waiting rooms can announce who's being served and where they should go. Queue management status screens are also especially "sticky," meaning people look at them repeatedly. These screens present a great opportunity to display additional information, raising awareness of other available options, such as online services.
Integrate digital signage in the control room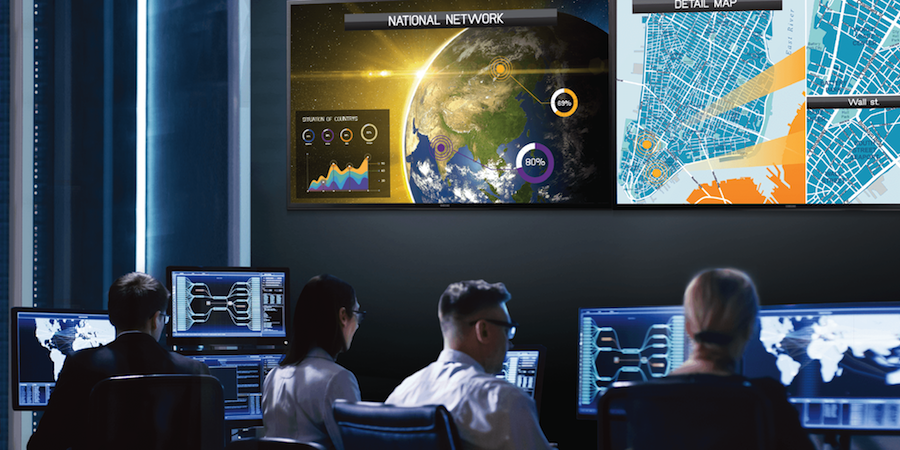 Streamline mission-critical workflows and content management with secure, large-format displays. Download Now
3. On the dockets
Digital signage in busy courthouse corridors or waiting areas — tied into court management systems — relay key details like case numbers and appearance times. Going digital takes the burden off judicial operations and building staff and makes it easy to keep pace with the rapid changes common in court processes.
4. Finding the way
Busy federal, state and municipal complexes tend to have many offices, many floors and, in larger centers, many buildings. First-time and infrequent visitors are guided to the appropriate offices — even given directions — through interactive wayfinding displays at entrances and decision points. That information can also be delivered outside, thanks to super-bright, sunlight-ready screens.
5. Common areas
Displays in lobbies and other common areas provide scheduled and easily updated information for visitors. Dynamic, real-time information and changes can increase adherence to safety measures around social distancing guidelines by keeping foot traffic moving at a consistent pace.
6. Language options
People who need government services or information aren't necessarily fluent in any of their government's official languages. Government service providers can overcome language barriers by using interactive displays that answer frequently asked questions in multiple languages — the dialects tuned to the local demographics.
7. First responders
Digital dashboards heighten situational awareness and improve response and decision-making capabilities for firefighters, police and emergency medical services (EMS) staff. Screens at stations, agencies and facilities make personnel aware of everything from mission-critical incident information to colleagues' personal milestones.
8. People movers
Displays at mass transit stations and hubs — bus, rail, air and water — update schedules and guide riders. Mass transport systems use interactive displays in station lobbies to help riders plan trips, taking the burden off staff. These displays also inform travelers of service changes and disruptions. At the track and stop level, sensors and data systems provide real-time arrival status on flat-panel and direct-view LED displays.
9. Rapid alerts
In the event of a weather, health or safety threat, screens instantly communicate alerts and instructions. Tied into management systems and community alert platforms, content can be instantly triggered to inform people of immediate threats. Along with warnings, screens can tell alarmed staff and the public where to go and what to do.
10. Building community
Screens across government facilities — such as libraries and recreation centers — raise awareness of community events and programs. Highly visible displays with full-motion graphics and rich color reproduction allow government communicators to capture attention and generate interest far more effectively than old-school paper-based bulletin boards.
11. Engaging staff
Can't-miss screens relay everything from announcements and job postings to policy changes, particularly important for the many government jobs that aren't office-based. With emails often ignored and unopened, and mail slots and physical pay envelopes a thing of the past, screens are the most ever-present, effective tool for reaching on-the-go government staff.
Effective, efficient messaging
Digital signage technology is a highly effective, cost-efficient platform for informing government workers and the public. More and more information is readily available in the cloud, and most information and management platforms are designed for data sharing. Government entities equipped with the right digital signage technology solutions, paired with well-placed screens, can see, analyze and relay all the information their staff and the general public need to know.
Get your free guide to improving government messaging with digital signage, and discover how outdoor displays propel businesses forward.