Smart boards were already growing more common in classrooms, but in hybrid and blended learning scenarios, educators can benefit from a new kind of interactive screen — one that allows them to collaborate with students more engagingly, even while they're collaborating remotely.
Samsung's Flip 2 series digitizes conventional dry-erase boards and paper flip charts, loading them with intuitive and modern educational tools.
The goal of Samsung's Flip series was simple: design an interactive smart board that anyone can walk up to and use, without any training. This means the board has capabilities such as:
Navigation with a pen-like feel and familiarity
Easy storage for instructional notes and lessons
Automatic power-on when the stylus is removed from its holder
Versatile design that allows for easy movement and relocation
Engaging creative tools, including watercolor and oil painting modes
Supported by these core functions, teachers can easily integrate a Flip 2 into their classroom, their lesson plans and their student workflows.
The original Flip display, launched in 2018, was inspired by easel-based paper flip charts and came in a single 55-inch form factor. Like the Flip 2, the Flip's display was designed to pivot between portrait and horizontal modes. The second generation features 4K-capable interactive displays ranging from 55 inches to a visually commanding 85-inch wall-mounted version.
A better flip chart
Flip charts and dry-erase boards have long been classroom staples because they allow for quick and easy idea generation and collaboration. Students can write out their ideas, draw sketches and even make calculations on a large visual platform that all their classmates can see.
The conventional version works, but it's a clunky and inefficient way to capture information. And as students' workflows grow increasingly digital, they're more often using computers and other digital technology to complete their assignments and in-school activities. Paper flip charts and dry-erase boards are no longer an easy fit for their educational environment. They need collaboration tools that allow them to quickly find, mark up and share whatever they need.
Transform learning with digital signage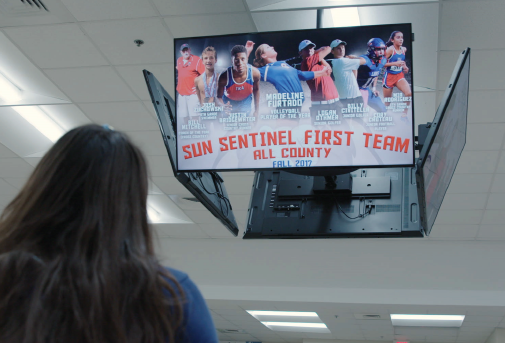 See how displays are enhancing the student experience from the lobby to the classroom. Download Now
All the work done on a Flip 2 is digitally saved and stored. As many as 20 pages of notes can be contained in a single document, and you can retrieve your files by scrolling or by built-in search. You can share documents directly from a Flip 2 by using the display to send them via email, save them to the cloud, download them to a USB or print them.
The largest Flip 2 supports as many as 20 different users at once, each writing with their own stylus — or virtually any other writing utensil. Users can pick from pens or highlighters of various colors and thicknesses. The display's user-friendly interface means teachers don't need technical support to install it, or any training to use it.
Students and teachers can connect their computers numerous ways, including USB, HDMI, DisplayPort, an optional slot for a compatible PC or via screen mirroring from their mobile devices. It's also easy to push photo and video content to the Flip to illustrate concepts and enhance discussions.
Flexible design and versatile use
In the classroom, Flip 2 displays are primarily used for group collaboration and sharing educational materials. But its ultra-high-definition (UHD) screen also allows the Flip 2 to serve as more than a conventional presentation tool. The Flip display's wheeled easel lets it swivel seamlessly between portrait and widescreen mode, so students can use it to present projects in apps such as PowerPoint or Prezi.
The Flip 2 series also has key technology partners in Cisco and Logitech:
Cisco's Webex Room Kit Mini enables remote conferencing features for hybrid or blended learning environments, and allows teachers to incorporate virtual lessons with guest instructors. Webex on Flip provides crisp, high-quality video and audio streaming, allowing for real-time, two-way whiteboarding with multiple participants, whether they're on-site or remote.
Logitech's high-res meeting cameras pair seamlessly with Flip 2 displays to offer a highly intuitive solution for classrooms of all sizes, and with diverse needs. For example, the Logitech MeetUp all-in-one conference camera has an ultra-wide lens for small meeting rooms, plus an integrated microphone and speakers.
The Flip 2 brings the next step in education technology — and offers many more capabilities for the classroom, its teacher and their students. Especially in remote and hybrid learning models, digital collaboration tools like the Flip 2 can help everyone feel connected and engaged.
As you strategize how to continue evolving your classroom technology, consider Samsung's other remote learning solutions, designed to help teachers and students perform their best.