Home-based studies are easier when key tools like monitors present little or no learning curve. An ideal monitor will also be multifunctional: great for video calls and presentations, but just as good for viewing several applications at once, pairing with handheld devices, streaming TV episodes or playing mobile games synced to a big screen.
Samsung has developed and launched a new series of Smart Monitors that are simple to set up, intuitive to use and flexible enough to support everything from video calls with teachers to binge-watching your favorite shows.
These 4K UHD displays — the 32-inch M7 and the 27-inch and 32-inch versions of the M5 — represent a different approach to desktop displays and are designed to meet the various needs and challenges that have arisen in recent months and years — whether for K-12 learners, college students or business users working from home.
Flexibly designed
Schools at all levels, from K-8 districts to universities and post-grad programs, have all been affected by changed learning environments and routines. Some educators have shifted all learning work online, while others have adopted hybrid approaches that blend live video teaching with on-demand videos and static classroom material.
Regardless of age group or teaching style, a lot of daily learning has shifted from the classroom to the spare rooms and nooks of students' homes.
Desktop monitors are full production hubs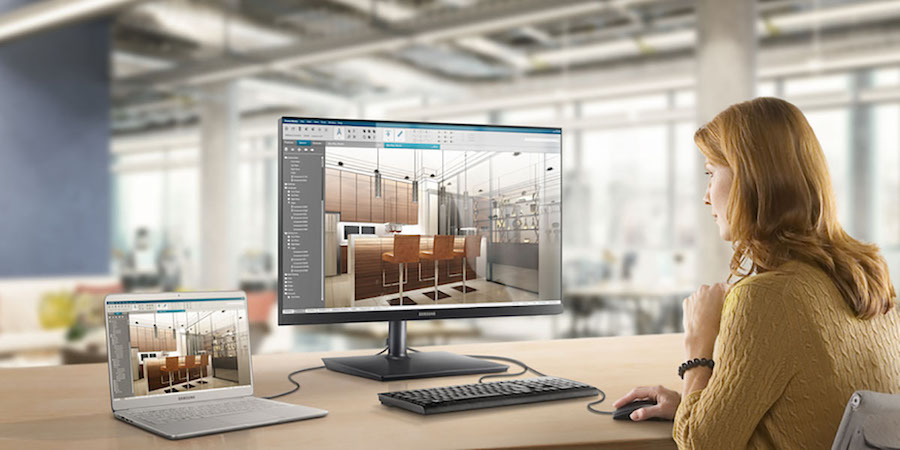 Monitors aren't just displays. Learn how USB-C, HDMI and Thunderbolt 3 enable complete workstations. Download Now
Fortunately, the slim profile and paper-thin stand of the M7 and M5 can fit into just about any setup. The core design principle was to deliver displays that offer a widescreen viewing canvas with a relatively small physical footprint. The displays also had to be easy to connect and manage, and just as easy to repurpose for nonlearning activities.
Each Smart Monitor is also height adjustable, with a vertical range of 4 inches to go with its 20 degrees of tilt for maximum flexibility. This helps users optimize the display when they're in sitting or standing positions.
The smart differences
Smart monitors bring the functionality of smart TVs to the desktop, with embedded computing managed by a sophisticated operating system and intuitive software. Instead of basic screens that just show the output signal from a second device, such as a laptop, Samsung Smart Monitors have on-board intelligence and memory as well as the ability to run software applications. The displays also have plug-and-see engineering that auto-detects and shows a new source whenever one is connected.
The result is a home-based monitor that features:
Built-in Wi-Fi
A built-in web browser
Preloaded apps and the ability to add more, including learning apps
Easy single-step mirroring from smart device to display using Tap view
Seamless app casting using the in-home wireless network
A TV-style remote control with artificial intelligence-based voice controls and commands
Remote Access and Samsung DeX support for power users
Adapted learning
The 21:9 widescreen Smart Monitors have the needed viewing surface to allow students to see multiple windows on a screen at once. For example, a video session can run alongside lesson or discussion materials in a separate window or tab.
With these displays, students can share and collaborate on work with classmates using integrated sharing tools that make online learning as productive as classroom work.
Minimizing impacts
The Smart Monitor series reduces impacts on both the vision health of learners and the setup requirements of their homes. The displays have latest-generation technologies that minimize eye strain and even have sensors that dynamically adjust brightness and color temperature as lighting conditions change throughout the day.
The displays can also reduce space demands in a variety of living arrangements. If a student's bedroom or dorm room also serves as their main study setting, one screen can take the place of two or even three. Due to their extensive functionality, the Smart Monitors can run lessons and after-school video calls with friends and family by day and then become a gaming hub or streaming TV set at night.
Future-ready
Online learning now has a firm place in the future of education. The new Samsung Smart Monitor series offers designs that reflect the evolving needs of our time and will make the grade for students and workers at all levels, both now and in the future.
To get the most out of your Samsung Smart Monitor, you can pair it with the Samsung DeX mobile desktop solution — no PC required. Not sure if the Smart Monitor is right for you? Take this quick assessment to find out.