When you think about Samsung smartphones, you probably first think of flagship devices like the Galaxy S21 Ultra 5G and Note20 Ultra. But many businesses — especially those on a tight budget — can get everything they need from the more affordable Galaxy A Series of smartphones: the A12, A32 5G, A42 5G and A52 5G.
Available from all leading carriers, mobility integrators and Samsung Business Direct, the latest range of Galaxy A Series devices provide everything you need in a midrange smartphone, and gives your business a reliable, secure, affordable platform for its mobility initiatives. (Companies that want an affordable device with a rugged form factor need look no further than the military-grade Galaxy XCover Pro.)
From the entry-level Galaxy A12 to the powerful A52 5G, all four A Series devices deliver the core essentials business users need in a smartphone. But there are some key differences and innovative features added as you move up the range. Here's a quick comparison of the A Series across six key features to help you choose which device is the best fit for your needs:
1. Display technology
A12: 6.5 inches, HD+, 60Hz
A32 5G: 6.5 inches, HD+, 90Hz
A42 5G: 6.6 inches, HD+, 60Hz
A52 5G: 6.5 inches, FHD+, 120Hz
All of Samsung's new A Series smartphones offer expansive screens of at least 6.5 inches. And with more screen comes more space for multitasking, allowing you to be productive on the move by working with two apps in split screen. It also means no more straining your eyes to make out tiny characters on your old smartphone's display.
The Galaxy A12, A32 5G and A42 5G all offer HD+ resolution (720 x 1600 pixels), so your documents, photos and videos will look crisp and clear. On the Galaxy A52 5G, you get a Super AMOLED display with FHD+ resolution (1080 x 2400 pixels), giving even more detail and vibrancy to visual content.
Shop special offers
Find out about offers on the latest Samsung technology.
see deals
Speak to a solutions expert
Get expert advice from a solutions consultant.
Talk to an expert
Samsung has also brought its high refresh-rate display technology to the A Series. With a 90Hz display on the A32 5G and a 120Hz display on the A52 5G, you get seamlessly smooth motion, so fast-moving graphics stay clear and legible.
And when you're working long hours, don't forget to switch on the blue light filter — available on all four A Series smartphones — to give your eyes some rest.
2. Battery life
A12: 5,000mAh, 15W Fast Charge
A32 5G: 5,000mAh, 15W Fast Charge
A42 5G: 5,000mAh, 15W Fast Charge
A52 5G: 4,500mAh, 25W Fast Charge
Samsung Galaxy A Series devices feature high-capacity batteries and intelligent power management that keeps up with your productive workday. You can videoconference, track inventory, work on your latest projects and still have enough battery life to stay connected till the end of your shift. The A12, A32 5G and A42 5G feature high-capacity 5,000mAh batteries with 15W Fast Charging, so you can get a quick boost whenever you need it.
The Galaxy A52 5G's battery is is a touch smaller at 4,500mAh, but it more than makes up for it with 25W Fast Charging capability. If you've ever found yourself desperately searching for an outlet, you'll find that the Galaxy A52 5G gets you back up and running in no time, so you can stay productive with minimal pause.
3. Camera systems
A12: Quad rear (16MP + 5MP + 2MP + 2MP) and 8MP front camera
A32 5G: Quad rear (48MP + 8MP + 5MP + 2MP) and 13MP front camera
A42 5G: Triple rear (48MP + 8MP + 2MP) and 13MP front camera
A52 5G: Quad rear (64MP OIS + 12MP + 5MP + 5MP) and 32MP front camera
Having a great camera system can make or break a smartphone for business users. The Galaxy A Series devices feature sophisticated triple- and quad-lens rear camera setups. With a pro-grade camera onboard an affordable smartphone, you can be sure your device is versatile enough to meet all your business photography and video needs.
In an era of video conferencing, each A Series device comes with a front-facing "selfie" camera designed to keep you and your ideas in focus. The front cameras range from an 8MP camera on the A12 to a 32MP camera on the A52 5G. And with integrated 5G connectivity on the A32, A42 and A52, you can join your next video call from your desk or the beach.
The rear camera systems are designed to let you capture every detail from any angle. Even the affordable A12 provides you with ultra-wide, macro and depth lenses.
With the best camera setup in the range, the A52 5G is built for action. Whether you're in the office or on the go, the Galaxy A52 5G's quad camera system makes it easy to capture everything. You can capture the world around you with an incredibly sharp 64MP sensor with optical image stabilization (OIS).
4. Storage and memory
A12: 32GB storage, with 3GB RAM
A32 5G: 64GB storage, with 4GB RAM
A42 5G: 128GB storage, with 4GB RAM
A52 5G: 128GB storage, with 6GB RAM
Few things are more frustrating than trying to download an app or large file and finding that your smartphone's storage is maxed out. And if you notice your smartphone is performing sluggishly when you have multiple apps open, it's likely that limited memory (RAM) is the culprit.
The A Series offers several different tiers of internal storage and memory configurations throughout the lineup, so you can choose a device that best fits your needs.
With the entry-level A12, you get 32GB of storage and 3GB of RAM, making it a strong choice for use cases where you'll only be running a few key apps. At the other end of the spectrum, the A52 5G's 128GB of storage and 6GB of RAM will ensure your device won't get bogged down, even when you have a dozen browser tabs and multiple Office documents lined up.
The A12, A32 5G, A42 5G and A52 5G all support expandable storage via a microSD card slot. With the ability to add up to 1TB more external storage, your smartphone can grow with your business needs. Your scans, documents, photos and business data can all go wherever you go, without a hitch.
5. 5G Connectivity
A12: 4G LTE
A32 5G: 5G
A42 5G: 5G + 5G millimeter wave
A52 5G: 5G
Your business needs to stay connected even when team members are working remotely. All four A Series devices feature core connectivity essentials including Wi-Fi 5 (802.11a/b/g/n/ac), Bluetooth 5.0 and NFC, as well as support for 4G LTE.
Samsung has been a leader introducing high-speed, low-latency 5G connectivity to its midrange lineup. As their names suggest, the Galaxy A32 5G, A42 5G and A52 5G all feature high-speed 5G cellular modems. For businesses wanting to take advantage of Verizon's mmWave network, the A42 5G supports that high-end spectrum.
With the A Series' robust performance and lightning-fast 5G, you have the freedom to explore unlimited professional possibilities. Access your work in the cloud and stream video from your office or on the go.
6. Defense-grade security
Like Samsung's flagship smartphones, the A12, A32 5G, A42 5G and A52 5G all feature the defense-grade Knox security platform built in. Knox is a multilayered security architecture that protects your device from the moment you power up — so you can focus on what matters to you and your business. It also integrates closely with Knox Suite, Samsung's comprehensive set of cloud-based solutions that enable IT to secure, deploy and manage devices to meet their specific business needs. Solutions like Knox Configure allow you to customize the user experience to match your business needs, and there's also a broad range of third-party accessories available.
What's the best phone for your business?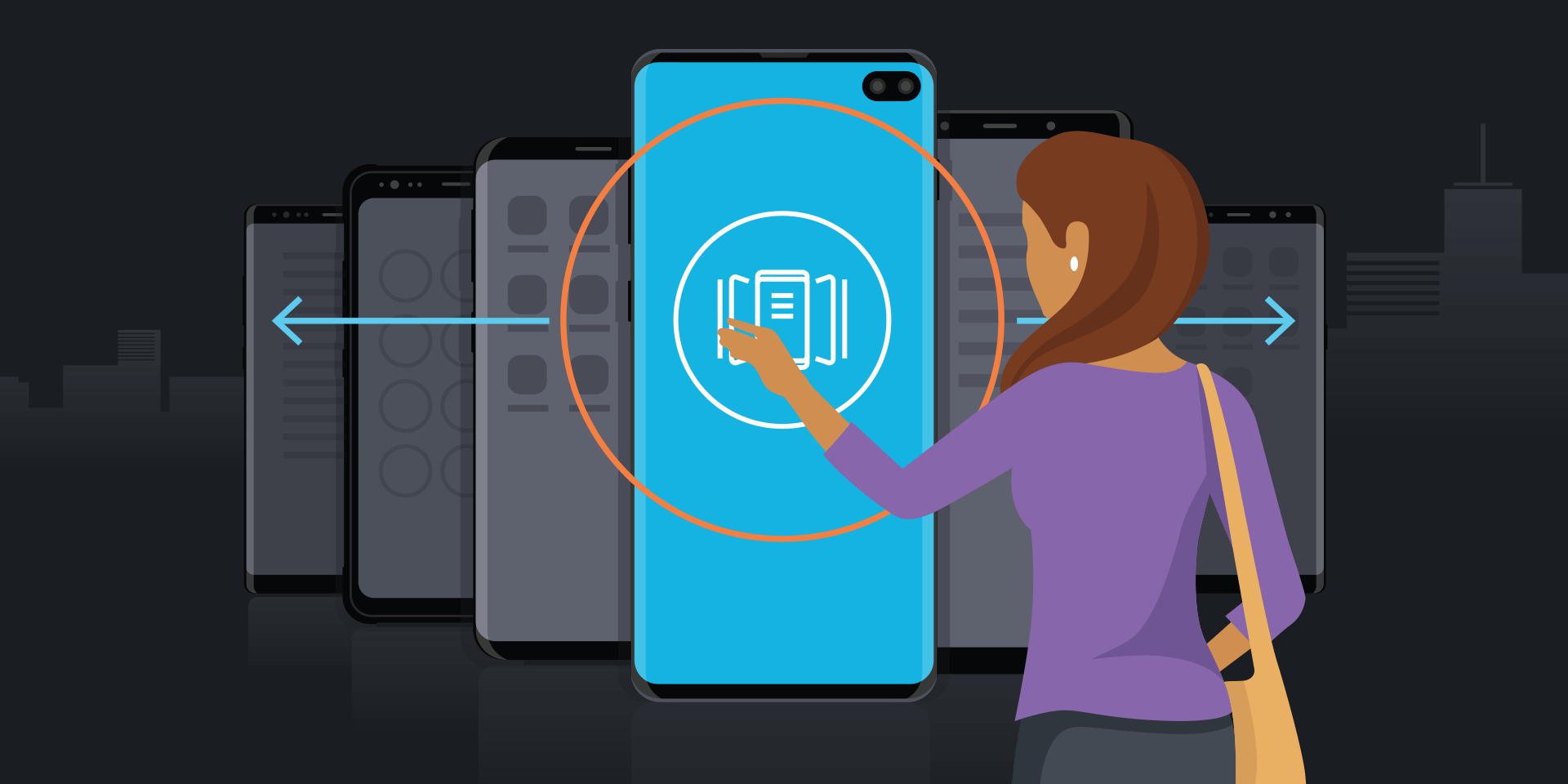 Take this quick assessment to discover the smartphone most tailored to your business needs. Download Now
To make it easy for users to securely access their device, all four A Series devices feature facial recognition and fingerprint ID technology. On the A12 and A32 5G, the fingerprint sensor is incorporated into the power key on the right side of the device, while the A42 5G and A52 5G utilize Samsung's embedded fingerprint-on-display technology.
Innovation for all
Samsung's latest Galaxy A Series offers features that used to be reserved for premium devices. With the Galaxy A12, A32, A42 and A52, you can work on an expansive screen, and enjoy all-day battery life, an impressive multilens camera system and ample storage. And when you're remote, you can go the extra mile with high-speed 5G connectivity on the A32, A42 and A52. In the Galaxy A series, affordability meets its match in innovation — so you can fulfill all your business needs, at no extra cost.
Choosing a new smartphone is easier with expert advice. If you're not sure which model's right for your small to medium-sized business, check out this short, free guide. And if you're not in the Samsung ecosystem yet, here are 20 reasons your business can benefit from switching to a Galaxy smartphone.