The future of the once ubiquitous meeting room projector may be dim. Bigger, brighter technologies like direct-view LED displays are taking their place in federal office spaces.
Those who have attended meetings with large conference room projectors are familiar with their downsides, such as their noisy fans or the challenge of properly leveling them. But the biggest flaw of projectors is their low light output. Unless an organization invests in expensive, high-powered projectors, viewing an on-screen presentation in a large meeting space means dimming the room lights and blocking any natural light.
Incidentally, the crisp visuals on the presenter's laptop end up looking dull and washed out on the big screen. Projectors aren't an effective solution for public meeting rooms, especially when important information needs to be shared clearly and concisely with many people at once.
Change is coming
Enter direct-view LED — inspired by the LEDs in stadiums and digital billboards. Direct-view LED evolved this technology and miniaturized it. Now, manufacturers like Samsung use smaller LEDs to create stronger impressions with indoor and outdoor displays.
Integrate digital signage in the control room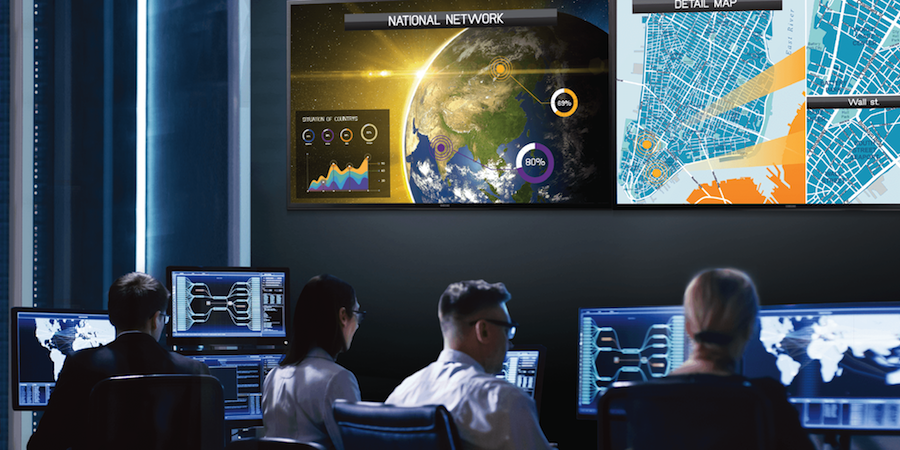 Streamline mission-critical workflows and content management with secure, large-format displays. Download Now
LEDs' advancements allow architects and audio-visual consultants to design meeting room spaces that comprehensively address the needs of a government organization. Due to the modular, building-block nature of LED, displays can be extra-wide like a movie screen, but without the typical seams of LCD video wall tiles. This makes LED displays ideal for larger public meeting spaces where dozens of participants need to see the whole screen at the same time.
With LED screens in conference rooms, there's no compromise on visual quality. In fact, LED delivers brilliant image quality, with a deep contrast ratio, captivating brightness and crisp color. The technology is starkly different from traditional lamp-based projection systems. The washed-out images of large conference room projectors is replaced by deep, rich images that capture the nuances of every shade.
This picture quality is in part due to the use of high-dynamic range (HDR) technology, which amplifies visuals and eliminates the muddiness that often appears in scenes that mix dark and light. HDR generates a wide range of contrast and handles the low-tone grayscale settings such that viewers see the brightest colors, the deepest shadows and the most pristine highlights.
Vivid, accurate color and ultra-high resolution isn't just aesthetically pleasing. In government conference rooms, presenters can feel confident that the content they're sharing is visually clear and accurate, allowing them to focus on conveying their message. LED displays are also ideal for videoconferencing. Virtual presenters who need to share information appear in high quality that doesn't distract from the meeting at hand.
Collaborate with interactive displays
The large screens in conference rooms don't have to be just for viewing. Meetings should be about collaboration, which is where interactive displays come into play.
Large conference room projectors limit the ability to collaborate with a large group of people, but an interactive display, like Samsung's QBN-W Series 75-inch, unlocks greater opportunity for group participation and engaging discussions. At a city council meeting, for example, a member can capture feedback from the audience by utilizing the preassembled touch overlay on an interactive whiteboard. By combining the ease and functionality of a touchscreen with stunning 4K UHD resolution, government offices can run more productive meetings and proactively address next steps.
Samsung's Flip 2 65-inch digital flipchart is another technology that enhances fast-paced and digital-centric workflows. At a board meeting, for example, members may use the display to quickly recap the previous session, or use the touch-out functionality to sync their personal devices with the screen for real-time content sharing. This technology can make meetings more effective, allowing everyone to contribute their thoughts and store their meeting notes securely.
By leveraging Samsung's MagicINFO content and device management system, any organization can remotely manage content and ensure data security and privacy. The technology passed a strict screening process to receive ISO 27701 certification, the international standard for information protection and a necessity for government organizations working with confidential information. The end-to-end software solution allows IT managers to monitor device health across the entire fleet.
Practical considerations
There are also practical arguments for LED displays compared to traditional large conference room projectors.
Presentations in larger settings require projectors to beam visuals from the back of the room, angled from above or behind the screen — with the projector set far back to visually "fill" the canvas. Presenting from the front of the room means the speaker is casting a shadow on the screen and/or staring into a bright light. Operating from the back of the room consumes a lot of precious real estate, at a minimum of $60 per square foot in lease costs.
An LED screen in a conference room can be as large as necessary and still rest flush against a wall — or be freestanding — for minimal impact on the room's footprint. Since LED technology doesn't usually require a fan, it's also quiet.
As high-resolution indoor displays' adoption rates have grown, manufacturing costs have dropped. Still, LED remains premium technology; a high-resolution LED wall costs more than an LCD wall of the same size assembled with multiple displays. But the cost gap is closing — especially with the advent of added benefits, like new security features such as MagicINFO and Wi-Fi built into display panels.
At the same time, LED's capabilities are rising. Right now, most LED displays are there to see and not to touch. But with technology like Samsung's Flip 2 display, you can say goodbye to paper flipcharts — which no one can see from far away — and hello to advanced touchscreen interaction that's as intuitive as pen on paper.
IT managers and employees no longer have to worry about noisy projectors, burnt-out bulbs or faded presentation screens. They can simply turn on their LED display and present in vibrant color.
In the search for a new conference room monitor, consider the breadth of options among Samsung's direct-view LED displays. Or, see how government agencies can leverage digital signage to communicate more effectively with the general public.