Workplace experts continue to debate how the global pandemic forcibly reset how workplaces look and operate, but one thing is without question: The future of the office is centered around a digitally connected environment.
The efficacy of work from home (WFH) has finally been put to the test. While some companies concluded that remote work made their team less effective and negatively affected their corporate culture, many other companies discovered that WFH could work for them — and work well.
Employees have enjoyed the lack of commute and the serenity of a quiet bedroom compared to a bustling office. Employers have enjoyed the apparent increase in productivity, and they've seen how WFH could reduce necessary corporate office space, lowering leasing costs and other ongoing bills like lighting and heating.
As businesses create and reveal their office plans, they'll have to prepare not only for one that works today, but also for the years and technological innovations that follow.
Smaller offices with bigger potential
The pandemic normalized remote work and accelerated many companies' digital transformation plans. What they'd planned to implement over three to five years suddenly had to be up and running in a matter of months. So as COVID-19 gradually comes under control and formal offices start to repopulate, 68 percent of large-company CEOs plan to downsize their offices and prepare for a future of hybrid work. Outfitting the office with flexible, modern technology is central to these plans.
Modernize your workplace with digital signage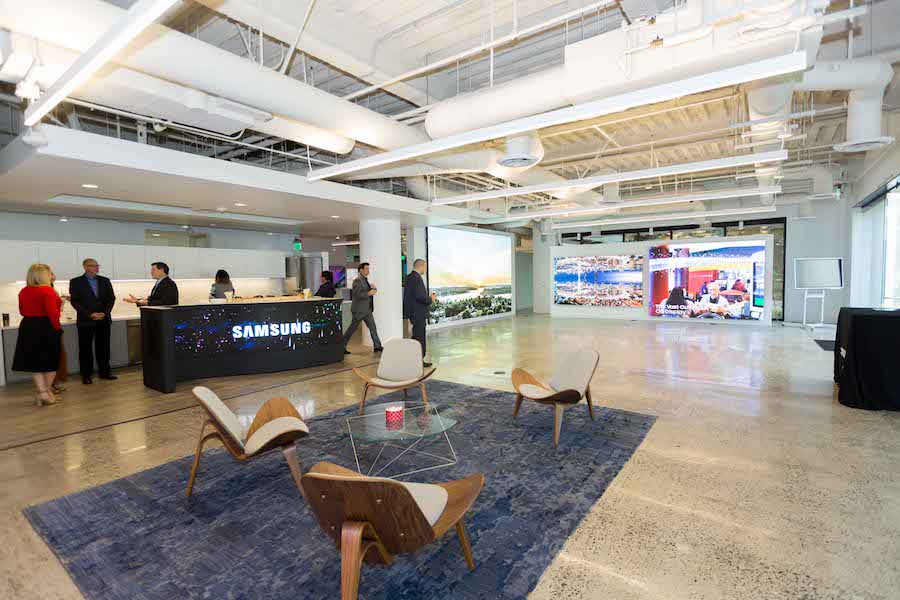 Explore how corporate offices are producing dynamic, engaging content for workers and clients alike. Download Now
At the height of COVID-19 lockdowns, many offices and campuses were cleared out, forcing staffers to work wherever they could find space and connectivity. Now, some staffers are expected to return to the office, voluntarily or by necessity. Others will continue to work effectively from home full time.
Many executives expect that a large cohort of their staffers will balance the two — working part of the week from home, and coming into the office on designated days, as well as for meetings and connecting with their colleagues. Adapting to this new working style will take thoughtful planning among corporate leaders, as well as organized phases that are well communicated to employees.
Strategic displays as connection points
Considering all the changes that came from 2020, and the changes yet to come, strategically located display technology is critical to communicating changing business practices, as well as meeting the evolving needs of employees. It serves as the endpoint of communication and collaboration as businesses introduce new phases.
If your company transitions from assigned workstations to hot desks used on a first-come basis, screens are the most efficient way to manage desk assignments, availability, locations and instructions. These screens are best placed at reception and in the lobby's seating area, and they should be integrated with the management solutions you use to keep track of desks and meeting rooms.
Visualized performance indicators — informed by everything from business development and sales to production and human resources — can be communicated on-screen in real time. Instead of managers reviewing weekly reports that few people see, the entire workforce sees instant performance reporting, so they always know how things are going.
In hybrid work environments, technology-powered meetings are even more important. With little to no training, team members can use Interactive Displays to drive meetings where notes can be digitally saved and shared, content can be pushed from employees' devices to the screen, and remote attendees have the tools and visibility to be fully engaged.
In a hypercompetitive real estate environment, building owners and anchor tenants are using grand-scale direct-view LED displays as architectural finishes. Lobby walls can become fully active digital masterpieces with the modular microLED display The Wall for Business, changeable with a few keystrokes. A visually inspiring lobby can make the difference between partial occupancy and a full house — and even help close the deal on recruiting efforts.
As workplaces repopulate and continue to evolve, businesses should make sure to remember the workers who won't be in the office full time — or at all. Screens are just as essential in home offices. Extra widescreen monitors make multitasking a breeze, while curved displays allow for increased focus and improved ergonomics.
Some companies are even equipping managers with interactive whiteboards for their home offices, allowing them to take notes, sketch ideas, annotate documents and review content from other managers' whiteboards, shared via email or network directory.
Remote fleet management
Digital signage around the workplace — both in the office and in production areas — lets you provide timely or even automated messaging by tying together everything from the content in your digital asset management systems to data and signals from your building control platforms.
Businesses can use Samsung's content and device management solution MagicINFO to create content, schedule messages to play on specific screens and monitor the health of devices. With MagicINFO, managers and IT staff have full control to proactively troubleshoot and update device settings, even if they are out of the office that day. Enhanced data management allows users to track and analyze device data, automate messaging across a signage network and remotely control entire fleets of devices.
Pairing the right technology makes the entire business run more efficiently while creating a truly connected environment where any screen can be your screen. Display devices serve as the connection point between you and a bold new outlook on doing business.
Flexibility is power
The past year has prompted just about every company, of all sizes and sectors, to rethink their daily operations. By necessity, some will return to their long-established norms; there's no need to fix what wasn't broken. But many businesses have been permanently changed by the pandemic, with leaders now thinking more broadly about how they define and deliver customer experiences, workspaces and their workforce. Forward-looking companies that invest in technology and office layouts that can evolve and adjust will future-proof their business and maximize their ROI.
The contemporary way of managing a workplace takes some adjusting to, but with flexibility comes power.
Find out how Samsung's Interactive Display can elevate your team's collaboration from the office to the home. And if you want to take your monitors to the next level, see how much it would cost you to upgrade with this free, short assessment.