In our lifetimes, we've seen retailers dress window displays with clothed mannequins, arranged furniture and fanciful scenes — all to grab attention and ideally pull consumers through the doors. Almost every retailer, short of luxury brands, has been known to put up window posters touting price discounts, special promotions or inventory clear-outs.
The future of retail storefront advertising is the digital display. This strategy serves the same goal of bringing in traffic to a retail store, but it employs different, far simpler and more flexible tools.
We're seeing retailers — from department store operators and brands with big, flashy flagships to local small business owners — using shopfront digital signage to drive specific goals like increased foot traffic and sales, improved shopper experience and holistic branding. And these retailers are seeing the benefits, too. Backed by integrated content management systems (CMS) and data analytics platforms, retailers can track the return on investment (ROI) of strategically placed and managed digital signage.
Why go digital?
Paper posters and printed fabric light boxes are less costly in the short term than digital displays. Plus, with the ability to leverage programmatic ads, retailers can offset the digital signage investment by selling ad space to vendors.
Aside from creating revenue opportunities, digital signage leads to accelerated change-out speed, reduced resource and operation costs, increased inventory and higher impact when compared to paper posters. Digital displays also support a connected customer journey that retailers can control to optimize convenience, efficiency and, of course, sales.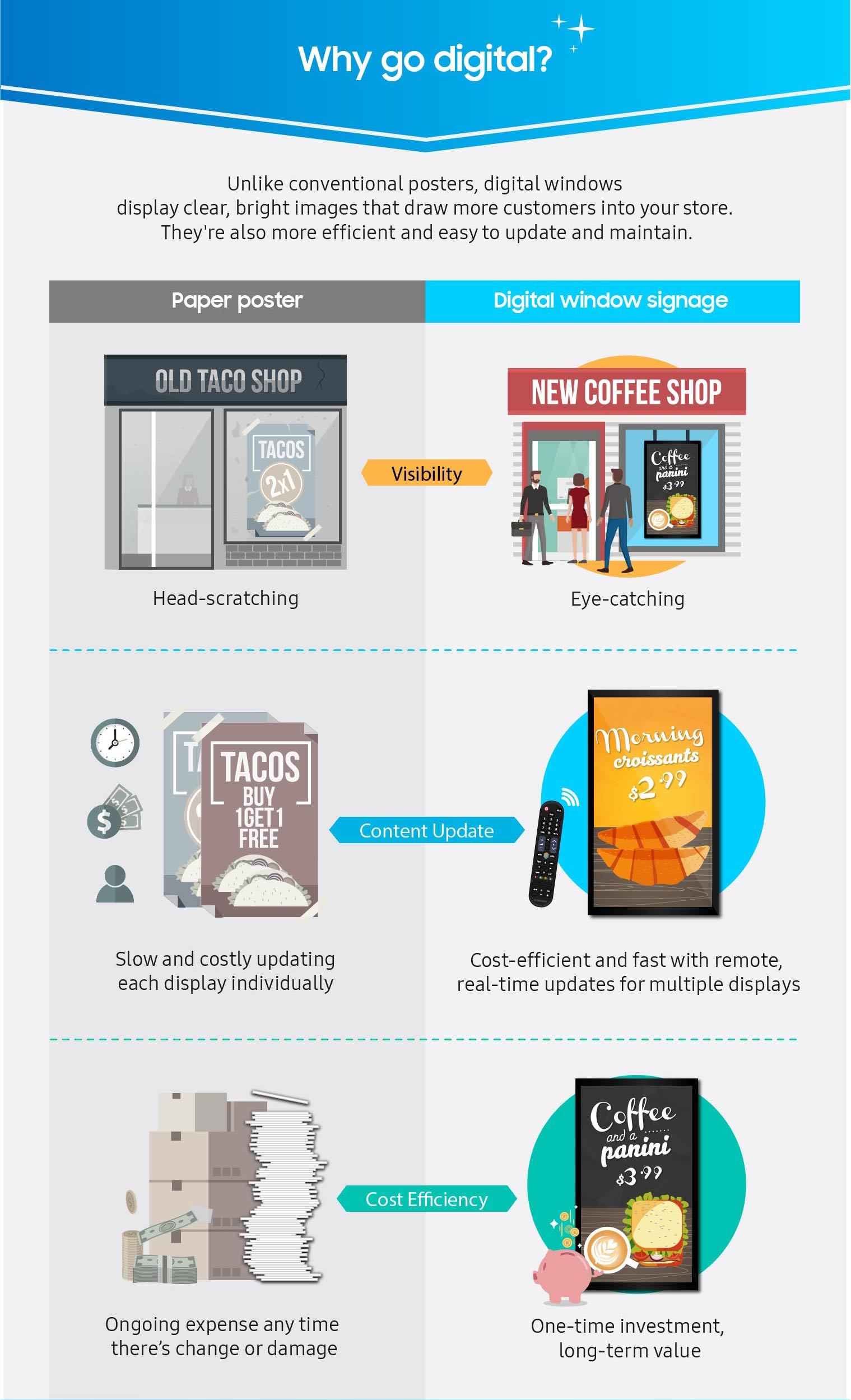 Accelerated change-out speed
Installing a new poster in a window might take a minute or two to complete, but the planning and coordination typically take weeks. The artwork has to go through the creative development and approval processes. Then the material goes to prepress and then to a printer. Finally, the posters must be shipped to potentially thousands of sites and hung up on the windows.
All this requires complex project management and coordination, and even top retailers struggle with something called "compliance" — which is the measure of how much marketing material actually goes into the right place at the right time.
Become a digital transformation expert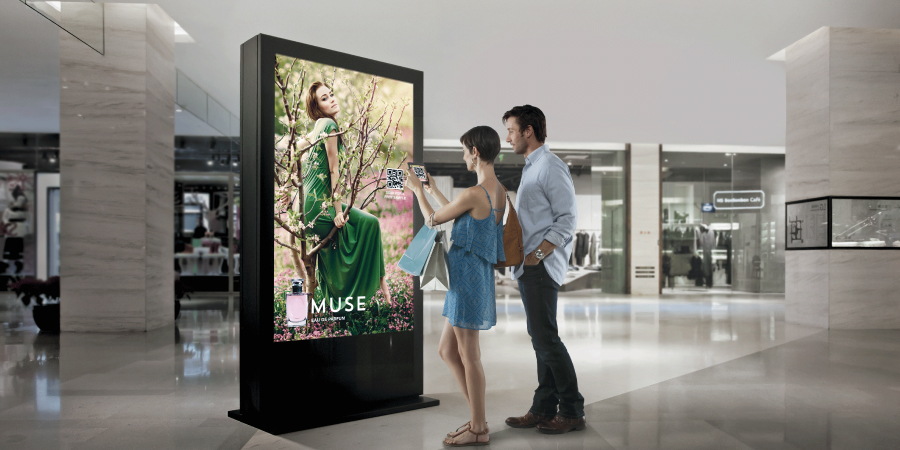 Explore how to harness the power of data with integrated tech to elevate any in-store experience. Download Now
With digital signage, once new artwork is created, the scheduling, targeting and distribution of new content can happen in a matter of minutes. As long as the network is set up properly, compliance should be 100 percent — something retail brands can only dream about with analog messaging. Leveraging software like Sprinklr, retailers can minimize the investment even more by displaying user-generated content through social channels.
Content management software like MagicINFO Cloud even makes it possible to automate the messaging on a store's traffic-stopping retail signage. The software lets retailers monitor multiple devices from a single platform and schedule content to change based on the time of day or week. Most Samsung displays, such as the 4K slim QM series, are system-on-chip (SoC), which means MagicINFO is preinstalled and ready to go out of the box.
Reduced resource and operating costs
An effective shopfront display design can reduce operating costs for retailers, a critical point as companies work with a reduced workforce. Expenses are cut because there are:
No more shipping expenses for materials
No more associate hours away from the store floor to change signage materials
No more compliance inspections by regional managers
Say more with less
One of the primary reasons billboard companies have converted their big roadside signs to digital is they now have the ability to sell and run as many messages as they want off a single billboard "face." The same thing applies to window displays. Retail brands can be equipped to run as many messages as they want and do things like schedule different messages for different consumer profiles by time of day or week.
A fast food operator with a printed window poster for a breakfast special gets nothing out of that messaging for much of the day, but digital signage enables the operator to tune the message as consumers' needs change, highlighting lunch specials, drive-home specials and late-night snacks.
Higher impact
Adding digital means adding video and motion graphics and the ability to sequence messaging statements. With print, messaging needs to be short and sweet. With digital, less is still more, but one promotional spot can cycle through multiple benefits, price offers and calls to action without forcing all that information into one image.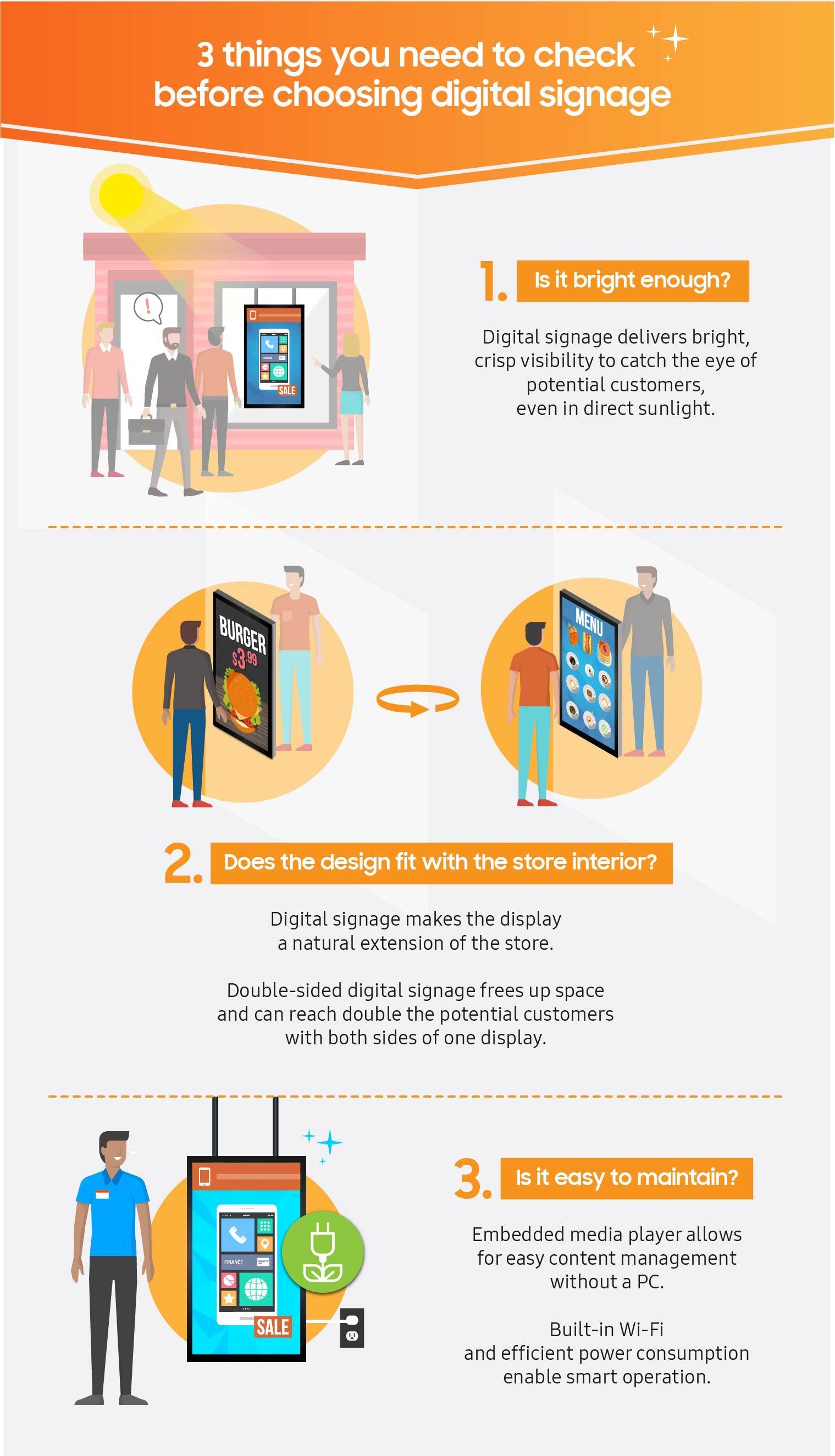 What to look for in window display technologies
Conventional digital signage may work in limited circumstances, but most window displays require high-brightness displays equipped with enough lighting power to overcome bright sunny days on the streets, or even inside spaces with big windows and glass ceilings.
An LCD can deliver 4K on a single 55-inch display, and narrow bezel models can be tiled together for in-window video walls delivering incredible detail. These displays may look great in the windows, but the rear of traditional LCD displays either look like the backs of TVs or like big, bland boxes.
Samsung solved that problem with a super thin back-to-back display — using a high-brightness LCD facing out to the street, and a more conventional digital display facing into the store. These dual displays can play the same messaging or run separate images or videos, depending on merchandising and marketing needs.
How to calculate the ROI of digital signage
For retailers and visual merchandising teams who decide to start applying digital to their windows, there are several ways to assess the value and impact of shopfront display designs.
An increase in sales is the most obvious indicator, but sales may climb for reasons beyond window display messaging. It might be as simple as a low price that brings people in. The classic way to measure the impact of in-store marketing is to measure what happens in a set of stores that have added things like window displays against a set of stores that are similar in terms of normal sales performance, foot traffic and shopper profile, but that do not have those displays.
Retailers can also use technology like computer vision or mechanical counters to get a sense of:
Exposure: The number of people passing by on sidewalks or mall concourses
Engagement: How many people stop and look at the screens
Conversion: What percentage then comes inside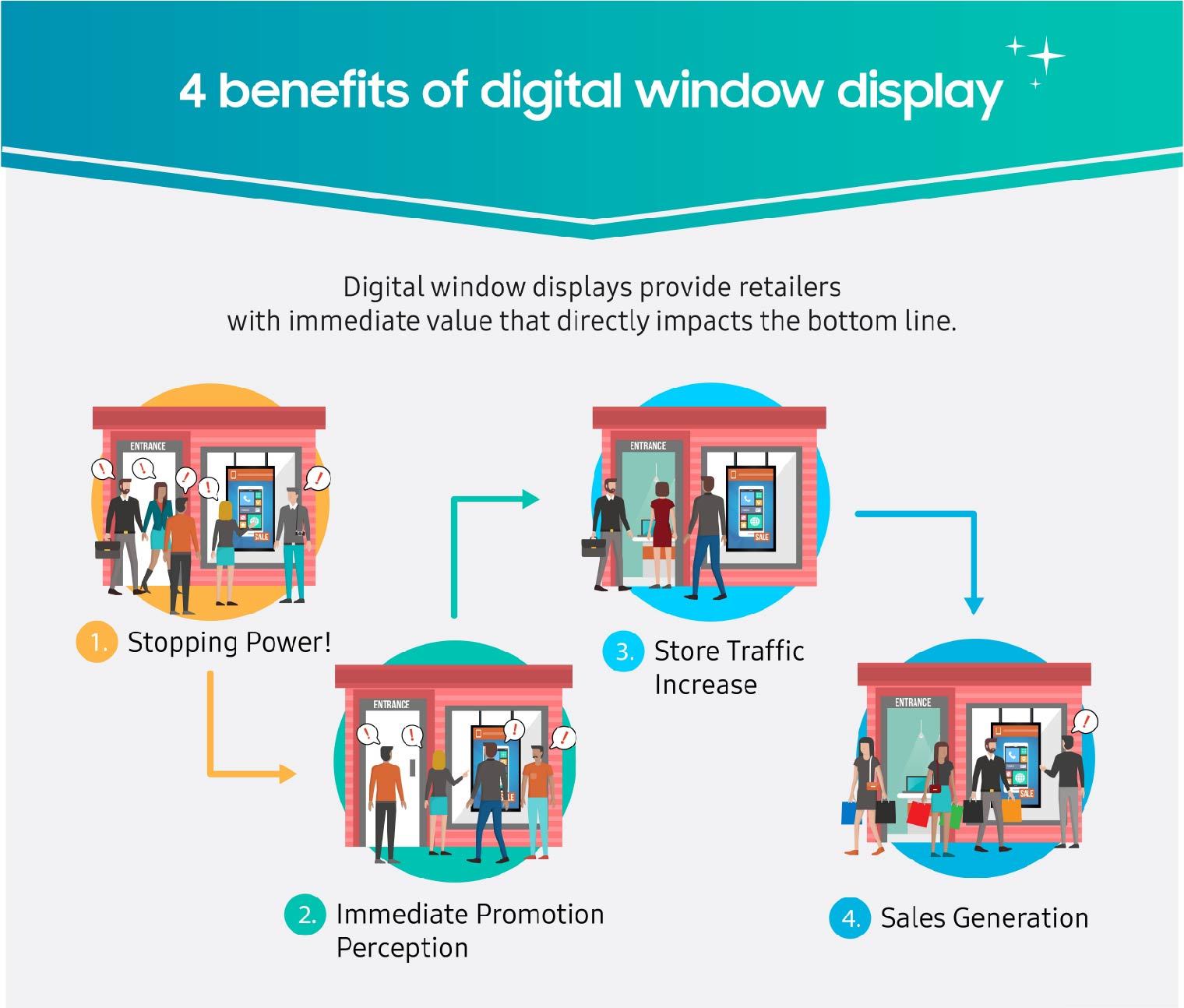 Foot traffic analytics software such as FastSensor can also track which marketing messages on screens get people to stop, and how long they look. Retailers can then use all that data to compare against store performance indicators, giving them a far richer understanding of the impact of window marketing initiatives and the data they need to make adjustments and optimize.
Planning your in-window display
Is a digital window display right for your business? Probably. But before diving straight in, plan.
Define objectives. What will the screen be used for, and how will success be measured?
Audit the site. Is the window in direct sunlight? All day? Part of the day? This will affect what brightness levels a screen needs to support, and its ability to bear the heat and glare of the sun.
Determine the content plan. Is messaging big and bold and best filling a full window? Then go with LED. Is fine detail more important? Maybe try LCD.
Optimize your outdoor signage with Samsung high-brightness displays to better engage audiences and increase foot traffic. And get your free guide to growing your retail business by adopting future-proof, e-commerce technology.